How to Gift Music, Books, Apps and Videos to the Kindle Fire Owner on Your List
We know that the Kindle Fire is hot for the holidays, but if that special someone on your list already has the tablet, what more do they need?
More media, that's what. They need movies and TV episodes and songs and books and apps. That's what the Fire is for, after all.
It's easy to give most of these digital products as gifts. All you need is an Amazon account of your own and the email address associated with the giftee's account.
Music and Kindle Books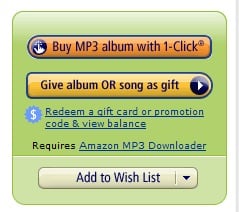 Gifting these items is pretty straightforward. Find the book, album, or song you want to give, then click on the "Give As A Gift" button on the right. You'll be prompted for the recipient's email address as well as your own login, and the notification of the gift will be delivered once your card is charged.
Sadly, you can't schedule gift delivery for a future date, so you'll have to do it the day of the giving. At least it's easy, so it won't take long to do.
Apps and Video
For some reason, Amazon doesn't offer the Give As A Gift button on video or app product pages. However, you can still give them as gifts… sort of. You can give Amazon gift cards, which they can use to purchase apps or On Demand videos (rentals, too). It isn't quite as personal as sending a specific book or song, I know. At least Amazon allows users to set their own gift card amount and add a gift message for free.
With gift cards you also have more flexibility in sending. You can do so via email (with scheduling), send via Facebook, or print out the gift card on your own. They come in multiple designs, including ones tailored toward video buffs and app lovers. You can also find Amazon gift cards at local retailers like Kroger, Meijer and others.
You may also want to check out our list of the 25 best Kindle Fire cases for other gift ideas.

This article may contain affiliate links. Click here for more details.