How to Group Philips Hue Lights
You can do a lot of cool stuff with Philips Hue lights, but one thing that's a bit tricky at first is grouping together certain Philips Hue lights in your house. Here's how to group Philips Hue lights.
Philips Hue lights are great because you can control them wirelessly from your smartphone from anywhere in the world. You can do stuff like turn them on and off, dim them to any level, and even change the colors if its a color-changing bulb.
You can also do some unique things like set alarms and timers, as well as have your lights automatically turn on when you get home and automatically turn off when you leave the house, preventing any interaction with your lights period.
Read: Philips Hue Review
However, one downside to the official Philips Hue app is that you can't easily group lights together and control them without hassle, but there are easier ways to do this.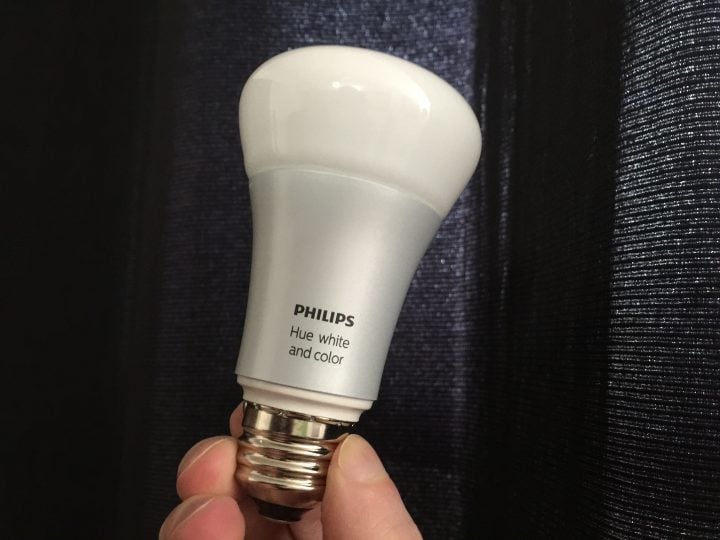 Here's how to group Philips Hue lights and control an entire room at the same time instead of just individual bulbs.
Using the Philips Hue App
You would think Philips would make it rather easy to group lights together and easily control them, but it's actually not that easy.
In all the rooms that I have Philips Hue lights, I have two bulbs in each room. Technically I have three bulbs in the living room if you count the LightStrip Plus behind the TV, but I like to control that separately from the lights.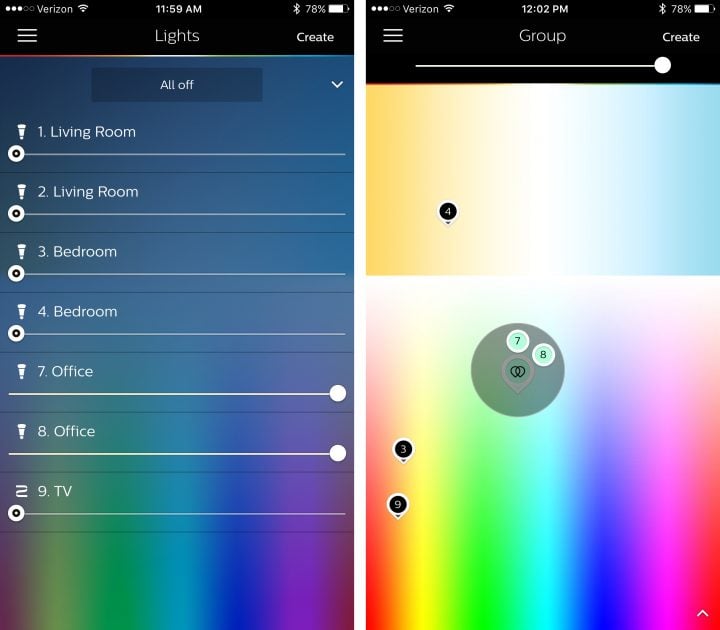 In the Philips Hue app, you can easily control each bulb individually, and from this screen, the only way to really control multiple bulbs at once is if I tap on All Off at the top, but that's about it.
However, if I tap on the downward arrow toward the top-right corner, this is where I can change the color of each of the bulbs. To group bulbs together, simply just tap and drag on one of the lights and hover it over another light. A pop-up will appear that will merge the lights together and you can then move one pin for both bulbs that you grouped.
Then, toward the top, I can move the slider to left or right to adjust the dimness of both of the bulbs that I have grouped together.
However, using the Philips Hue app isn't the best way to group lights, as there are other apps that do a better job.
Huemote
Perhaps the best app for grouping together Philips Hue lights and controlling them is called Huemote.
It's a very simple and easy app to use, which makes it one of the best Philips Hue apps period. It's also really easy to group lights together — much easier than the Philips Hue lights.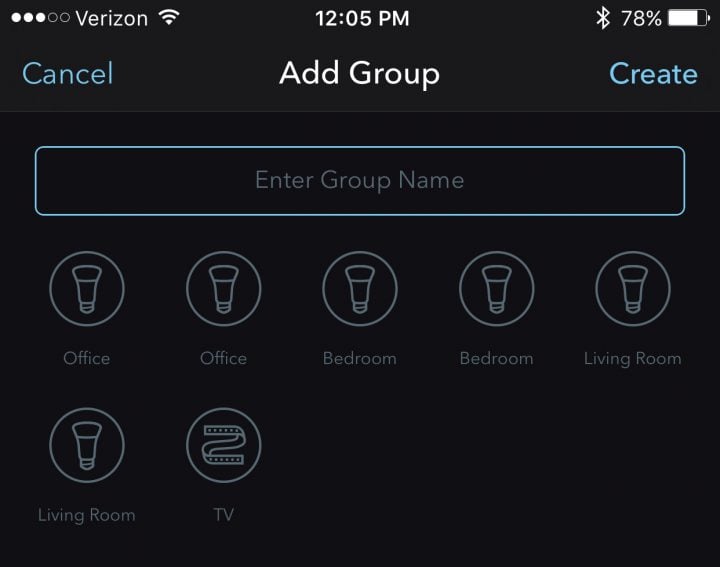 When you open up the Huemote app, you'll see a list of all of your Philips Hue bulbs. At the bottom, there's a dedicated tab called Groups. Tapping on this will show you all of your groups that you have set up. When you first get the app, you won't have any groups (although any Dimmer Switches will appear here).
To create a group, tap on the + icon in the top-right corner and then tap on all the Philips Hue bulbs that you want to include in the group. Give the group a name in the text box above and then hit Create.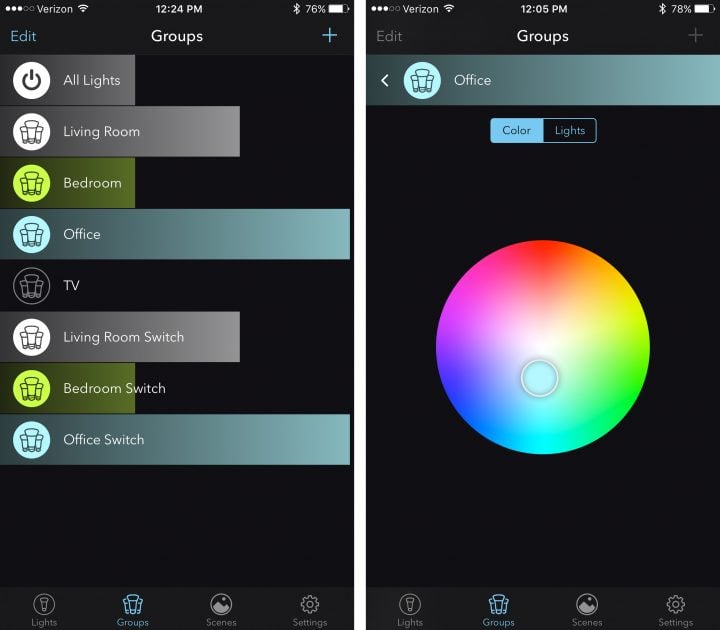 From here, you can tap on the round icon next to the group's name to turn on all of the lights associated with that group. You can also tap, hold, and slide your finger across the colored bar to dim or brighten the grouped lights
Tapping on the group name will open up the color selector. Huemote's color selector is way easier to use than Philips' own color selector in the official app.
That's all there is to it with Huemote. It's undoubtedly the easiest app to use if you want to group Philips Hue lights together and control your lights room-by-room instead of by individual bulb.
Best Philips Hue iPhone Apps
Huemote
If you want a simple and easy-to-use app to control and manage your Philips Hue lights, then Huemote is one that I recommend.
It's not the best-looking app by any means, and if anything, it's kind of ugly, but it's really simple to use. I found it to be the best management app for my Philips Hue lights by far.
You can turn on and off individual lights or group them together and control them that way. You can also easily dim lights by sliding horizontally across the light bar that highlights the bulb or group. Plus, tapping on a light or a group will bring up the color selector.

As an Amazon Associate I earn from qualifying purchases.