How to Get the Android L Keyboard Now
This week Google shocked the mobile and Android world by not only showing off the next version of Android months in advance, similar to how Apple teases iOS, but they also released it to the public in a developer preview state.
Android L is the new and exciting kid on the block, but sadly you won't be able to enjoy it unless you own one of Google's developer devices like the Nexus 5 or Nexus 7 tablet. While we're expecting it to eventually be available for other devices, not to mention 3rd party ROMs that users can customize, for now most users will have to simply enjoy our hands-on video below to see what's new with Android L.
Read: Android L Release Hands-on Video
However, being Android most aspects of the release can be torn down and taken apart, thanks to the open source nature of Android vs something like iOS 8. As a result, users are starting to tear apart the Android L (Android 4.5 or 5.0) developer preview and extract some of the new features.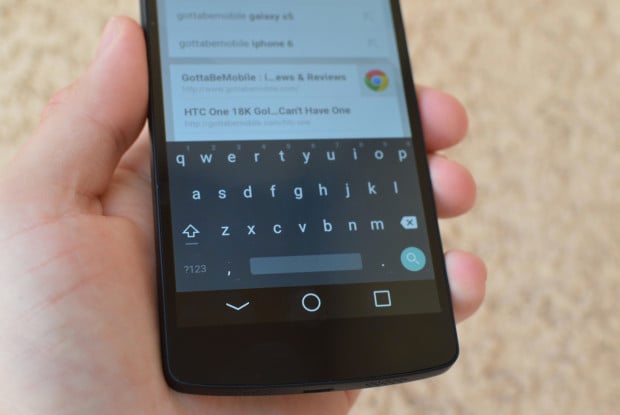 If you like what you saw during the Google I/O keynote unveiling of Android L, most notably the completely redesigned Google Keyboard, we have it for you below.
While most of the Android L developer preview is about the new "Material Design" user interface changes and notifications system, we also got a brand new keyboard. And thanks to some friendly users over at XDA Developers the brand new Android L Keyboard is available right now for almost everyone.
Instructions
Whether you're using the Samsung Galaxy S4, HTC One M8, or even the brand new Galaxy S5, you can install third party keyboards to Android. SwiftKey and Swype are a few popular ones, but last year the stock Google Keyboard was released to the Google Play Store. This allowed everyone to enjoy Google's version of a gesture-based and predictive keyboard, and now you can have the L version today.
All users need to do is simply download and install the file (called an APK for Android) and install the stock Google Keyboard which has been extracted from the L release. If you're already using the stock Google Keyboard from the Play Store, uninstall it, and install this newest keyboard. From there simply head into keyboard settings and change the theme (or scheme) to "Material" instead of the stock blue or white keyboard options. Below are more details.
Read: How to Enable Developer Options on the Nexus 5 & KitKat
You'll have to enable installing apps from unknown sources outside of the Google Play Store. This is the same method needed to install apps from the Amazon AppStore, so it's nothing new. Head into settings > security > and scroll down to select "Unknown sources".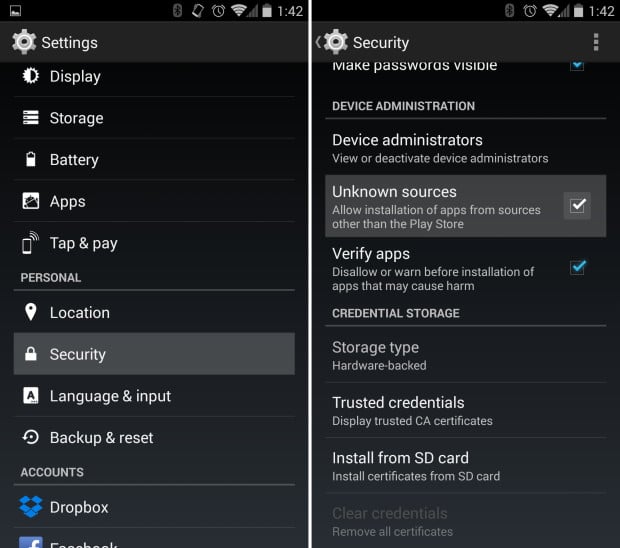 Now all you need to do is download the file linked to from XDA, or the download link below, and install it right from the notification pulldown bar just like any other app. Once it downloads tap the finished download, install it, and then change the theme to the new design. How do we do that? We'll explain that too.
Android L Keyboard: Download Link
Pull down the notification bar and head into settings with the gear-shaped settings button (on most devices) and scroll down to Language & Input. From here you'll see Google Keyboard, and you'll want to tap the settings button to the right edge. This brings you to settings specifically for the Google Keyboard. From here you'll scroll down to Advanced settings or options, and find "Color scheme" Tap that and select Material Design.
That's it, you're all done. You now have the brand new material design Android L keyboard on your older device. We're not exactly sure what all is new with the keyboard aside from the snazzy new look and feel, but give it a try on almost any non-Nexus device and let us know what you think.
This won't work on the Nexus 5 because the Google Play keyboard is installed by default and can't be removed with some tweaking, but most other smartphones and tablets can enjoy the new Android L keyboard today. Let us know what you think, and stay tuned for more Android L details and videos.