How to Install Apps & Games in Windows 10
A large part of the reason you'll want Microsoft's Windows 10 operating system is its new app store and platform.
Technology reporters and analysts like to say that each new generation of PCs is inspired by some new activity that users want to do. For Windows 7, users wanted a PC that was as fast as possible but offered modern amenities. Windows 8 buyers wanted a device that embraced modern activities like quickly browsing the internet and using touch instead of a mouse and keyboard. Others would argue that Microsoft's new Windows 10 operating system is a perfect example of what's wrong with that theory.
Windows 10 does very little that's entirely new to computing. Instead, it's mostly about using apps and services to give users better, more intuitive ways to do the things they were already doing before. To get the best out of Windows 10 you'll need to install apps for your favorite services. To take advantage of Xbox Live integration you'll need to get some games.
Here's how to install apps and games in Windows 10.
Read: What is Windows 10?
Installing Apps
Microsoft's Windows 8 operating system got some things wrong. One of the things it got right was the Windows Store. The iPhone and just about every other device has a centralized place where users can go to find safe apps that let'll them do just about anything they want.
Microsoft didn't abandon this idea for Windows 10. The Windows Store is back and it's better than it was before. For starters, the apps that you download can run on a tablet or a desktop, notebook, 2-in-1 or smartphone. Second, Microsoft has added programs to the Windows Store directly, meaning you no longer have to download things similar to iTunes and the full version of Microsoft Office from a web browser.
Please note that to download anything from the Windows Store you need a Microsoft Account assigned to your Windows 10 device. These can end with the suffix, @live.com, @hotmail.com and @outlook.com. If you are upgrading a Windows 8 PC, have an Outlook Mail account, use Skype or own an Xbox One, chances are you already have a Microsoft Account.
Using a mouse and keyboard? Click on the Windows button in the bottom-left corner of your screen. If you're using a device with touch, press the physical Windows button on your device or tap on the Windows button in the taskbar in the bottom-left.
Look for the Windows Store Live Tile. In our example it's the shopping bag icon we've highlighted. Tap or click on it.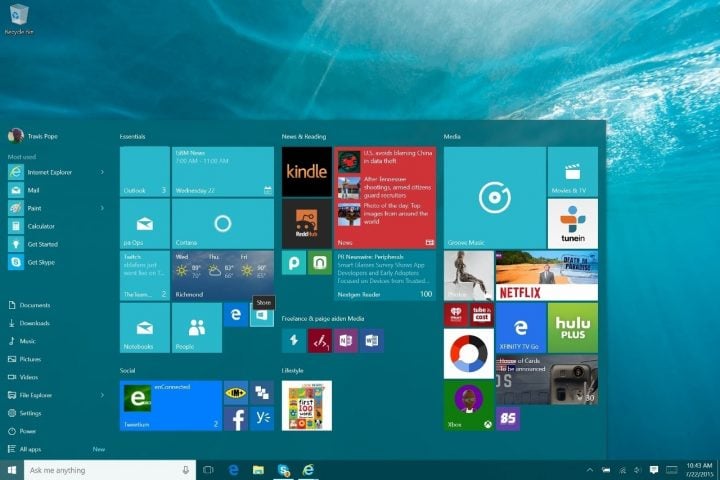 Welcome to the Windows Store. From here you can purchase apps, games, music and movies. We're focusing on apps right now so tap or click on the Apps section if you're just browsing. If you are looking for a specific app tap on the search bar in the top-right corner to search the Windows Store for that app. For this example, we're installing Flipboard.
Once you've found your app, tap or click on the Install button below its description. The color of the button changes depending on your theme, so don't worry if yours doesn't match what is shown here. On each app page, take note of the app's reviews and pricing to decide whether it's worth downloading. The bottom of each store page gives you a breakdown of what platforms the app works on and what languages it supports.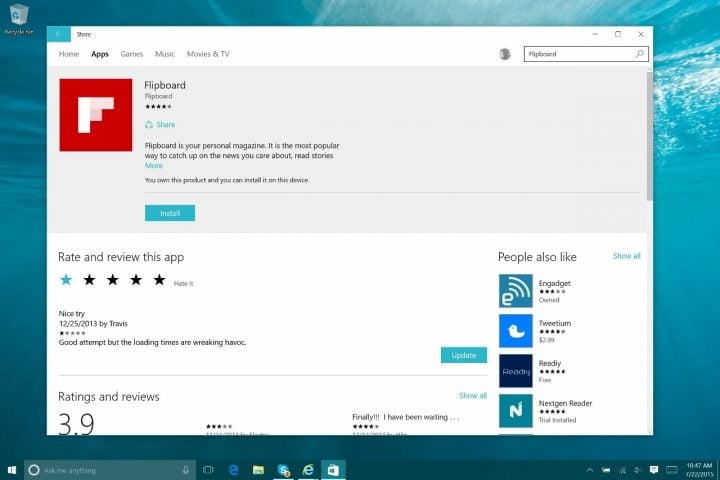 Wait for the app to install and then click or tap on Open.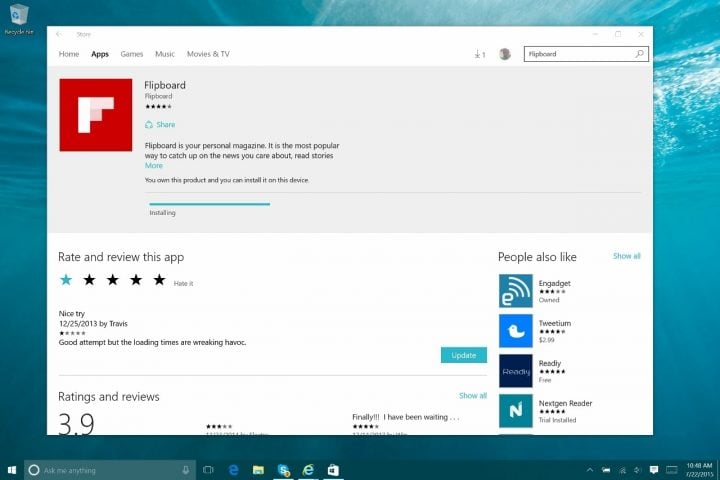 With Tablet Mode turned off your app will work just like any other app in a window. When Tablet Mode is on it'll take over the entire screen.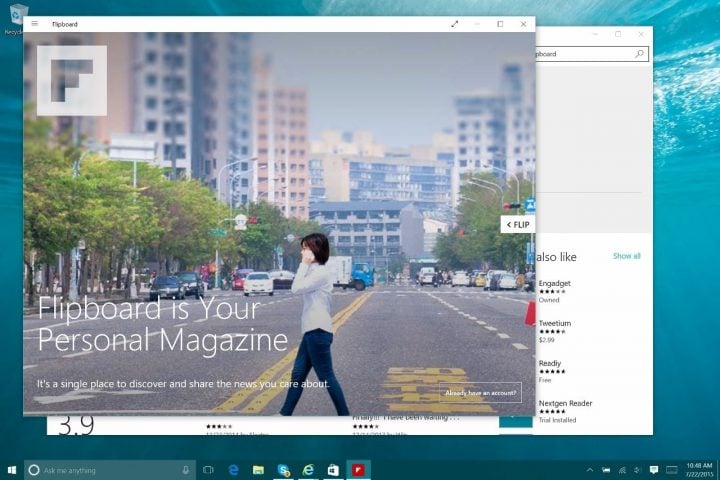 When you install new apps, they'll automatically appear on your Start Menu or Start Screen. You can right-click on them to pin them to your Start Menu or Start Screen. If you have a touch device, you'll need to tap and hold to get the pinning options.
Installing Games
Installing games on Windows 10 from the Windows 10 works exactly the same, but there's some other things you should pay attention to when making your selections.
First, note that any app with an Xbox Logo on it offers Xbox Live achievements. These achievements are synced to your Xbox Live profile.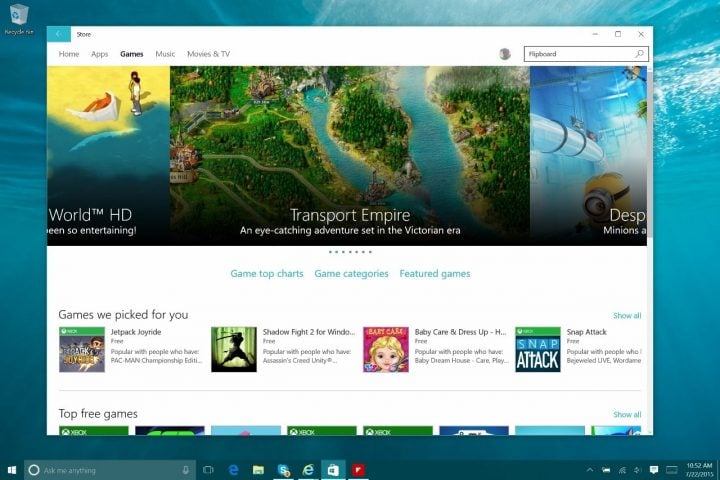 On each games page note the games rating, and whether it has in-app purchases. You also want to look out for the game's rating. Microsoft now requires that game developers submit a rating before their title goes into the Windows Store. This allows you to determine if the game is appropriate for you and your family.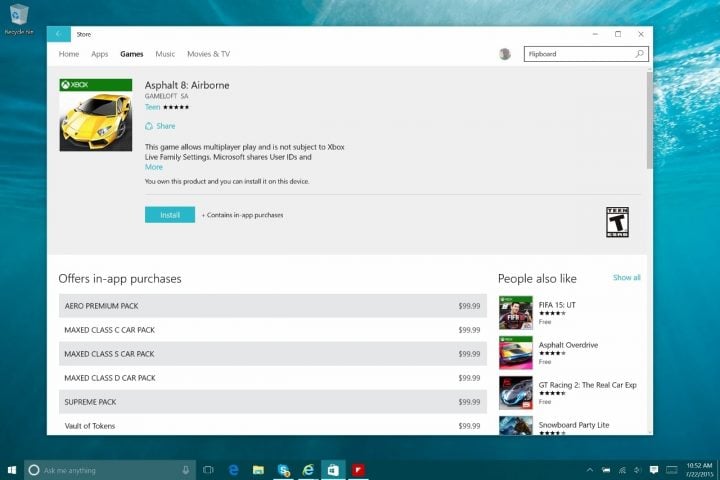 Go the bottom of the game's page to note how big it is, who it's appropriate for and which devices it'll run on. Unfortunately, Microsoft doesn't have an indicator for whether a game specifically supports its Xbox One controller or not.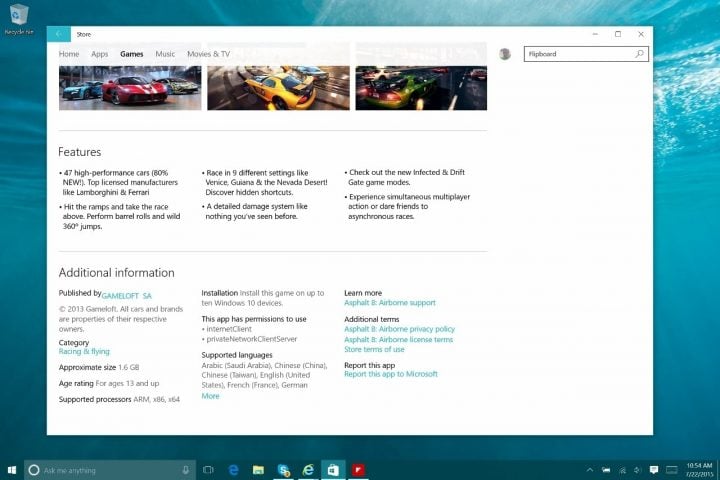 What You Need to Know About the Windows Store and More
Many Windows 10 games and apps are completely free. Others will cost you money through outright purchase or through in-app purchases. Often, your data will sync between these apps. Any app or game that you purchase can be installed on up to 10 PCs with your Microsoft Account attached.
Good luck with Windows 10.