How to Install Netflix for Android on Some Unsupported Phones
The folks at XDA Developer's Forum have done it again, giving more people a way to install the new Netflix for Android app on more phones than are officially supported. We tried it on the HTC Thunderbolt with no success. Sadly, while writing this post XDA removed their link to the app's APK file. Fortunately, we found it over at Reddit along with a nice tutorial on how to make it work.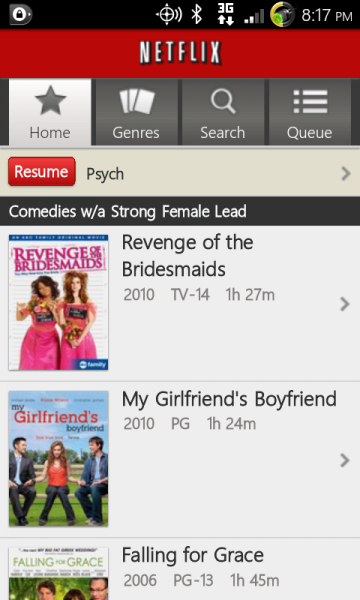 The requirements include a rooted Android device and an app called ES File Explorer or an equivalent app that has the ability to explore and edit root files. You will have to find the "build.prop" file in the "/system/" folder. The steps at Reddit suggest copying it to your SD card as a backup before editing it. Then you open the file and change to entries as follows:
ro.product.model=HTC Vision
ro.product.manufacturer=HTC
OR
ro.product.model=Nexus S
ro.product.manufacturer=samsung
Reboot the phone and install the file linked at Reddit. It should install and if your phone works it will allow you to play video. On the HTC Thunderbolt we tried it the app runs but as soon as you try to play a file it throws up an error saying the phone is not supported.
The comments below also say that the process works on the Nook Color with some alterations. There is a custom version of the "build.prop" file which makes it work. Again, copy the file to another location and then save the linked version at Reddit to the /system/ folder over the top fo the one there.
If you haven't already rooted your Nook Color we have information on how to do that too.

As an Amazon Associate I earn from qualifying purchases.