An iOS 8.3 jailbreak has finally released. Here's how to jailbreak iOS 8.3 on your iPhone or iPad.
It's been a while since we last saw a new jailbreak. In fact, it was back in December when the most recent jailbreak released for iOS 8.1, so it might be hard to believe that this is actually the first jailbreak of 2015, considering that we're almost half-way through the year.
In any case, jailbreaking is becoming more and more popular nowadays, allowing users to hack into iOS with the help of developers and adjust settings that Apple would otherwise not let you change. You can do all sorts of stuff, like install tweaks that do stuff that iOS doesn't normally do, and even change around the user interface to something suited more toward your tastes.
Now with an iOS 8.3 jailbreak out and about, users can finally take advantage of the latest version of iOS and jailbreak their devices at the same time. Here's how to jailbreak iOS 8.3 on your iPhone or iPad.
Before You Begin
There are a few things you'll want to do before you actually jailbreak your device on iOS 8.3, though.
First off, it's important to back up your iPhone or iPad before you dig deep. Follow this back up guide to back up your entire iOS device, so that if anything goes wrong, you can easily revert back to a stable state and prevent causing any headaches that could occur.
After backing up, you'll want to update your iPhone or iPad to iOS 8.3. Here's a guide on updating your jailbroken device (running iOS 8.1.2) to iOS 8.3. This will unjailbreak your iPhone or iPad, but don't worry, as we'll jailbreak it again once it's updated to iOS 8.3. The process is pretty simple anywany, as you just open iTunes and update your device to iOS 8.3 like you would any other time, as it doesn't really matter if your iPhone or iPad is jailbroken or not.
Next, you'll want to disable the passcode lock on your device, as well as disable Find My iPhone. For the passcode, navigate to Settings > Passcode > Enter your passcode > Turn Passcode Off and enter in your passcode again to confirm. To disable Find My iPhone, navigate to Settings > iCloud > Find My iPhone and turn it off. You'll need to enter in your Apple ID password to confirm.
It's also a good idea to turn off WiFi, as it's reported that it can cause problems with the jailbreaking process. We didn't have any problems, but it's always better to be safe than sorry.
At this point, you're all set to go and can begin the jailbreaking process.
How to Jailbreak iOS 8.3
To begin jailbreaking your iPhone or iPad, head to TaiG's website and download the jailbreak tool. While it's downloading, plug in your iPhone or iPad into the computer. After the download is done, unzip the .ZIP file and double-click on the .EXE file that appears.
The jailbreak tool will open and you'll see two check boxes. One is for Cydia, which can't be unchecked, and then there's an option for 3K Assistant. It's a good idea to just go ahead and uncheck this one, as it's mostly just bloatware.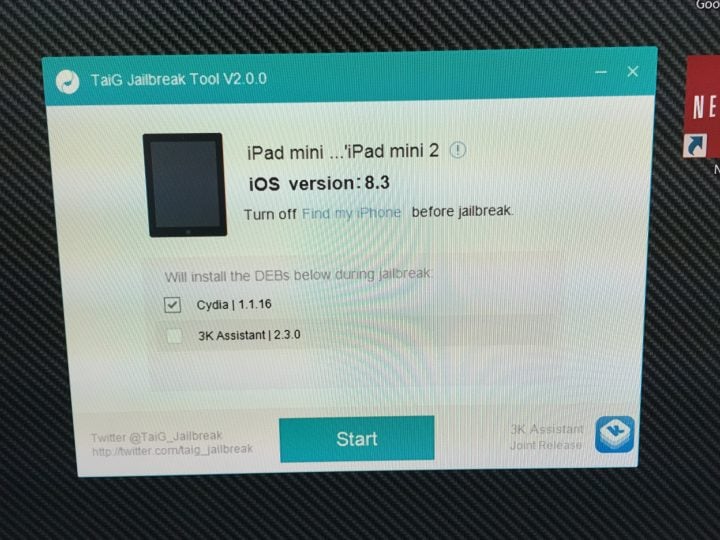 From there, just click on the Start button and the jailbreaking process will begin. You shouldn't have to do anything else from here on out. Eventually, the jailbreak tool will say that the jailbreak succeeded and you'll be on your way.
If you get a message saying that your storage is almost full after you jailbreak, simply open Cydia and let the file system initialize and respring. After that, you shouldn't be getting the message anymore.
Again, Cydia will install and function on the iOS 8.3 jailbreak, but tweaks simply won't work since Cydia isn't updated yet to support iOS 8.3. However, this should happen soon enough and you'll be able to update Cydia within the app itself once it supports iOS 8.3.
UPDATE: The iOS 8.3 jailbreak has been updated and Cydia should now function properly.