How to Make the Galaxy S6 Look Like Stock Android
This guide will show users a couple of easy steps, apps, and downloads owners can use to make the Samsung Galaxy S6 and Galaxy S6 Edge look and feel more like a stock Android device, similar to the Nexus 5 or Nexus 6 running pure Android 5.1 Lollipop.
The Samsung Galaxy S6 and Galaxy S6 Edge are both excellent smartphones running Google's latest Android Lollipop release, but are heavily customized and look very different from stock Android you'd see on a Moto X or Google's Nexus smartphones. This is because of Samsung's TouchWiz "user experience" overlay. However, we can easily remove most traces of Samsung's software, and give the device a clean stock Android look.
Read: How to Reset a Frozen Galaxy S6
While there are tons of options or fancy features and plenty of customization in TouchWiz that makes it great, not to mention the Galaxy S6 software is the most toned-down version of Samsung's software yet, many users still want that original Android Lollipop look. Thanks to a few apps on the Play Store and a new Theme Engine by Samsung, we can quickly make the Galaxy S6 into a stock Android-esque device.
What we'll be showing you below are a few easy ways to make the Galaxy S6 look and feel like a stock Android device running Google's beautiful Android 5.0 Lollipop software with the material design interface.
Of course owners can always hack and mod the Galaxy S6 to look vastly different than how it appears out of the box. This can be achieved by rooting the phone (Android's version of Jailbreak) and flashing custom software or ROMs, themes, icon packs and more. However, that's very technical and voids the warranty, among other things, so we'll be taking a much easier approach that's easy enough for anyone to do it.
Google Now Launcher
Launchers or "home screen replacement apps" are nothing new to the Android world, and is one of many ways to change the look and feel of a device. NOVA launcher is a popular highly customized option that gives any device a stock Android look, but we'll be using Google's very own Now Launcher, which is what runs on all Nexus smartphones and tablets.
The majority of smartphone owners spend most of their time on the homescreen, in the application tray, or inside of apps like the browser. This means that replacing the homescreen and app tray with a launcher is the easiest way to change most of how a phone looks and feels.
Above is how my Galaxy S6 looks and feels with the Google Now Launcher, available on the Google Play Store. It has that stock Android look, changes the icons a bit, and even lets me swipe from left to right and head into Google Now. Folders look like stock Android, and the application tray looks just like it would on a Nexus device.
Installing the Google Now Launcher also puts a persistent Google Search widget at the top of all homescreens, and returns the easy "Ok, Google" hotword functionality to instantly open apps, search the web, ask for weather updates, and more using the power of Google Search.
Read: Fun Google Now Tips & Tricks
This is one of the first and easiest ways to give the impression that you're running stock Android on the Galaxy S6 or Galaxy S6 Edge. It's not very customizable, but it's extremely fast, looks clean, and works like a charm. The Now Launcher doesn't support 3rd party icons though, so the theme below won't change the icons in the Now Launcher to stock Android. To 100% make it look stock users need to download NOVA and use the stock icons with the theme below.
Download: Google Now Launcher
Themes
The next step owners will want to make is changing the theme on the Galaxy S6. This was big news when Samsung announced its new phone, but the overall implementation of the "Theme Store" has been extremely disappointing. Samsung promised an easy way for users to switch from TouchWiz to a completely new look and feel, but the theme options have been very poor thus far, to say the least.
Head into Settings > Personal > Themes to launch the Samsung Theme Store, and browse the few options available.
Themes allow users to change the entire look and feel of every aspect of the phone, but until this week Samsung's Theme store has been filled with terrible, cheesy, colorful, and cartoon looking themes.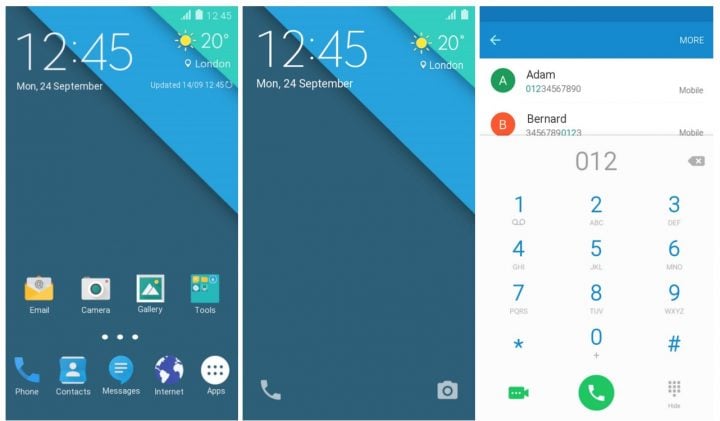 What you see above is a brand new theme that actually debuted on the Samsung Theme Store today, June 25th. This material theme changes the entire look and feel of the Galaxy S6 to mirror stock Android, and even uses Google's own icon packs. Icons, the entire settings menu, the notification pulldown bar and even the quick settings all look more like stock Android.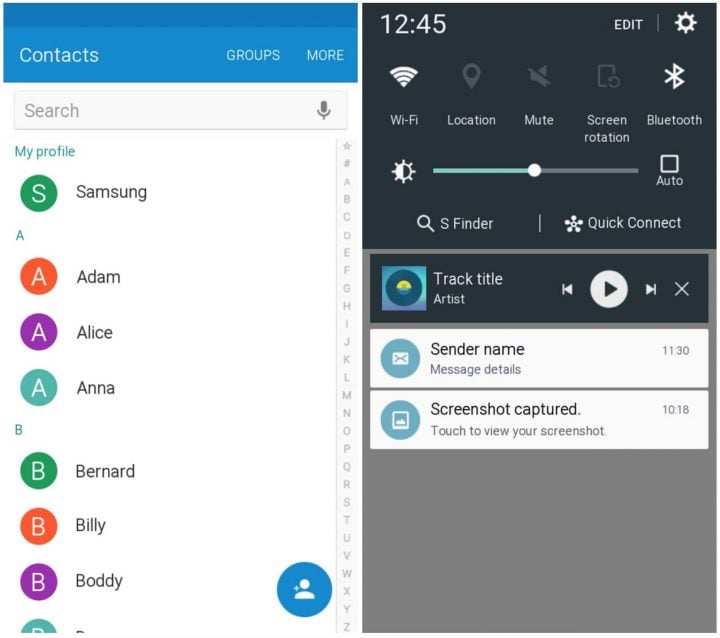 This is hands-down the best theme we've seen for the Galaxy S6 and Galaxy S6 Edge. So good that Samsung is allowing it to officially be on its Theme Store. It's a free download for everyone interested, and works like a charm. Takes a few seconds to apply, and your phone notification bar, settings, dialer app and more will look like pure Android.
A few other XDA Developers have created beautiful stock Android 5.1 Lollipop inspired "Material Theme" designs for the Galaxy S6, and more and more should be available in the theme store, eventually. Both a light and dark Material Theme are reportedly headed to the theme store, but they've yet to actually be released. Once they do we'll be sure to update with more details, screenshots, and download links.
Download Stock Apps
Another option thanks to the power of Android is to replace all the stock apps with Google's own options. Things like the internet browser can be replaced by Google Chrome, Google Keyboard, Google Camera (Samsung's Camera app is more powerful) and even the Google Calendar or Clock app. Personally I only use Chrome, Photos, Keyboard, and the old Android 4.4 Calendar.
Downloads:
Almost everything else already comes pre-installed. Like YouTube, Google Maps, and a few other popular apps made by Google that are available with stock Android.
While this isn't enough to completely remove all of Samsung's TouchWiz interface, it's a pretty good start, not to mention gives you stock Android for the things you use the most.
Hide Samsung Apps
Last but certainly not least users can hide and disable almost all of Samsung's apps that come pre-installed on the Galaxy S6 that aren't removable. The same goes for all those carrier bloatware apps most owners never use. Things like Galaxy Apps, Samsung Milk Music, AT&T apps, Verizon Navigator, Sprint ID Zone, T-Mobile TV and much more.
These can't be removed, but in settings they can be disabled. This prevents them from running and wasting battery, and removes them from the application tray. Giving you a cleaner looking device, with less Samsung or carrier stuff, and more of a stock Android look and feel.
Head into Settings > Device > Applications > Application Manager > and simply tap on the app you'd like to hide, and select "Disable". You'll get a warning, so only disable things you know can be disabled or things you never use, and that's it.
Apps made by Samsung that are useless to some users and all those carrier apps will be disabled and hidden from the application tray.
Combining the Google Now Launcher with a Material Design theme, then clearing out some of those Samsung and carrier apps will give you a very smooth, fast, stable and stock Android looking Galaxy S6. This may sound like a lot, but it can all be done in about 10 minutes. This route is much easier and safer than flashing custom software found on the internet.
Owners can always root the Galaxy S6 and try some custom software or ROMs, but the steps above are what we'd recommend. Give them a try today, then check out these 65 Galaxy S6 Tips & Tricks.