How to Order an Uber With Cortana in Windows 10
Microsoft's Windows Store operating system is still trying to claw itself into a position where users can find any kind of app they need. The company has made strides, but there are still glaring omissions, particularly where Windows 10 notebooks, desktops and 2-in-1s are concerned. Uber is one of the world's most popular, readily available transportation apps. It's only available on smartphones running Windows 10 right now.
Windows 10 users could walk across the room and pick up their smartphone to order an Uber, but Microsoft has another trick. The company's Cortana personal assistant is picking up new features at a steady pace these days. Microsoft's Windows 10 November Update adds package tracking and ways to leave notes for Cortana with a stylus, plus other tiny upgrades. The most exciting of these features is the ability to order an Uber directly for an appointment without picking up a smartphone at all.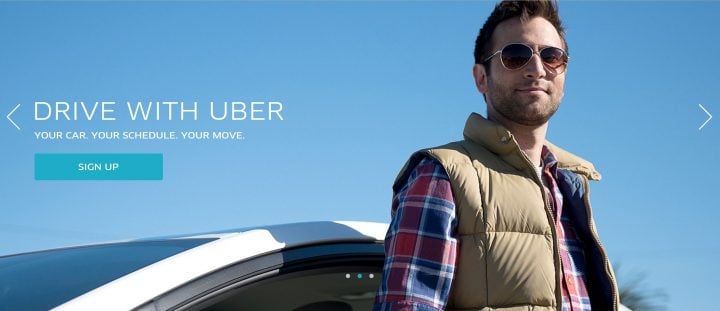 Read: How To Use Hey Cortana with Windows 10
Here's how to order an Uber with Cortana in Windows 10.
What is Uber?
Before we begin, you'll need a few things. First, it's probably a good idea that you have some understanding of what Uber is. It's equal parts app and service really. Uber lets anyone that needs a ride check to see if there's an available ride in their area. The app handles all payments and dispatches. You can see where your Uber driver is in relative to where you need to go, how long it'll take them to reach you and how long it'll take you to reach your destination once they've picked you up. Uber offers a black car and van service, but most of the time you'll get a driver who is working with the app and using their own fairly modern vehicle to drop people off.
You'll need to sign up for an Uber account then link that account to Cortana in Windows 10. Note that Uber might not be available in your city, town or country depending on local laws.
What is Windows 10 November Update?
Second, you'll need the Windows 10 November Update. Microsoft began letting users download the Windows 10 November Update in early November, before the start of the holiday shopping season. If you purchase a new device running Windows 10 this holiday, chances are that it won't come installed out of the box. Go into the Update & Security area to manually check for and install updates. Because Microsoft is rolling out the major operating system update over time, it might not be available to you just yet.
Read: Windows 10 November Update: What's New & Different
This update is free to any and all who have Windows 10 installed on their device. Windows 10 itself is a free upgrade for users running Windows 7 and Windows 8.
Settings Up & Ordering Your Uber
Now let's go through the setup process. Note that some things might look different if you're in Tablet Mode.
Ask Cortana to Order an Uber. You can do this with your voice or by writing Cortana a note.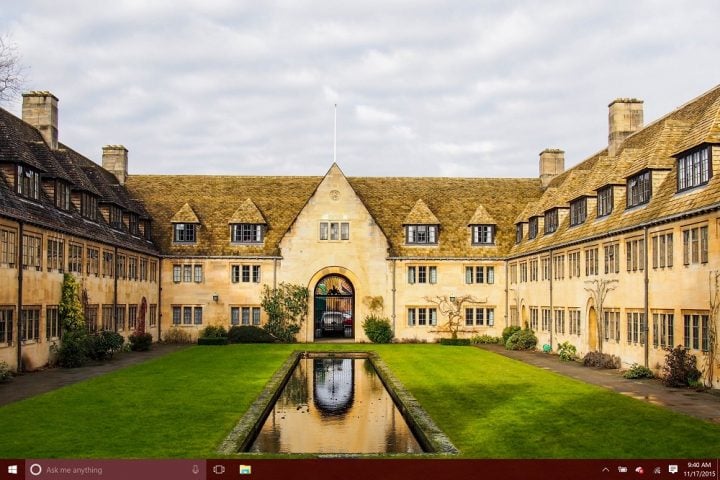 For our example we're typing the request into her search box on the Taskbar.
Tap or click on the Order an Uber option.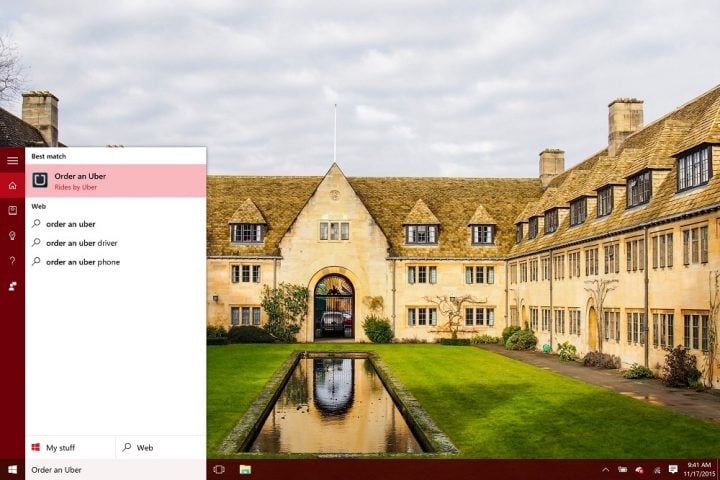 You should have already created an Uber account to use on your Windows 10 device and smartphone. If you haven't already tap or click on the Sign Up option. We've already created an account so we're selecting I agree and sign in.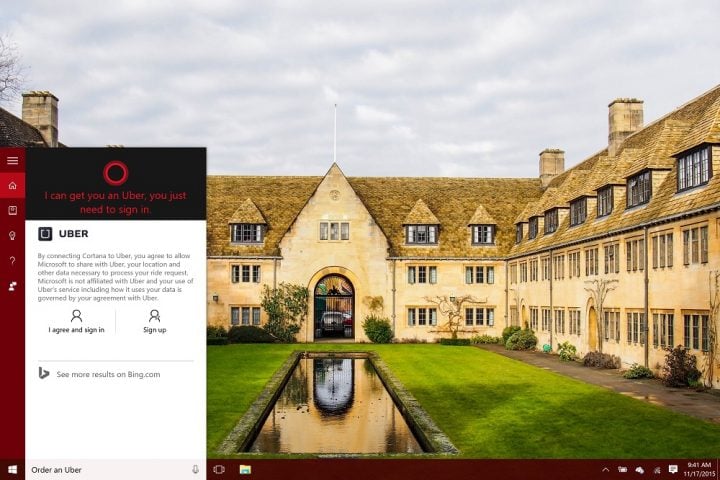 Now fill out the information in the pop-up window to link Cortana to your Uber account. You'll need to provide your account's email address and the password you associated with your account. Tap or click on Sign In.
Look over the terms for linking to the two accounts together. Now tap or click on Allow.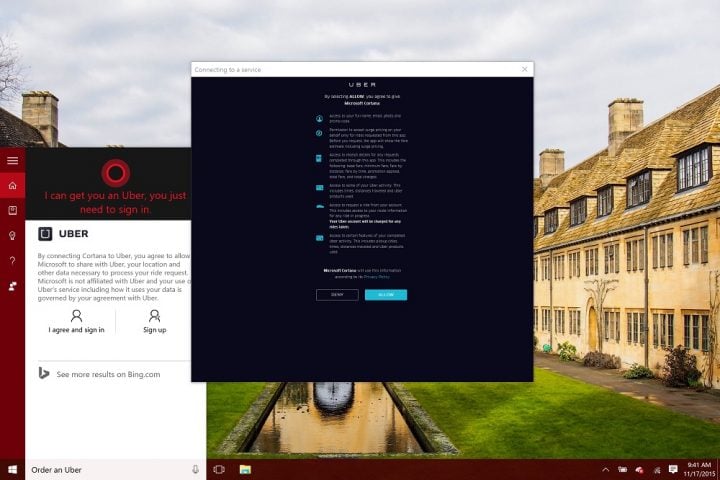 Now click Yes or Skip depending on whether you want Windows managing your passwords so that you don't have to type them in yourself.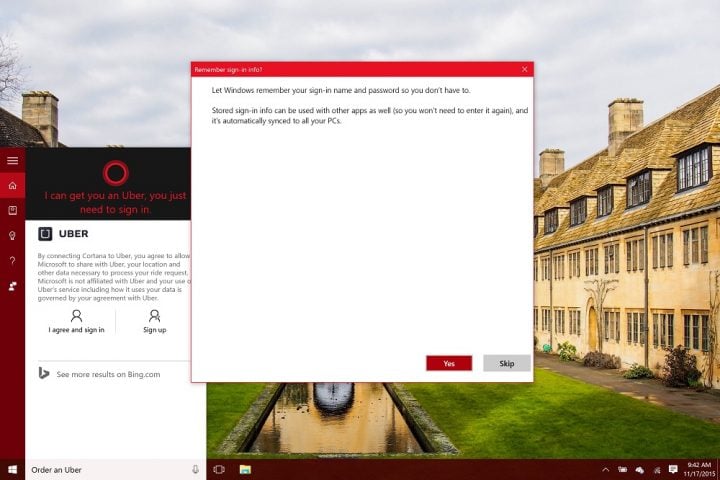 Whenever you need an Uber, Cortana will use location information to provide the service with an idea of where you are, we've just deleted that for security purposes here. Once you've provided information about where you're going, she'll contact the service and help you choose a vehicle option.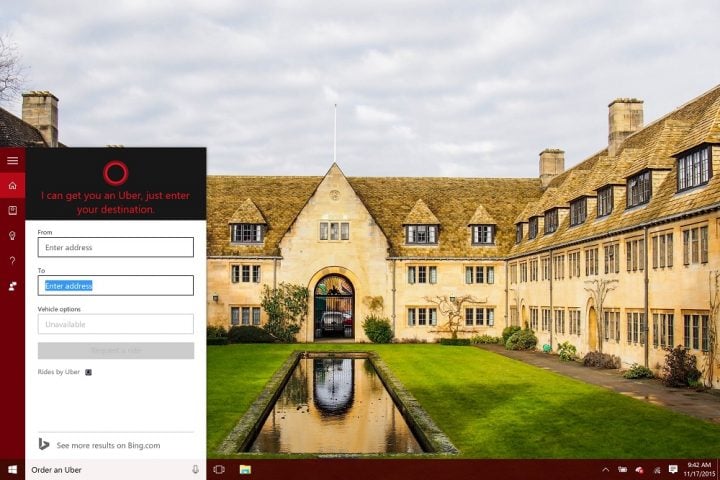 With the Windows 10 November Update Microsoft also added the ability for Cortana to track certain appointments, reminding you to dispatch an Uber and leave yourself enough time to get their. This works on movie tickets and confirmations for events sent to any email that you've given her access to. At any time, you can remove Uber access from Cortana from within her Notebook.

As an Amazon Associate I earn from qualifying purchases.