How To Protect Sensitive Data on Smart Phones: iPhone, Android, BlackBerry and Windows Phone 7
A study from Consumer Reports found that 4 out of 5 smart phone users don't protect their sensitive date with something even as simple as a passcode or PIN to keep unwanted people from being able to view that data. To help you avoid having this info accessible in the event that your phone falls into the hands of snoops, we will show you how to lock your phone regardless if it is an iPhone, Android, Blackberry or Windows Phone 7 device.
In their State of the Net Survey, Consumer Reports asked respondents if they locked their smart phone so that things like contacts lists, online banking site information, and even medical records accessed from the phone would be protected. Only 20% said they did, even though it is a very simple thing to do with all four of the major smart phone platforms.
We will show you how to lock the four major platforms so that when you turn on that phone a passcode, pattern or PIN will be required to unlock it and get access to the phone and its data. This might be an annoyance for you, but it will also deter prying eyes from getting your data unless they are really persistent. In those cases it is unlikely that any level of security can keep them at bay.
How to Lock the iPhone
To lock an iPhone so that it requires a four-digit pin to get access do the following:
Go to Settings, General and Passcode Lock
Tap Turn Passcode On
It will ask for a four-digit passcode – enter one that you can remember but will not be obvious like all one digit for example 3333 is a bad choice
Re-enter the same passcode to confirm it
You are now  protected. Remember that this is only an annoyance to would-be thieves. Be sure to set up the Find My iPhone service so that you can remotely wipe the phone if it is lost.
For extra security, in the Passcode Lock screen turn off "Simple Passcode" so that you can use a more complicated password. Remember that you will have to enter that password every time you turn on your iPhone from sleep.
Here is a short video on how to do this. It is based on older versions of iOS but still applies to v. 4 and above.
https://youtu.be/HndtXJLCcN0
How to Lock Android Phones
From the Android home screen do the following:
Tap the menu button and choose Settings
Tap Location & security
Under Screen unlock settings choose Set screen lock
Choose from the four options and follow the onscreen instructions to set your password, PIN, or pattern
Of the four options, the password is the most secure followed by a PIN. The pattern is the most convenient, but least secure. After a while the pattern can be deciphered by anyone who gets ahold of your phone. The pattern will be visible thanks to oily hands. Only a really good screen cleaning once a day will keep people from being able to see the pattern.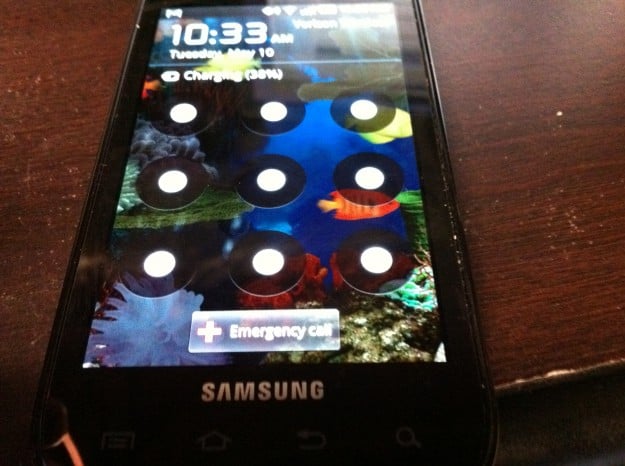 Below is a video on how to lock the phone using the pattern method:
How to Lock a Blackberry Smartphone
For Blackberry do the following from  the device's home screen (from Blackberry Support):
Click on the Options icon
Choose Security Options
Choose General Settings
Choose either Options and then Security for version 4.0.2 or earlier or choose Options and Password for 4.6 or later
Change the Password option to Enabled
Display the menu and choose Save
Type the password and hit enter
Re-type the password to confirm it and hit enter again
Here is a video on how to set the password on the blackberry:
How to Lock Windows Phone 7
On a Windows Phone 7 device do the following (from Microsoft):
Choose Start and flick left to the App list
Choose Settings
Choose Lock & wallpaper and then …
… turn on Password and enter a new password
Re-enter the password to confirm it
Tap done to save it
You might want to also set the Screen time-out setting while here
Below is how to set the password on a Windows Phone 7 device: