How to Quick Reply in iMessage on iPhone, No Jailbreak Required
Quickly replying to text messages is something we all like doing to save time and make it more convenient to use our iPhones. However, iOS doesn't really make that process as easy as it could be.
The only way to get quick reply with the Messages app on your iPhone is to jailbreak it and download a tweak like Messages+. Although, seeing as how the latest version of iOS isn't jailbreakable, this isn't the most doable option.
Never fear, as there's a nifty workaround that you can do in iOS 7 on your iPhone and iPad that allows you to quickly reply to a text message without ever having to switch out of apps, and it works without jailbreaking your device. It's not the most prettiest options, but it can sometimes be better than having to switch to the Messages app just to send a reply back.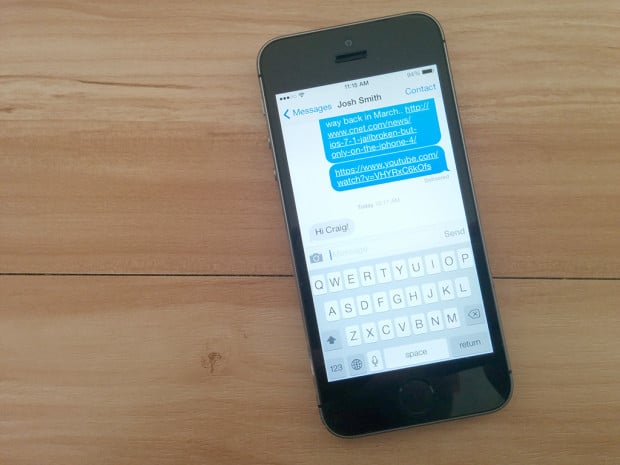 Instructions
We found this neat little trick from YouTuber jakx102, who posted a quick video tutorial on how to quick reply on an iPhone or iPad, so if you want to watch that, keep scrolling down. Otherwise, keep reading for a more-detailed description on how to quick reply to text messages in iOS 7.
When you receive a text message while you're playing around in another app, you'll get a banner notification at the top. Usually, you would just tap on that notification and it would automatically switch you to the Messages app. However, to take advantage of this trick, you'll be using the Share button that's implemented in almost every iOS app, and it's represented by a square icon with an arrow pointing upward.
So whenever you receive a text message, read the notification banner that pops up, but don't tap on it. Instead, tap on the Share button and tap on the Messages app icon.
This will bring up a pop-up window where you'll enter in the recipients name up top and then you'll type in your reply in the message window. The caveat here is that you have to type in the contact's name next to To:. Also, you'll have to clear the URL that shows up in the text body and type in your own reply, since iOS thinks you're actually sharing whatever webpage you're on. However, it'll bring up the conversation of the contact that you enter, so it's almost like you're in the Messages app anyway.
Granted, this only takes a few seconds, but as aforementioned, it's not completely ideal.
Once you have your reply typed out, you can just press Send and then hit Cancel at the top to return to the app that you were playing around in before.
Quick Reply Jailbreak Tweaks
If you have a jailbroken iPhone or iPad, there's no need to use this workaround, as there are already better options that you can use if you want to bring quick reply text messages to your iOS device. We've already discussed these in the past, but they're worth repeating if you still haven't heard of them.
Messages+
Messages+ ($7.99) is a component of IntelliScreen X, but it can also be used independently. It allows users to reply to iMessages with a pop-up.
This makes it so that users don't have to open up the Message app just to reply to a message. It's a rather convenient jailbreak tweak, especially if you do a lot of texting.
Auki
Auki is a new jailbreak tweak (pictured above) that makes replying to iMessages and text messages easier and quicker. Message+ is great and all, but I found that Auki fits much better within the iOS 7 user interface.
Auki allows you to reply to a text message directly from the home screen by tapping on the notification banner that pops up at the top of the screen. From there, you can type your reply and even add a photo right from that pop-up window, with the option to insert the last photo that you took, making it easier to insert a photo than Apple's default method.
You can also start a new text message using Auki by swiping down in the Notification Center to start a new message, or use Activator to launch Auki your own way.
Auki also gives you the conveniences of silencing a specific contact, so that you won't get notification banners from them until you unsilence them, which can be great if their sending you a ridiculous amount of text messages.
Auki is $3.99, which is a bit expensive for a jailbreak tweak, but it's worth every penny if you're looking for ways to make text messaging from your iPhone more convenient.
If you haven't jailbroken your iPhone or iPad, you should consider it. Here is a list of reasons to Jailbreak iOS 7 and a link to our guide on how to jailbreak iOS 7. Be aware, though, that you must be running iOS 7.0.6 or older, as iOS 7.1 isn't jailbreakable at this time.

As an Amazon Associate I earn from qualifying purchases.