How to Record Clash of Clans on Android
This guide will explain a few very simply and easy to understand ways to record the hit game Clash of Clans on Android smartphones and tablets. There are multiple ways to do this, and we'll cover three of the easiest yet different options below for all the Clash of Clans fans wanting to share replays or do how-to videos.
Lately one of the most popular things to do on YouTube is record yourself playing video games, and upload it for millions of users to watch. It's an increasingly popular form of entertainment, which is perfect for one of the most popular mobile games on the planet, Clash of Clans.
Read: Clash of Clans November Update: What We Know So Far
A huge update to Clash of Clans is coming soon, likely in the first few weeks of November, which we've detailed above. In the meantime, those who are looking to record their Clash of Clans gameplay, war attacks and more on Android will want to try the few easy steps outlined below.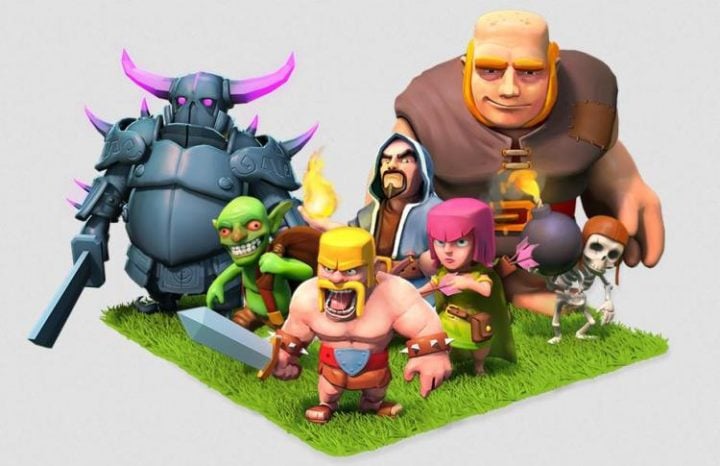 Recording what's being shown on our smartphones or tablets hasn't always been the easiest task. Typically users need to root their Android device (like Jailbreaking an iPhone) and install a few 3rd party apps, then download a screen recording app from the Google Play Store.
However, as the idea of recording our screens has become more popular, the options and ways to do it is getting easier than ever. We'll be showing users three different ways to record Clash of Clans on Android, starting with the easiest, as long as you have the latest update to the Google Play Games app.
Most Android smartphones and tablets ship with Google Play Games. An app made by Google to sync game saves and information, earn rewards, track progress and more similar to Game Center on iOS. This week Google Play Games received a much needed update that added the ability to record gameplay, as well as record the user playing the game at the same time using the front facing camera.
Instructions
Make sure you've downloaded or updated to the latest Google Play Games, and then just launch the app and find the game you're looking for. In this case that would be Clash of Clans. Find it inside of Google Play Games, select that game, and rather than hitting the big "Play" button, tap record.
Clash of Clans will launch from the Google Play Games app with an overlay showing the front-facing camera. A countdown timer will start giving users time to prepare, or enter Clan Wars, and then recording will begin. For now this is limited to 720p HD, or 480p, to conserve space. Here's how simple this really is.
From here users can end the Clash of Clans recording, instantly save it, or with one tap instantly upload it to YouTube. Users can also edit and crop portions of the video with ease. This is the one of the best ways to record Clash of Clans and add it to YouTube, but the record button isn't appearing for everyone inside the app just yet. Make sure you have the latest version of Google Play Games, and you're all set.
Samsung Game Recorder+
Considering Samsung is one of the most popular smartphone and tablet manufacturers on the planet, this had to make our list. Samsung has a relatively new app called "Game Recorder+" and it does exactly what you think it does, but has more features than most.
With Samsung's Game Recorder users can simply open the app, launch a game, and then slide the pop-up circle to the top of the screen to change settings, control volume, set what audio is recorded (gameplay audio and voice from microphone) and it even has the option to record in full 1080p video.
Just like Google Play Games, Samsung's app lets users instantly upload video straight to YouTube, if they'd like, as long as users sign-in from the apps settings menu. This has actually proven to be by far the best, easiest, and smoothest way for me to record gameplay footage on Android, but it's limited just to Samsung devices. That said, millions of Galaxy S4, Galaxy S5, Galaxy S6, Note 4/5 and Galaxy Tab owners around the globe can use this method.
Download – Samsung Game Recorder
Give it a try today, and enjoy easily recording Clash of Clans and instantly uploading the videos right to YouTube with your Samsung device.
ADV Screen Recorder
There are countless apps on the Google Play Store that offer some sort of screen recording features, but most of them are missing a feature or two, cost money with in-app purchases to unlock the full potential, or are just old and outdated requiring root access.
ADV Screen Recorder is none of the above. It's what I've found to be the most complete screen recording app on the Play Store, and is completely free. No purchases, no ads, nothing. It just works, and works amazingly well. It records with two different engines, works great on almost all recent Android devices, has a pause feature, and is completely hidden from the viewer.
Simply start the app and get ready to record. We'd suggest heading into settings by tapping the three dots at the top of the screen to add a timer, adjust settings, or set up recording how you'd like. Then from here tap the round "capture" logo near the top, hit home, and users will see a record button and a close icon at the top right of their device. From here this is just an overlay waiting for users to launch an app.
Open Clash of Clans, hit the record button, and it disappears. It doesn't show it's recording, but it is. From here users can record whatever they'd like, pause with a tap, then just hit near the top right again (nothing is shown on the screen) and it will instantly stop recording. Users then have a file they can share, edit, or upload to YouTube.
ADV has plenty of advanced options, some additional controls for the audio and microphone, and works pretty good. Personally Samsung's option is my favorite, which I use on the Galaxy Note 5, but for those without a Samsung we'd recommend trying out Google Play Games, and then ADV for even more options.
Download – ADV Screen Recorder
Again, these are just a few of many different ways to record the screen on our Android devices, but a few that we'd recommend as the best possible choices currently available. Those wanting to record Clash of Clans gameplay on Android should give any of these three a try today, and enjoy sharing those replays with friends or subscribers on YouTube. Drop a comment below with any questions, and get to recording those 3-star War attacks.