How to Reset a Frozen Galaxy Note 5
This quick guide will explain how to reset a frozen Samsung Galaxy Note 5. Now that Samsung's two new smartphones are available around the globe, and on the shelves of all five major US carriers, buyers will be getting their hands on it. Due to a completely new all aluminum and glass design, users can't simply pull out the battery if the Note 5 freezes, is unresponsive, or just acting funny.
On April 13th Samsung announced the new Galaxy Note 5, and just like the Galaxy S6 from April it has a new glass and aluminum design. This makes it look and feel like a premium phone, but there's no longer a micro-SD slot to expand storage, and you can't remove the battery. Users do get a beautiful 5.7-inch Quad-Hd display, a stunning 16 megapixel camera, and lots of other new features like Fast Wireless Charging.
Read: 10 Exciting Galaxy Note 5 Accessories
This doesn't happen often, but in the past if your Samsung Galaxy or Note device froze or was acting up you could just pull out the battery and reboot it. A trick that solves almost all most minor problems users and family members often ask me about. Now that you can't remove the battery on the Galaxy Note 5, here's the new steps to do a reset if it's frozen or unresponsive.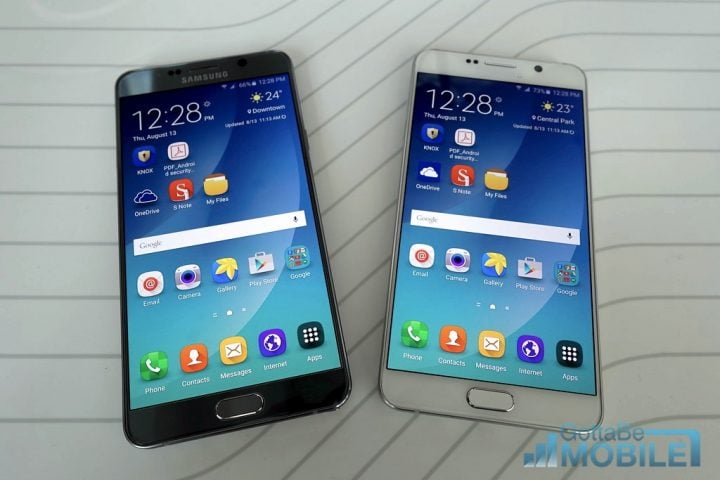 The Galaxy Note 5 has a powerful 8-core processor and 4GB of RAM, along with the latest Android 5.1.1 Lollipop software. This means that it's incredible fast, and runs very smooth. However, in the unlikely event that your Note 5 freezes or starts acting up, owners may want to do a hard reset or reboot, to get it working all good again.
When first setting up a Note 5 the device has a lot of small useful tips and trick popups, but many users just ignore and click through them so they can quickly use features, download apps, and get on Facebook or Snapchat. One of those tips tells owners how to completely reboot the phone if it's frozen, and it reads: "If your device is unresponsive, press and hold the Power key and the Volume down key simultaneously for more than 7 seconds to restart it."
Read: Samsung Galaxy Note 5 Fast Wireless Charging Hands-on Video
Typically if the Note 5 or Galaxy S6 Edge Plus is acting funny just long press the power button, hit reset, and it will reboot and work again. However, if it's completely frozen you'll need to reboot it, but won't be able to remove the battery. Samsung added a new button combo (like on the Galaxy S6 or iPhone) to quickly reboot a frozen Galaxy Note 5.
Instructions
Just like the Galaxy S6, the iPhone and many other phones where the battery can't be accessed, holding a series of buttons will reboot a frozen device.
All Galaxy Note 5 or S6 Edge Plus owners need to do is press down and hold the power button, and the volume down key at the same time, and hold them both down simultaneously for 7-10 seconds.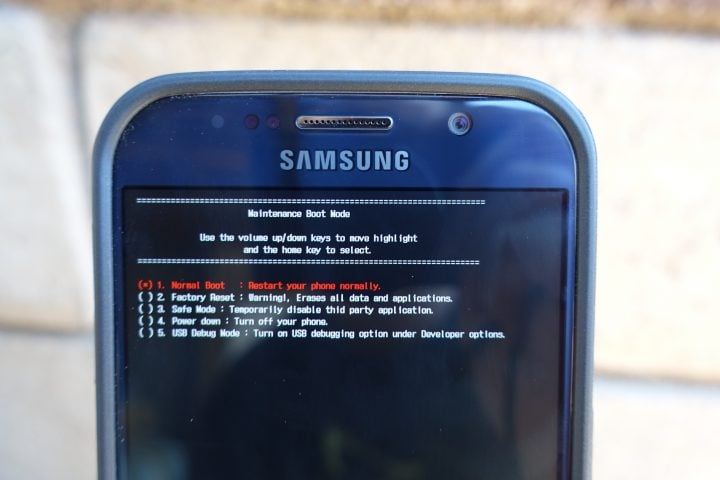 If the Note 5 was frozen most likely you'll feel a vibrate and it will restart just like usual, or it may reboot into a maintenance reboot mode as shown above on the Galaxy S6. If so, just use the volume up/down keys to navigate and tap power to select an option. Be careful to only reboot your phone, and don't accidentally do a factory data reset, as that will erase everything on the Galaxy Note 5.
That's all there is to it. If your Galaxy S6, Galaxy S6 Edge, Galaxy Note 5, or the new Galaxy S6 Edge Plus is completely frozen, just follow the steps above and in less than a minute it will be rebooted and working like it should be. Enjoy, and drop us a comment below with any other questions.