How to Reset Your Windows 10 PC
Every day tasks needed to be easier in Windows. For years, Microsoft virtually abdicated responsibility for resetting PCs. If you wanted a to delete all of your programs because your computer was unstable or a problem cropped up you had to have a backup of the software that was on your PC. You needed to have created that back-up or a pay for recovery DVD. Windows hardware makers finally included restore systems on their PCs, but they were cumbersome and often didn't work as intended. Microsoft's Windows 8 operating system revolutionized resetting Windows PCs. The free Windows 10 upgrade has some improvements of its own.
Windows 8 let users restore their PC with the push of a button, but Windows 10 makes the process a more practical solution to everyday problems. With the previous system, anyone who restored their Windows 8.1 PC ended up with Windows 8 without any updates at all. If Microsoft had kept that system, anyone who reset their Windows 10 PC after upgrading would have ended up with Windows 8.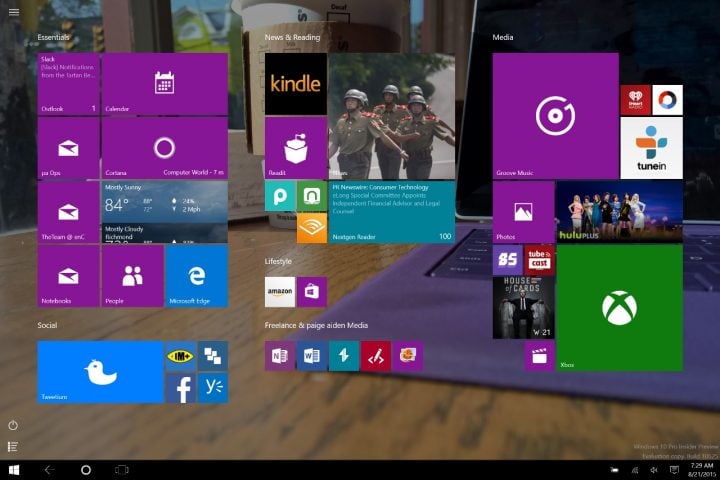 Here's how to reset your Windows 10 PC
Resetting your Windows 10 PC is a nuclear option, a action that you should only have to perform if you're passing on your device to someone else or there are serious issues with Windows. Treat every tap or click as if your device's life depends on it. Resets can't be undone.
Press the Windows key on your keyboard or the Windows button on your tablet or Windows 2-in-1 to bring up the Start Screen/Start Menu.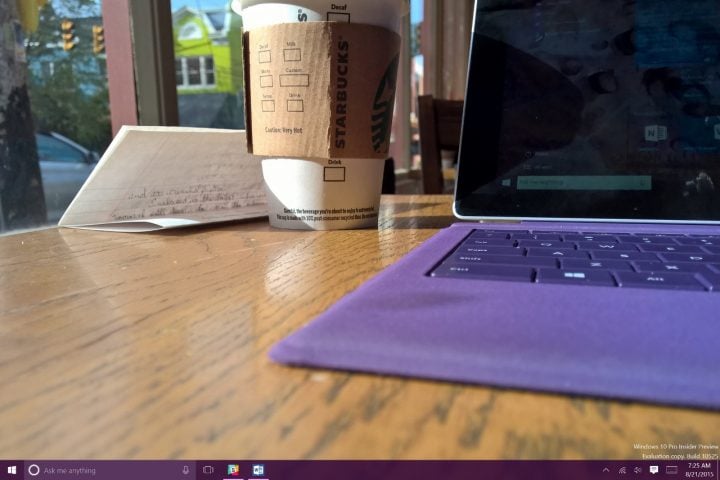 In the Start Menu, tap or click on the Settings cog in the bottom-left corner.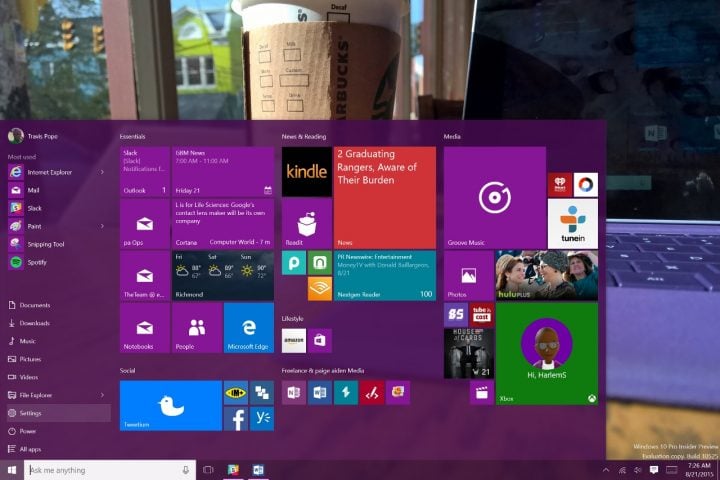 If you don't see this Settings Cog it's likely that you're in Tablet Mode. Don't worry, it's accessible there too. Microsoft hides a shortcut to the settings and more within a menu on the right side of the screen. Tap the menu button in the top-left corner of the Start Screen then select Settings.
Tap or click on Update & Recovery. It's the last menu item on the right, at the bottom.
Select Recovery from the menu on the left side of your screen. It's the fourth option from the top of the menu.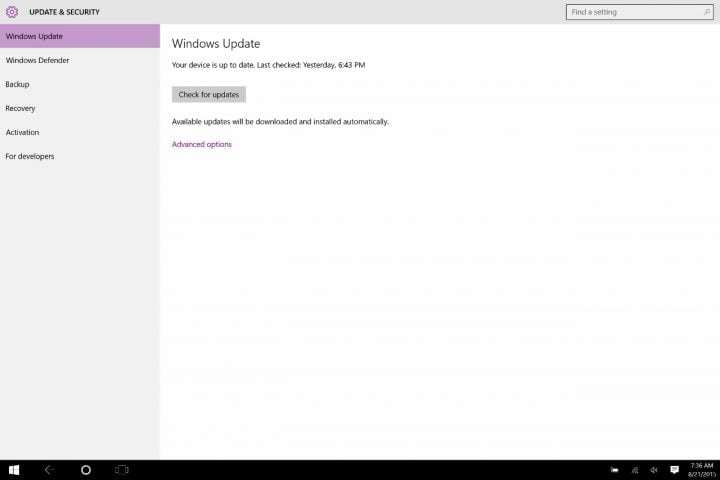 Look for the Reset This PC option. When you're ready to reset your Windows 10 PC tap or click on it.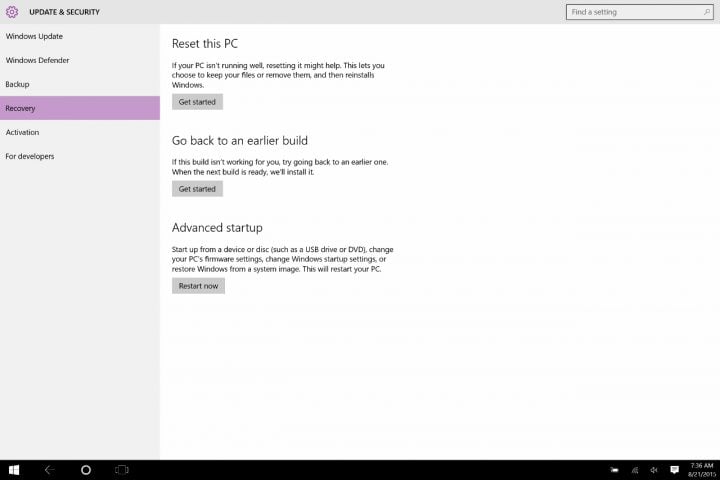 Like Windows 8, Windows 10 makes resetting easier by taking the guess-work and preparation out of it. When starting a Windows 10 reset, users have two options. One option complete cleans the storage inside and installs Windows 10 again. This setting doesn't care about personal files and data. It'll delete them to get you back to the factory fresh experience.
The Remove everything option is for users who plan to sell a PC or give it to another member of the family. If you've already backed up your information, this option is great too. Some have even used this option to clean up any issues caused by upgrading from Windows 8.1 to Windows 10.
If you have yet to back up your information, than the Keep My Files option is definitely for your benefit. You still get a fresh copy of Windows 10 installed after the update, but Windows 10 will save your data for you, leaving it in exactly the same place it was before you did the reset. Your apps and programs are gone, but your documents, pictures and video are still there and you don't have to back-up before hand.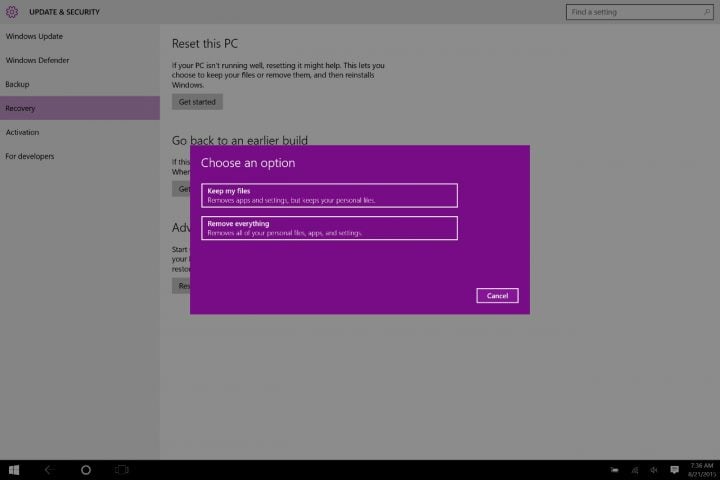 To be clear, you should still make a back up in cause something goes wrong, even if you only offload your documents and settings to Windows 10's built in OneDrive cloud storage utility.
How to Reset Your Windows 10 PC: Things to Know
Absolutely, do not begin the reset process without first plugging in your power cable. The last thing you want is power loss while Windows is working with your files and operating system. In that same vein, don't turn your PC off during the reset process either, even if it feels like the reset is stuck. Fully Cleaning the drive during a reset can take hours. Be patient and you should have a PC with a fresh copy of Windows 10 in no time.
The options and methods detailed in this tutorial work on whatever device you have running Windows 10. The process itself doesn't change, but some of the hiccups you could run into can depending on form factor. Notebooks, desktops and Windows 2-in-1s have a large amount of storage available to them, meaning it's far more likely that resetting them and keeping your stuff will work. With tablets and machines with limited storage, Windows 10 might prompt you to clear more space before trying to restore everything and keep every file. If that happens it's better for you to back-up your files then perform the reset. You could also delete unwanted files and programs, but that won't guarantee you have the space you need.
Good luck with your Windows 10 reset.