If you have a SIM card that you want to put in another phone that you have, but it doesn't fit in the SIM card tray, here's how to resize a SIM card so that it does fit.
There are three sizes of SIM cards that are available. The biggest one is a MiniSIM (also called a Standard SIM), MicroSIM, and NanoSIM.
Most smartphones nowadays use either MicroSIM or NanoSIM cards, with most higher-end device using NanoSIM. If you buy a prepaid SIM card from Cricket, Pure Talk, etc., you'll likely receive a MiniSIM in the mail that will need to cut down to fit a smaller SIM card size.
For instance, I bought a prepaid Moto E from Verizon. The phone uses a MicroSIM card, but I want to use it in my iPhone 6, which takes a NanoSIM card. Because of this, I'll need to cut down the MicroSIM card so that it will fit in the iPhone 6's SIM card tray.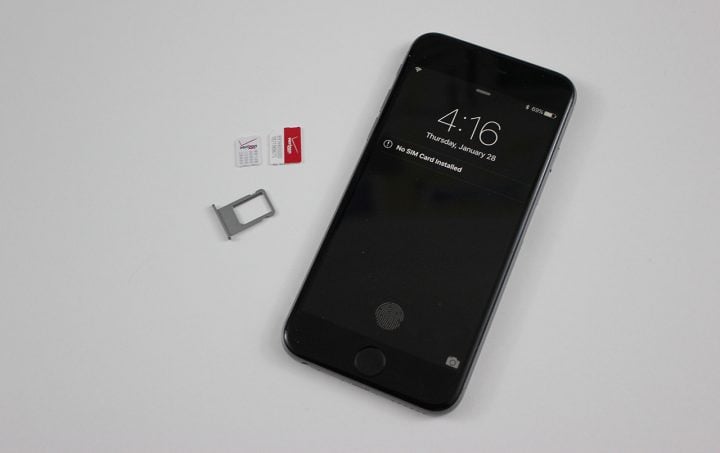 With that said, I'll show you how to cut down a SIM card to make it smaller, and I'll also show you how you can make a SIM card bigger if you need to go up a size.
How to Make a SIM Card Smaller
To make a SIM card smaller, it's quite a simple process that isn't too difficult to do. You will need a couple of tools, however:
Sharp scissors
Pen
SIM Card Template (Get it here)
Ruler or straight edge (optional)
Start by printing off the template and then lay your SIM card down inside of the traced-out box, making sure that your SIM card fits perfectly within it.
Next, you'll see that there are multiple lines intersecting the SIM card. These are where you'll cut along the SIM card to make it smaller. Take your pen and mark on your SIM card where you'll need to cut it down. You can use a ruler here, but I personally just free-hand it, as it doesn't need to be perfect.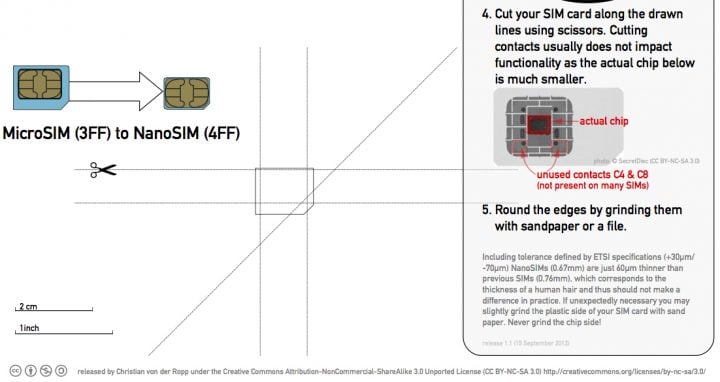 After you mark the lines, take your scissors and carefully cut along the lines to cut down the SIM card. Make sure not to cut off too much, as it's better to cut off small bits at a time than a larger chunk and have your SIM card end up being too small.
After you cut it down, see if you can fit it into the new SIM card tray. If it's still too long or wide, cut it down appropriately until it fits.
From there, slide the SIM card tray into your smartphone and off you go!
How to Make a SIM Card Larger
To make your SIM card larger, it's a much easier process and doesn't require as many tools and time.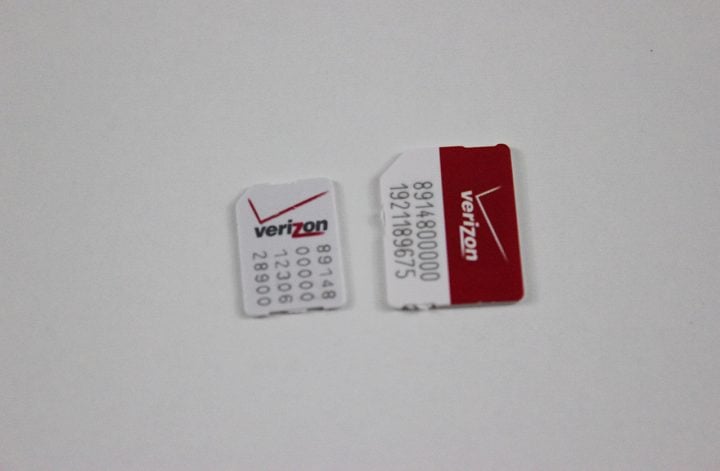 You'll simply just need a SIM card adapter, which you can find on Amazon from numerous companies. This one from Noosy comes with a few different adapters for different sizes and the set is only $5.
They're nothing more than firm pieces of plastic that your SIM card sits into, but it makes it possible to put a smaller SIM card into a larger SIM card tray easily.

This article may contain affiliate links. Click here for more details.