How to Root the Acer Iconia Tab A500 with Gingerbreak
The Acer Iconia Tab A500 Android Honeycomb 10.1″ tablet that I am reviewing is easy incredibly easy to root thanks to the Gingerbreak app which can root or unroot the device with the tap of a finger
Here are the steps and applications needed to root the Acer Iconia Tab A500.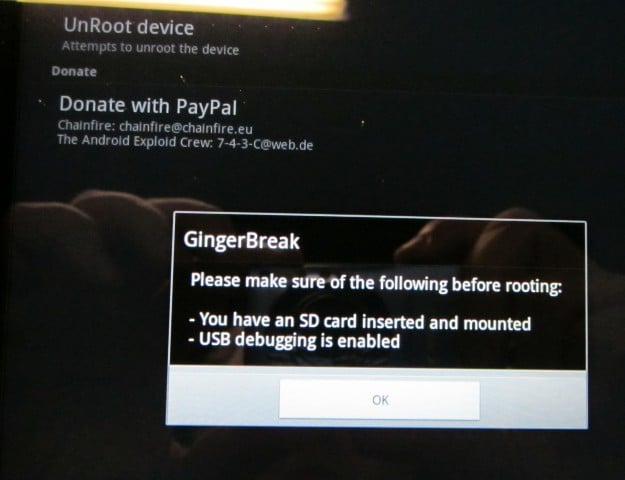 Turn on USB debugging – from Settings, Applications, Development – by placing a check mark in the box.
Insert a micro-SD card in the slot on the top of the device.
Put the tablet in portrait mode and lock it using the orientation lock next to the volume buttons.
Download the APK file from XDA Developer's forum – you may need to download the file to the SD card via your notebook and then insert it the card back into the tablet.
Enable the installation of apps from outside the Android Market by going to Settings, Applications and putting a check mark in the box next to Unknown sources.
Open a file explorer like ES File Explorer available in the Android Market for free.
Find the directory /mnt/external_sd and run the APK file by tapping it and it will install an app called GingerBreak.
Run GingerBreak and hit OK (see above).
Tap on "Root Device" to root it (see below).
Give it permission to root the device when it asks.
The A500 will reboot after a couple of minutes, at which point your Acer Iconia Tab A500 is rooted.
We had some trouble running certain apps that require root access until after another reboot, so go ahead and reboot again right away to avoid this. We also had a couple of apps that required an app called BusyBox to be installed. It should have been installed when you rooted the device, but if not you can download the app BusyBox Installer from the Android Market to this problem.
While rooting is easy to accomplish on the Iconia Tab A500 it is worth noting that you could potentially break your device and or void your warranty. Please make sure you read and follow these directions carefully.