How to Run 2 Apps at the Same Time on the LG G4
The new LG G4 is loaded full of advanced features that compliment the big, bright 5.5-inch display and stunning camera. One of those feature many users may not know about is the Dual Window mode that lets you run two apps at the same time. Below we'll explain how to use this feature on the G4.
Just like Samsung's Multi Window Mode, LG has a feature that enables users to have two apps on the screen simultaneously. This feature allows owners to choose from over 15 apps, swap them out as they go, and even resize the window so certain apps have more screen real estate than others. This is extremely useful for power users and those wanting to use all that 5.5-inch screen real estate for multitasking. Below is a quick video explaining how to use the LG G4 Dual Window mode.
Read: How to Use the LG G4 Hotspot Feature
Whether you want to read news from your web browser while watching a YouTube video at the same time, or even have Hangouts (or Messages app) open to communicate with a friend while getting directions on Google Maps at once, Dual Window makes this easy and has you covered. Here's how to do it.
The LG G4 has a great camera, pretty genuine leather build materials on the back, and tons of improvements to Android 5.1 Lollipop that makes the phone an all around great device, and one that's easy to use. For more details check out our full LG G4 Review, then follow the instructions and video below.
Dual Window mode makes multitasking easy and lets power users get more done in less time by having two apps open and accessible at the same time. Not only that, but each window can quickly be resized, making one bigger than the other when needed, or quickly swap YouTube out with Gmail if you need to read and reply to a message without stopping what you're already doing.
With Dual Window Mode on the LG G4 there are plenty of options, but sadly not as many as Samsung has to offer. Samsung's Multi Window Mode works with a wide array of apps, while LG's implementation only has a few apps that are supported that come pre-installed on the phone, or most of Google's apps. That being said, they're most of the apps you'd actually use this for, but we would be lying if we said we didn't want Netflix and a few other video apps to be capable of using Dual Window mode. With that all said, here's how to do it.
Instructions
With the LG G3 users could just long-press the back button and Dual Window mode would fire up, but that no longer appears to be the case this year. So if you're coming from the G3, you'll need to know how it works, and those who just got the LG G4 will be happy to learn that this trick can be done in just a few seconds and two taps of the screen. Below is a video how to, as well as a full set of instructions and screenshots as well.
On the bottom of the G4 display are three buttons out of the box. A circle for home, a back arrow, and a square which is the "recent apps" or multitasking button. This is what you want to press. Tapping the square shows all your currently open and running apps. Once you tap on the square and see all your recent apps the bottom right is a button that says "Dual Window" and just select this.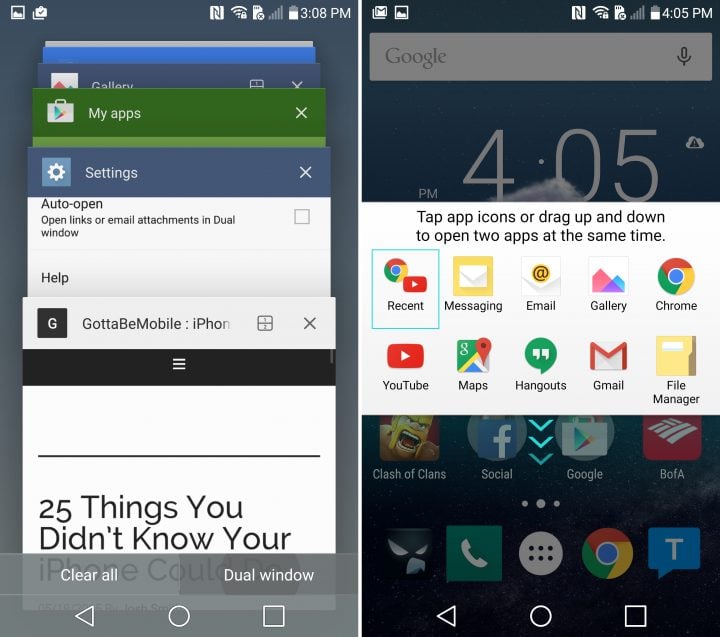 Once selected you'll see a window pop-up with arrows pointing up or down, instructing you to long press and drag the icon of the app of choice to the top or bottom of the screen. Slide Gmail to the top and another app of choice to the bottom. Any app can go on top or bottom, so this all varies based on the users needs.
Go ahead and slide one app to the top and another app to the bottom and you're all done. Now both apps are running at the same time. Click the light blue circle arrow to resize apps on the fly, or hit the square and go back into the recent apps menu and select "dual window" again to choose from the list and replace an app with a different one. I've used this to watch YouTube videos for music while browsing the web, or replying to emails that built up over the weekend while catching the latest episode of the Philip Defranco Show on YouTube.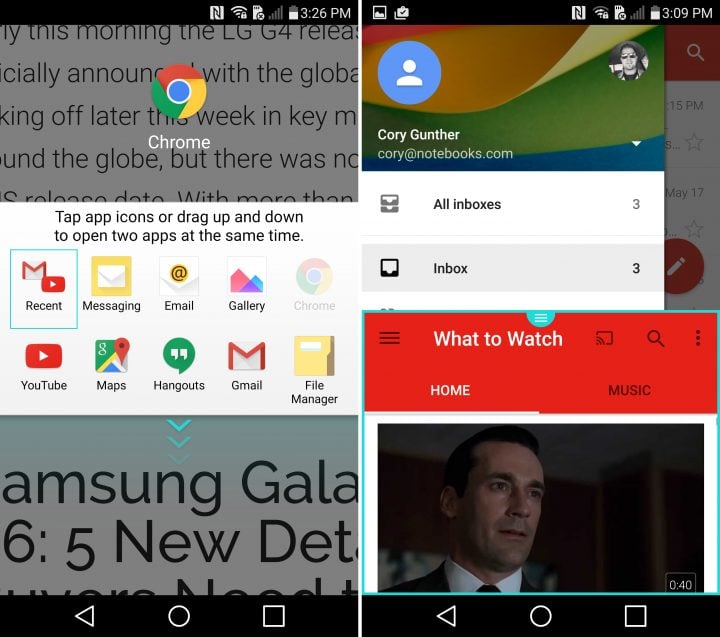 As shown above, we're now running two apps simultaneously on the LG G4. With a big 5.5-inch screen and a powerful 6-core processor the phone is able to handle both of these at the same time with ease, and there's no slowdown. Browsing the web is still smooth, as is zooming in on text, and YouTube videos play buttery smooth too. It's all quite neat, and works great.
Read: 6 Exciting LG G4 Cases
Sadly third party apps like Netflix, Sling TV, or even text message apps like Textra aren't supported. Only some of LG's default apps and Google's own apps support this, but more could be coming in the near future.
In daily life this isn't something I use often, but it is just one of many awesome apps and software tricks on the LG G4. This along with the Q-Remote control app, Quick Memo for taking notes, and more all deliver a simple yet powerful experience for owners.

As an Amazon Associate I earn from qualifying purchases.