How to Run Windows Apps on Android
Here's how to run Windows apps on Android so that you have the best of both worlds at your fingertips: an Android device that's powerful and mobile enough to be useful anywhere and the flexibility to get work done with the powerful apps that only Windows can offer.
First, you'll need your Android device powered on. You'll also need access to the Google Play Store. The Google Play Store is the marketplace where Android devices download apps from.
Pick up your Android device and unlock it by putting in your passcode or entering your lock pattern.
Once inside, find the app drawer and navigate to the Play Store. On the HTC One M7 this is done by tapping the button in the middle of the bottom shortcut bar. This is going to be particular to whatever version of Android your device is running and the maker of that device. Either way, you should be able to reach the Play Store from your device's list of  installed applications. Access to the Google Play Store is almost universal.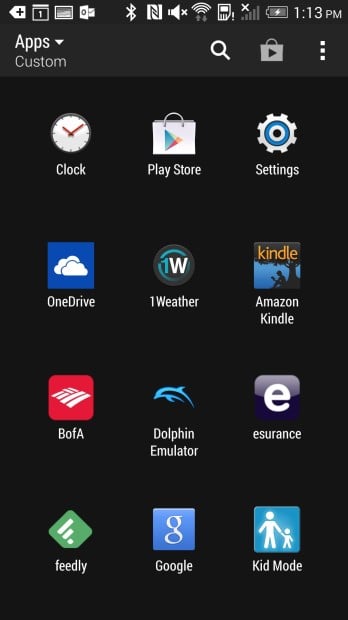 Inside the Google Play Store you'll be greeted by a showcase of apps. You'll want to tap the search icon in the top right corner of your screen. It looks like a magnifying glass. Search for Parallels Access.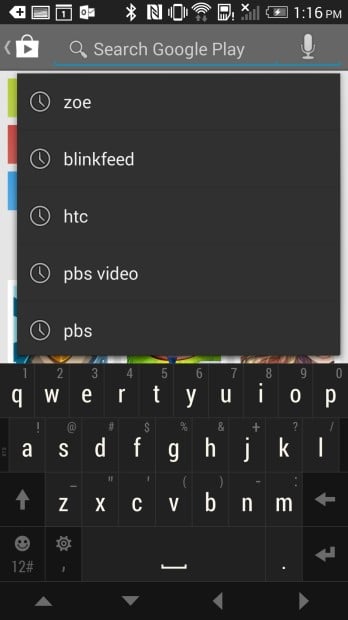 Select Parallels Access from the list of apps.
Tap Install.
Tap Accept to give Parallels Access permission to do things on your device. Then wait for it to finish downloading and installing on your device. This can take a long time if you have a slower internet connection.
Tap Open.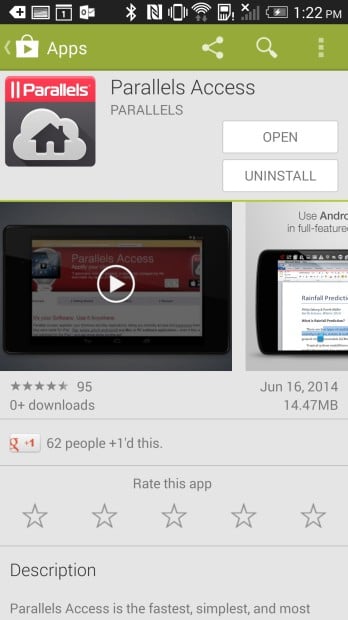 Now tap Register.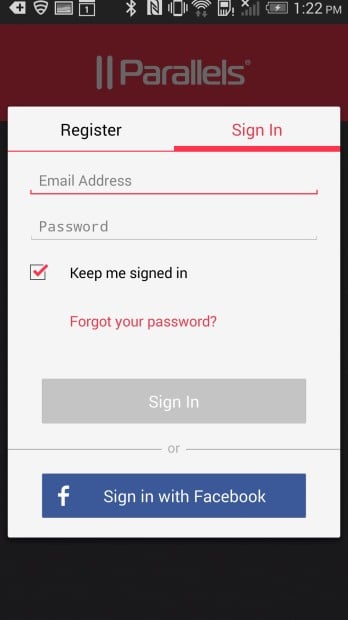 Now put in a username, email address and password that you're comfortable with. You can also login with your Facebook Account as well, though if your Facebook Account is ever compromised you could give someone access to your data.
Parallels Access will have sent a registration email to the address you provided so that you can set up Parallels on your Windows device. Go to your computer and open the email. The email will have the subject Welcome to Parallels Access.
Click on the button in the email labeled Download Parallels Access Agent.
Type in the username and password that you just used to setup your Android device.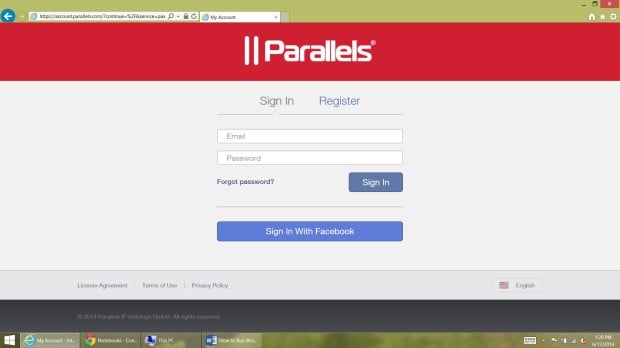 Once inside click or tap on the Downloads link in the navigation bar.
Click or tap on the Windows icon to download the access client to your Windows device. Tap or Click Run to begin installing the app. Your device will need to download the app before it begins installing. Again, depending on your internet connection this could take a bit.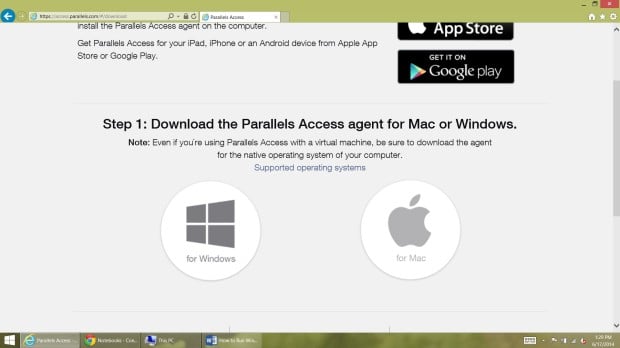 Tap or click on Ok.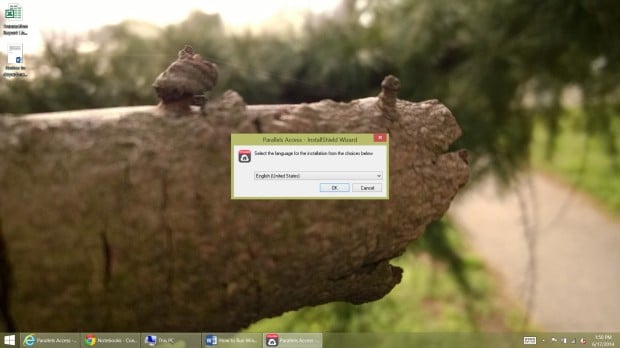 Tap or click on Next.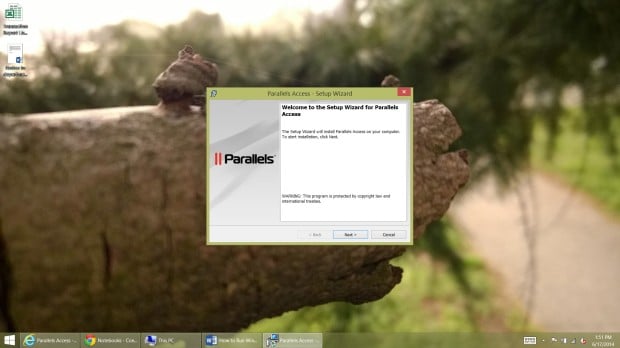 Click on the Agree then click Install.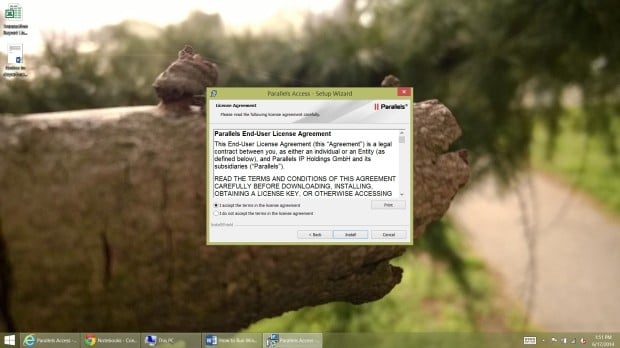 Tap or click on Finish.
Parallels Access can overwrite your computer sleep settings so that it's accessible whenever you need to access it from your Android device. Click on Allow Access to give Parallels permission to do so. Parallels Access will still work without enabling this setting, you'll just need to make sure your device is always wake when you need to access it.
Click or tap on Yes to enable background updating for Parallels Access.
Now back to your Android device. Once you've logged in successfully you'll notice that the name of your PC is now displayed on your device.
Tap on the name of your PC to connect to your device. Before it'll let you connect, Parallels Access will show a very long video guiding you through the setup process. Don't try to skip it. Take the time to learn about the features that Parallels Access has.
Zoom is a simple as pinching and zooming like you would on a picture. Double clicking on anything is as simple as tapping on that item twice. Tapping on the windows the two overlaid squares allows you to open apps you already have open. You can launch more apps by tapping on the App Launcher rocket ship.
Press the back button and open the menu to add more apps to your quick launch menu.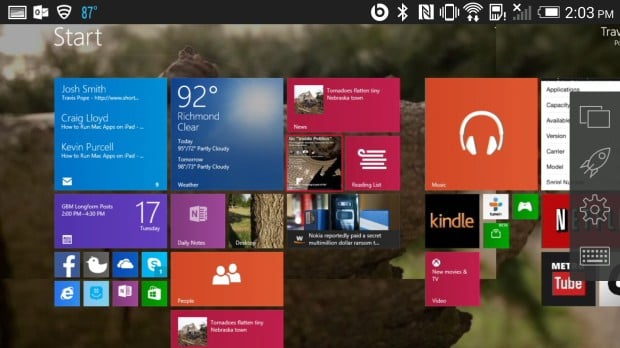 To be clear, accessing your Windows device directly through your Android device requires both devices to have an internet connection or be connected to a wired or wireless network. For the best performance, you'll want to be on the same network as your Windows PC, but that's not actually required. By setting this up you've agreed to a 14 day free trial on all of your devices. When that free trial is up you'll need to purchase either the 1-year $19.99 subscription or the two-year $29.99 subscription.

As an Amazon Associate I earn from qualifying purchases.