How to Search for Files in Windows 10
There are as many different ways to use a Windows PC as there are different kinds of Windows PCs. Microsoft's Windows 10 operating system was designed to improve on the millions of tasks people use their Windows 10 PC for every day. Searching for files in Windows 10 should be fair easier than its been in previous versions.
Some old hallmarks of Windows Search are still around – searching an entire folder from the address bar is still possible, for example. New upgrades have added some welcome features too. Microsoft's Cortana personal assistant makes finding files even easier. There's a search bar built directly into the Taskbar. Integration with Microsoft's own cloud services means that users can find both work and personal files without searching them individually.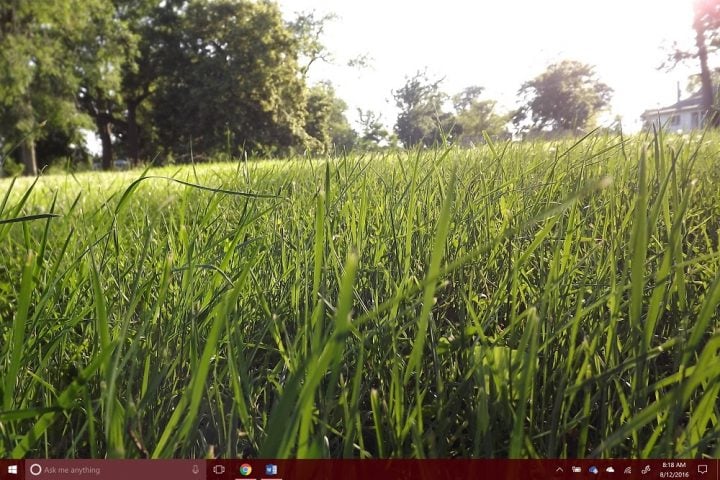 Read: 20 Windows 10 Tips & Tricks from a Fanatic
Here's how to Search for Files in Windows 10.
How to Search for Files in Windows 10 With a Window
The simplest and easy way to search for files in Windows 10 is through a browser window. This option has been around for years.
In the top-right corner of every File Explorer window that you open is a search box. Using that search box you can search for specific files in your Windows 10 PC within that folder. Just start typing the name of whatever you're searching for.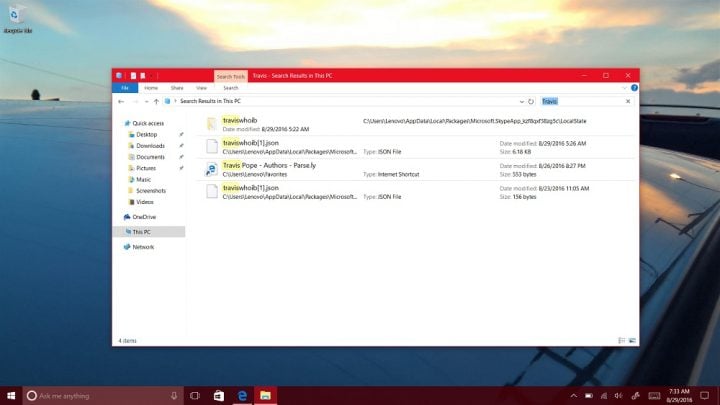 If you're trying to search for files in Windows 10 but don't know where they could be, tap or click on the This PC button in the left pane of the File Explorer window. This will set search to look into every folder that's on your PC.
Read: 16 Windows 10 Apps for Gmail, YouTube & More
How to Search for Files in Windows 10 With Cortana
Though the File Explorer method of searching your PC has been around the longest, Microsoft doesn't necessarily want you to rely on it. Instead, it's introduced an in-your-face, higher-profile way to search for files in Windows 10. That method is Cortana.
The new search area is built into the Ask Me Anything area that the Cortana personal assistant lives in. Best of all, it works even when you haven't enabled the personal assistant, itself.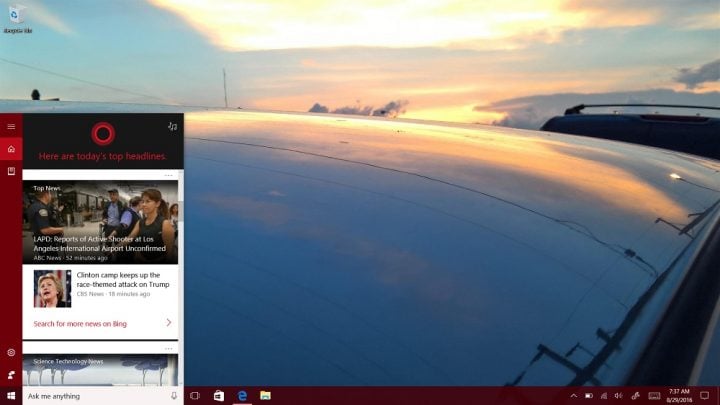 Simply tap or click on the search box.
Then begin typing your search term. By default, this box looks for more than just folders. It'll search for music, video, apps from the Windows Store and more. By clicking the file icon at the top of the window, you can limit your search to types of files. With Cortana, you'll get an immediate set of results, plus more will load overtime as the system reaches out to OneDrive. This is only if you're connected to the internet though.
How to Search for Files in Windows 10: Tips
With Windows 8, Microsoft allowed users to store placeholders to files on their PC when the actual file was stored on OneDrive. Through this feature, you could search, move and open files directly from the search utilities in Windows. Instead, you'll need to have OneDrive sync files with the new OneDrive program. This program does support business accounts too, but doesn't support the same placeholders that Windows 8 did. If you have files stored on OneDrive or OneDrive for Business that aren't being synced locally, they won't show up in a search of your PC through File Explorer. You'll need to use the Cortana method. Files stored in OneDrive for Business and OneDrive Personal will take you to a web browser window where you can read them.
Don't limit yourself to just searching the names of your files. Windows 10 allows you to search for what's inside a document too. For example, searching for a Microsoft Word file with your name in it is just as effective as searching for that document's file name.
If you Search for files in Windows 10, you won't see archive files by default. This means, ZIP files won't be immediately visible. If you really have a lot of them, definitely, turn that feature on from the Control Panel. It's in File Explorer Options. You may need to switch the Control Panel into Icon view and away from Category view to find it.
A few different factors play into how fast you can search for files in Windows. The speed of your hard drive and processor are the two most important factors. Typically, PCs with more storage – say 500GB to 1TB have drives inside that rely on a physical element. Devices with smaller amounts of storage typically rely on solid state drives, which are faster to search. The speed differences can be huge depending on how many files you have.
Good luck trying to search for files in Windows 10.