Microsoft has never said this publicly, but for Windows 10 the company clearly made it a goal to put a serious dent in the amount of time it takes for users to do everyday tasks. Turning off your PC in Windows 8 before the Windows 8.1 update required at least two clicks. Searching for files or things on the internet requires that you open an a file explorer window or Internet Explorer. The new Windows 10 update from Microsoft doesn't require that you do either of those things.
Instead, search is built right into the taskbar in Windows 10. Once she's been configured, Cortana lives here, allowing you to ask questions and give commands by simply typing them out or by an audio command. What many don't release is that this search box also allows them to look for files stored on their PC and things on the web. It's a perfect replacement for the Bing SmartSearch screen that Microsoft added with the Windows 8.1 update.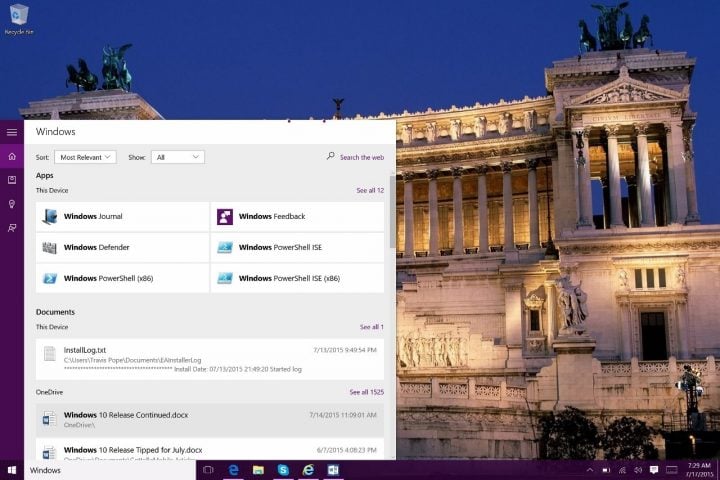 Read: How to Use Cortana in Windows 10
Here's how to Search Windows 10 for files and just about anything.
Before we begin, know that you'll need to download the Windows 10 update from Microsoft servers before what you have on your PC looks anything like what we show here. Windows 10 is a free upgrade from Microsoft. You should have already gotten a notification to reserve your copy if you are running Windows 7 or Windows 8.
Read: How to Get the Free Windows 10 Upgrade
Once you've completed the upgrade progress you'll get what you see here.
Searching for Files
After finishing the Windows 10 upgrade or starting your PC for the first time you'll notice a substantial portion of your Taskbar is taken up by a text box. By default this textbox invites you to search for anything. If and when you setup the Cortana personal assistant this textbox says just "Ask Me Anything."
Click or tap on the search box and begin typing the name of the thing you're looking for.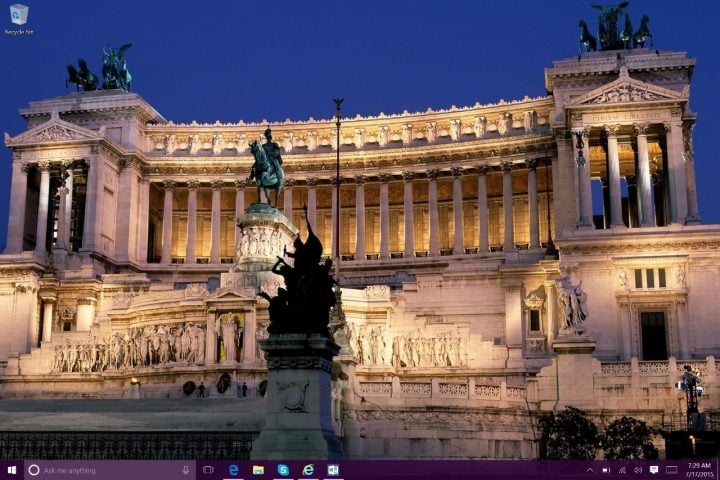 By default you'll get a limited breakdown of related stuff. Often times the file you are looking for will show up at the very top of the window. Often times that doesn't happen. Instead you need more granular control over what you're searching for. Click or tap on the My Stuff button at the bottom of the window.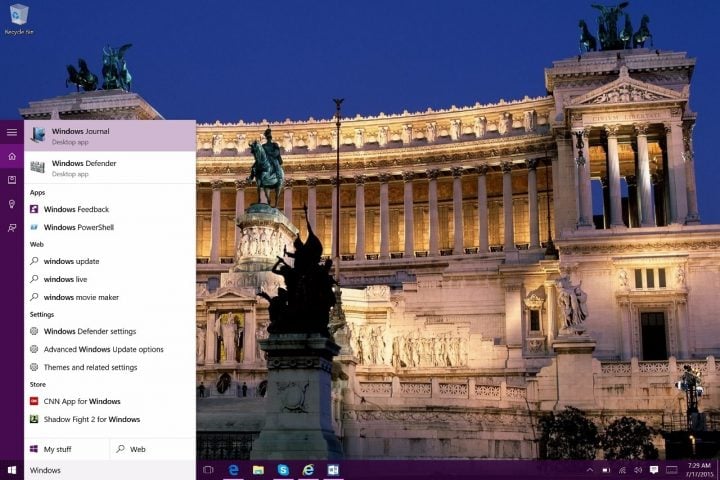 Now Windows 10 will index your entire computer, looking for anything with that search term in it. You can sort the results it sends you with the drop down menus at the top of your screen. Results are generally separate by types of content. So for example, Apps and Programs surface at the top. Your documents and photos show up a little bit lower than that.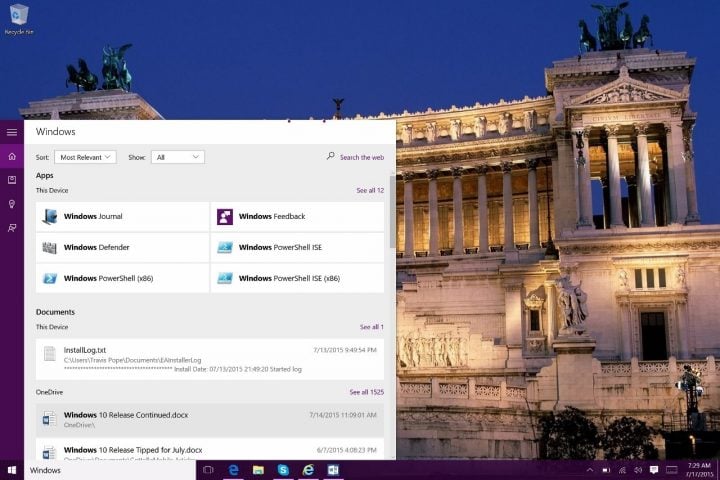 Searching for Web Sites
Searching for websites works exactly the same way. Begin typing your term in the search box and you'll immediately start seeing more general results. There are usually entries for search the web too. To get just the web results you should click or tap on the  Web button just above the text box.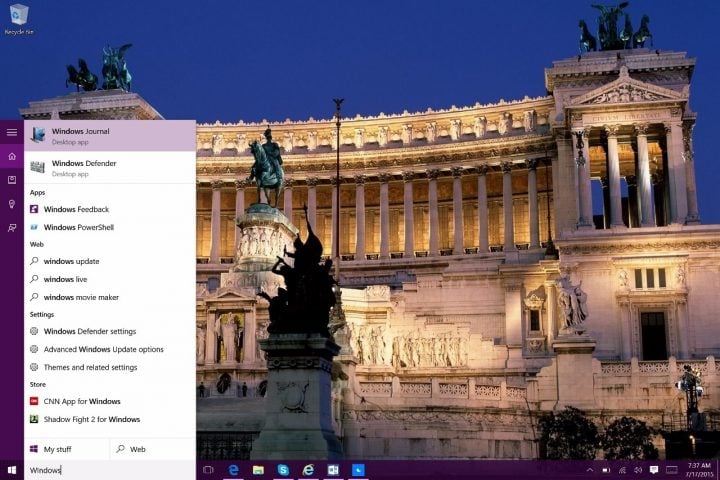 Searching the web will take you to a new Microsoft Edge window that contains your searched term. Bing, Microsoft's search engine, is weaved into Windows 10 by default, but you can change your search provider in Microsoft Edge's advanced settings. Microsoft Edge is the new web browser that replaces Internet Explorer in Windows 10.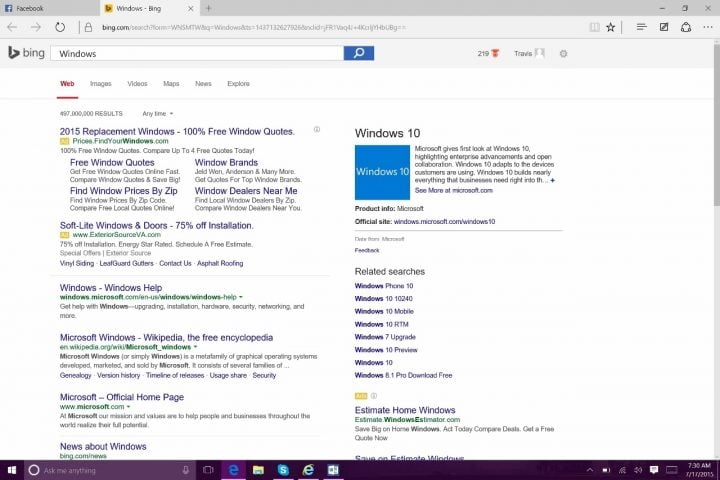 Press the Windows key on your keyboard and the letter S to begin a search from wherever you are in Windows 10. Remember, you don't have to just use typed text commands to search in Windows 10. Clicking or tapping on the microphone button allows to speak your search terms too. For example you can say, "What's the weather like?" or simply "weather" to get the latest conditions in your area. To get Cortana's attention and use voice search press the Windows key and the letter C on your keyboard.
Rest assured, if you don't like the built-in search and Cortana you don't have to use them. Typing a term in the address bar in Microsoft Edge still allows you to search the web. Every File Explorer window still contains a search box too.
Remove the Search Box
You can replace the search box with just an icon by right-clicking on the Taskbar if you have a mouse and keyboard or by tapping and holding on the Taskbar if you have touch.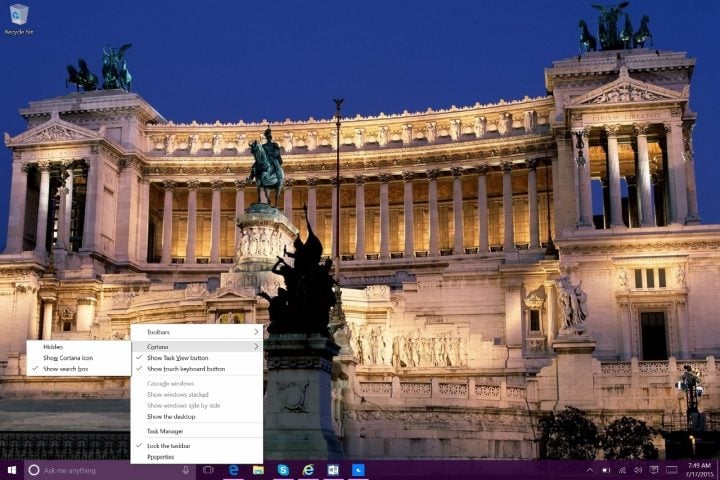 Good luck with your free Windows 10 upgrade or new PC.

As an Amazon Associate I earn from qualifying purchases.