How to Send Group Messages Over iPhone & Android
When it comes to group text messaging, iPhones and Android devices don't mix too well. Here's how to send group messages over iPhone and Android without any problems.
Group text messages are really convenient because they allow you to send text messages to multiple people at once, and they can respond to it, which also gets sent to the group. They're especially great if you're in a club or other organized group and want to make plans. Group text messaging allows you to quickly do this without having to message everyone individually.
However, when iPhones and Android devices mix within group text messaging, problems can occur, and it's likely that you've experienced them yourself.
The most common issue with iPhones and Android devices are both included in a group text message is that sometimes a message that should go out the whole group in one thread actually gets sent out individually to the users in the group.
Read: 5 Best Android Text App Alternatives
For example, I can send out a group text message to a few people, but one has an Android device. When they respond in the group thread, their message will still send to everyone in the group, but as an individual message. So if Bob has an Android device, his reply to the group will send back as an individual text to me and will appear in the individual conversation thread with Bob, instead of in the group thread.
This makes for really confused users if you're not sure what's going on, but the gist is that iPhones and Android devices just don't mix well when it comes to group text messaging, so here's how to fix these problems and send group messages over iPhone and Android without issues.
Don't Use Regular Text Messaging
First of all, there's really no way to fix the group text messaging problems if you're experiencing them. It's not even a bug per se. It's just how it works and how poorly iPhone and Android interact with each other, as well as how carriers handle group text messages for both platforms.
Read: 5 Awesome iMessage Tricks in iOS 8
With that said, if you want to do some group text messaging with people who have a mix of iPhone and Android devices, it's best to avoid the regular text messaging and use another app.
Yes, everyone in the group will need whatever app you decide to go with, but it's a small price to pay for finding a workaround for this annoying problem.
However, what app should you use? Here are some suggestions.
Facebook Messenger
Pretty much everyone uses Facebook, which makes a Facebook Messenger a good option for an alternate messaging app that handles group messaging quite well.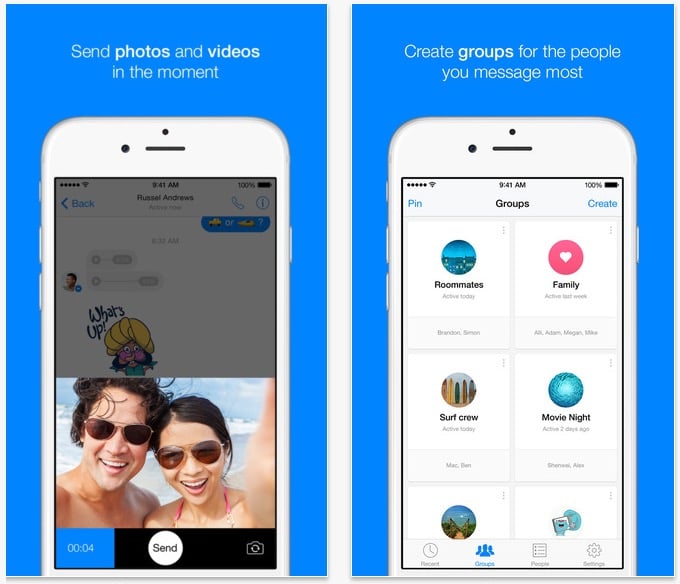 Aside from the controversial battery-hogging problems that Facebook Messenger has, it's actually a solid messaging app that lets you chat with your Facebook friends, and it has a lot of nifty features that might be useful for you and your group.
There's even a dedicated Groups tab at the bottom that shows all of the chat groups you're a part of, and to create a group, just tap on Create in the top-right corner and start adding people.
WhatsApp
Unfortunately, not everyone uses Facebook, so Facebook Messenger may not work depending on who uses or doesn't use Facebook in your group. However, WhatsApp is also a great messaging app.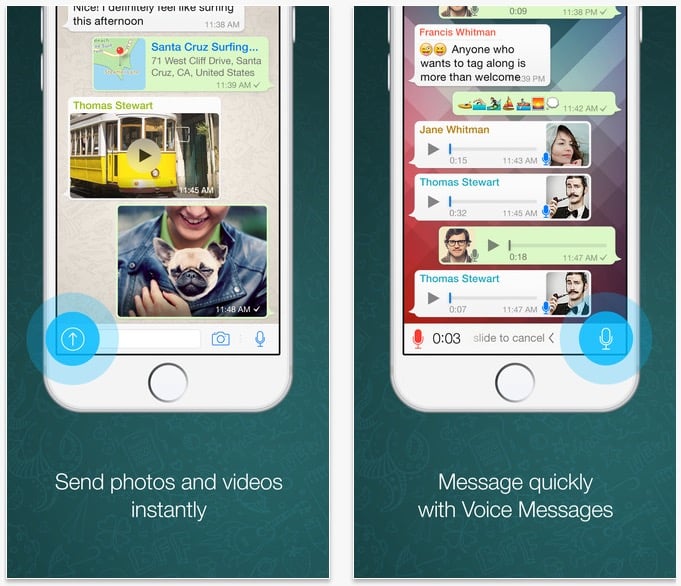 WhatsApp is extremely popular as well, so not only could you use it for your group text messaging, but you probably know other people that likely use WhatsApp as well, so its uses can go far beyond just your group messaging.
It's a free app to download and use for the first year, but costs $0.99 per year after that.
Skype
Skype isn't just a video chat service, but it also has a text-based messaging feature as well, which can handle groups of users.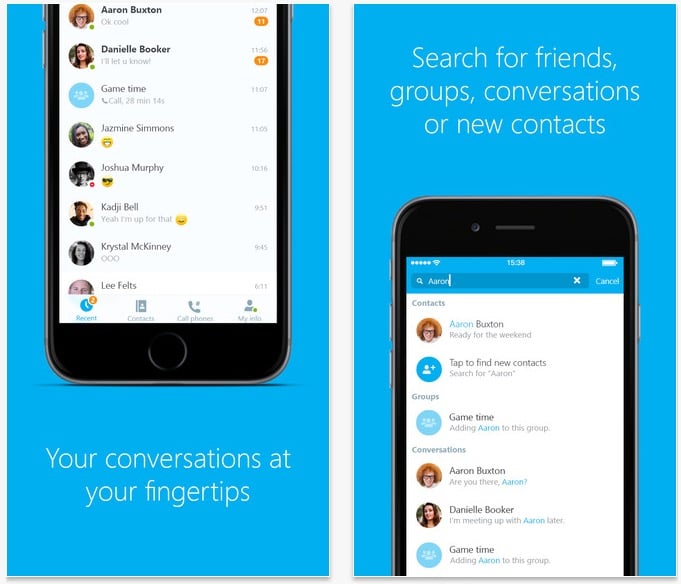 The nice thing about Skype is that most people probably already have a Skype account. It used to be a very popular service back when video calling was rather new, and while there are more competitors out there now, Skype still remains a solid choice.
Plus, it's easy to reach anyone in your group, since Skype is available on a myriad of devices, including smartphones, tablets, computers, gaming consoles, and even on some smart televisions.