How to Send & Receive Text Messages from Android on Windows 10
Depending on who you talk to, Microsoft finally came to terms with its failure to have a meaningful impact in the mobile space over the last year. iPhones and Android devices are dominant, and the company seems to understand that won't change in the near future. So its Windows Team is moving on, adding new links between Android smartphones and iPhones to Windows 10. Many don't know this, but with the Windows 10 November Update, they can send and receive text messages from their Android-powered smartphone.
Sending and receiving text messages from Android relies on one of Windows' latest features. With the initial Windows 10 upgrade, Microsoft brought over its personal assistant from Windows Phone. Designed to compete directly with Google Now and Siri, Cortana does many of the same things. She can complete calendar alerts, send messages and set alarms. Cortana is fine, but most users around the world have Android devices. Microsoft realized that the personal assistant could only blossom if she was freed from Windows Phone. That meant bringing her to Windows 10. Once she was there, Microsoft began rolling out other versions so that people could take the personal assistant with them when they were away from their PC.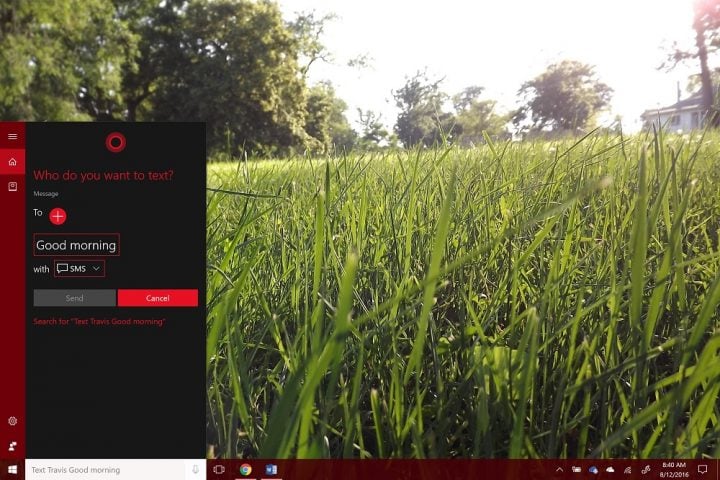 Read: How to Use Hey Cortana with Windows 10
Cortana can send and receive text messages through the app that brought her to Android devices. Here's how to do that.
Sending and Receiving Text Messages from Android on Windows 10: Before We Begin
There are some things that you're going to need before you attempt to send and receive text messages from Android on Windows 10.
The most important thing you'll need is a notebook, desktop or tablet running Windows 10 with the latest updates. Having the latest updates shouldn't be a problem, Microsoft requires devices running Windows 10 Home to install the latest software upgrades anyway. If your computer has an internet connection, you should be good. Go to the Settings app and click the Check for Updates button in Updates & Recovery area, if you want to check for the latest software upgrades manually.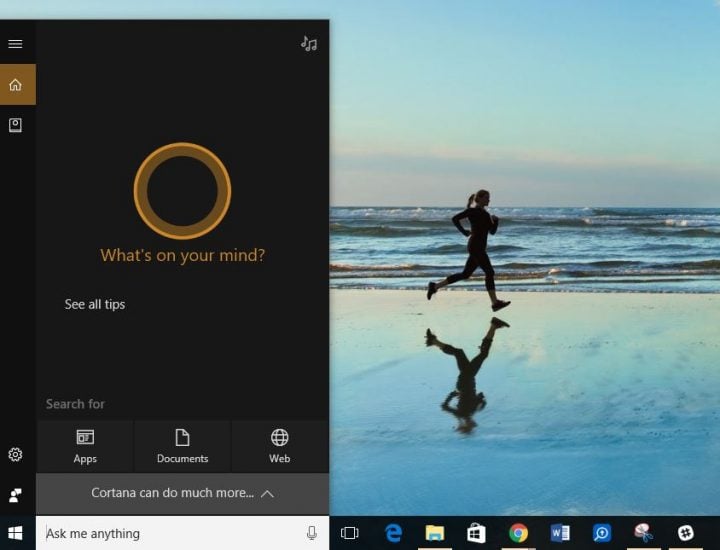 Second, you'll need the credentials for the Microsoft Account that you used on your Windows 10 PC. Luckily, that isn't a problem at all. Open the Settings app and tap or click on Accounts. Your Microsoft Account could have either a @Live.com, @Hotmail.com or @Outlook.com suffix.
Lastly, you'll need the Cortana app on your Android smartphone. You download it from the Google Play Store here. The app is completely free. During the setup process, you'll be asked to provide your Microsoft Account credentials. The app does require that your device have Android 4.0 installed.
Read: 10 Cortana Tips for Windows 10 & Xbox Users
For the feature to work correctly, both devices need to have a stable internet connection since Cortana uses Microsoft's servers to sync all the notifications. Any smartphone calls that you miss will get notifications on your Windows 10 PC too. App notifications will come along with them, and you can decide which you want to continue receiving by clicking or tapping on the Settings cog in each notification.
Sending and Receiving Text Messages from Android on Windows 10: Setup
On both the Android app and Windows apps, you'll need to go into Cortana's notebook and enable syncing notifications. The Notebook is where she keeps all settings and information on you.
On your Windows PC tap or click on the Ask Me Anything area on the taskbar.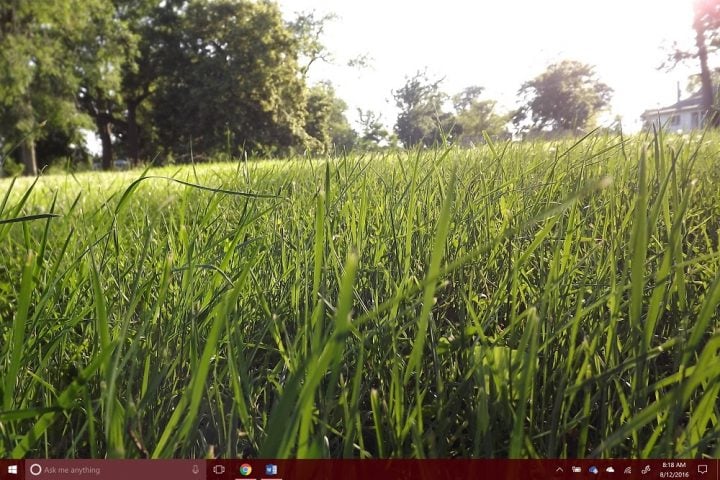 With the bar open, tap or click on the Settings cog on the right, bottom edge of the window.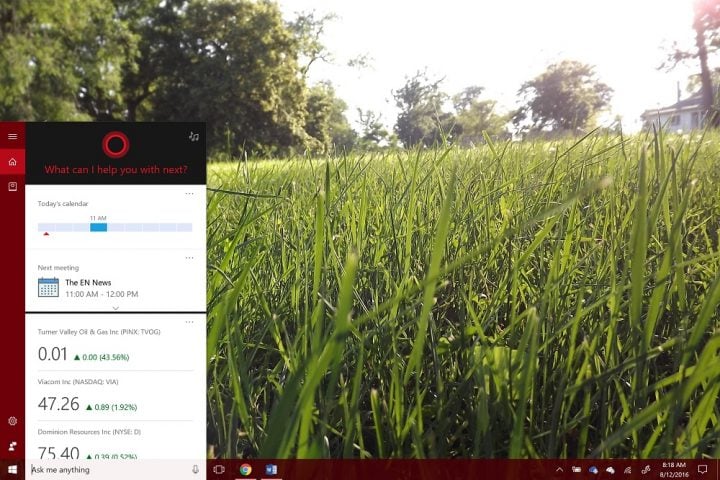 Now scroll down until you get to the Send My Notifications Between Devices. Flip this switch on, if it isn't already.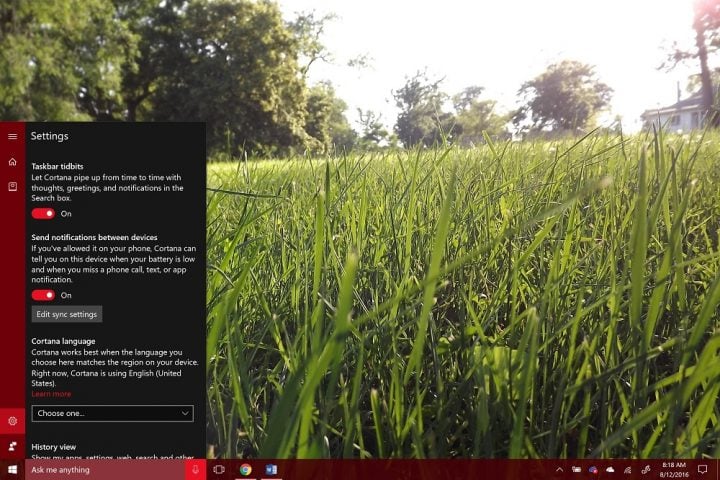 You'll want to go to Cortana on Android and make sure that the same switch is flipped there too.
Sending and Receiving Text Messages from Android on Windows 10
When you receive a notification on your Android smartphone, it'll get synced directly to your Windows PC. Text messages surface directly in the Action Center on the left side of your screen. There you can reply to them directly with your keyboard and mouse. You'll hear a ding from your phone confirming your reply was sent.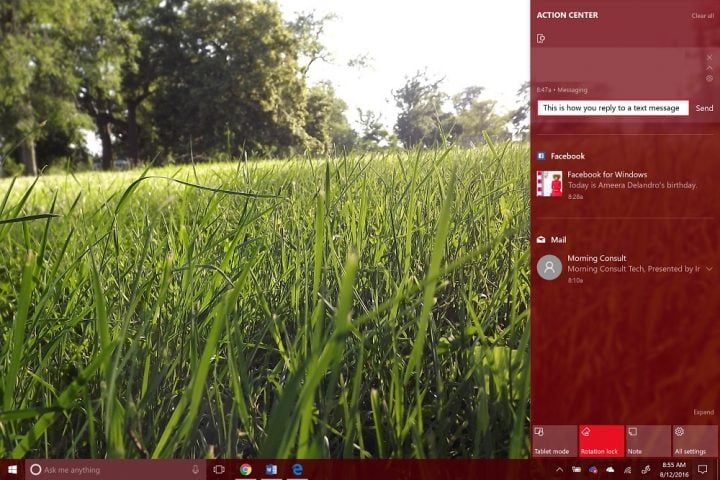 Sending a message is a bit different. Microsoft hasn't added text messaging to any of its apps directly. Instead, you need to ask Cortana to send the message for you.
If you want to use voice, you can click on the microphone in your taskbar and ask Cortana to send a text message to someone in your address bar. For example, "Text Joe, hello" works. You can type that command into the search bar too, if you don't want to give Cortana a voice command. In the Windows 10 Anniversary Update, this feature works above the lock screen too.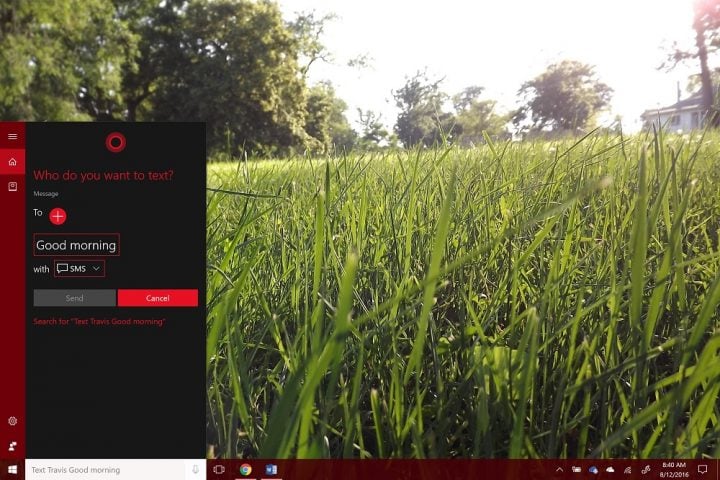 When you receive a message back from whomever you're messaging, a notification should pop-up in the Action Center.
Read: 9 Microsoft Android Apps Users Need Now
That's it, you can now send and receive text messages from Android on Windows 10.