How to Setup the Fingerprint Scanner on the Galaxy Note 5
The all-new Samsung Galaxy Note 5 and Galaxy S6 Edge Plus feature big 5.7-inch displays and top tier specs, and one of the many new features is the much improved fingerprint scanner for security. This quick guide will explain how to setup the fingerprint sensor on the Galaxy Note 5 and Galaxy S6 Edge Plus.
In 2014 the Galaxy Note 4 had a fingerprint scanner but it wasn't very good, or accurate, and required an odd swiping method. However, the new Galaxy Note 5 has a much better fingerprint scanner similar to the iPhone 6 or Galaxy S6, and after placing your finger on the home button it only takes a few milliseconds to unlock the phone.
Read: How to Reset a Frozen Galaxy Note 5
The Note 5 fingerprint reader can unlock the smartphone, make secure wireless mobile payments with Samsung Pay, login to accounts or websites, and even sign into banking apps like Bank of America thanks to a new update. Here we'll be explaining how to set it all up and even add multiple fingers, if users skipped this step during initial setup.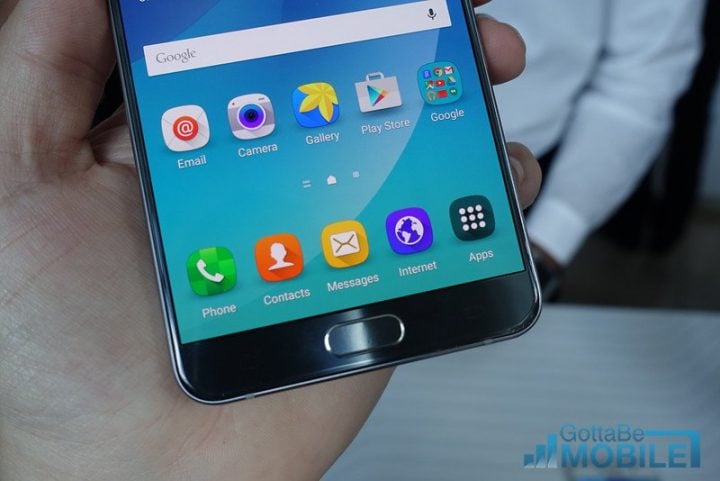 In an effort to protect your new Galaxy Note 5 from thieves or prying eyes, not to mention just give it more security overall, we'll be setting up multiple fingerprints as a security measure. This is one of a few steps recommended and offered during the initial setup on the new Note 5 and S6 Edge Plus, but many users and even retail store employees skip right over it.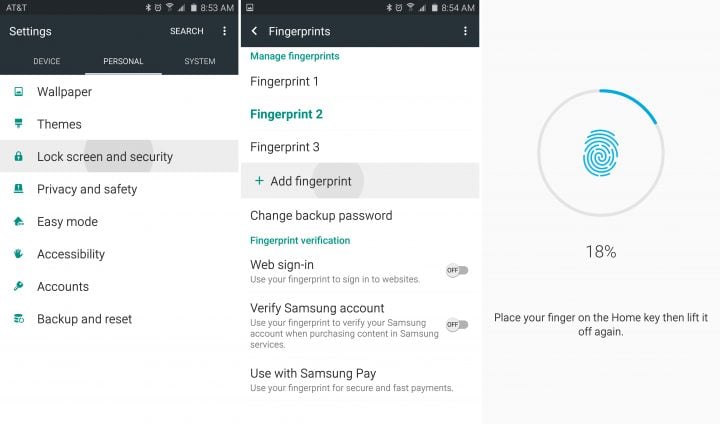 As a result, users can't enjoy this feature for lockscreen security and everything we mentioned above, unless they enable it and go through the setup and finish all the steps. It isn't mentioned again during usage, unless you seek it out. So lets get started.
To set up this feature for the first time, or to add more fingerprints, follow the steps outlined below.
Instructions
Step 1: Open the Settings app and tap on "Lock screen and security" under the Personal column.
Step 2: Select the "Fingerprints" option, which is located halfway down the screen.
Step 3

: Users will be prompted to scan a fingerprint and enable this

lockscreen

method. Those who already have a fingerprint registered will need to select "+Add fingerprint" and follow the on-screen prompts.
Here is a hands-on video showing users how to setup, enable, and add additional fingerprints for security on the Galaxy Note 5.
The Galaxy Note 5 will prompt owners to put their finger on the home button, then lift it off again, and do this over and over again and at multiple different angles, to get a 100% accurate reading. Do this multiple times after the vibrates until it completes and turns green. It's best to use the tip, the full fingerprint pad, turn sideways and do it one handed, or any other potential angles users will try while operating the smartphone. This ensures the best reading possible, for an accurate and fast fingerprint login experience. Don't forget to do this again for a 2nd or even 3rd finger.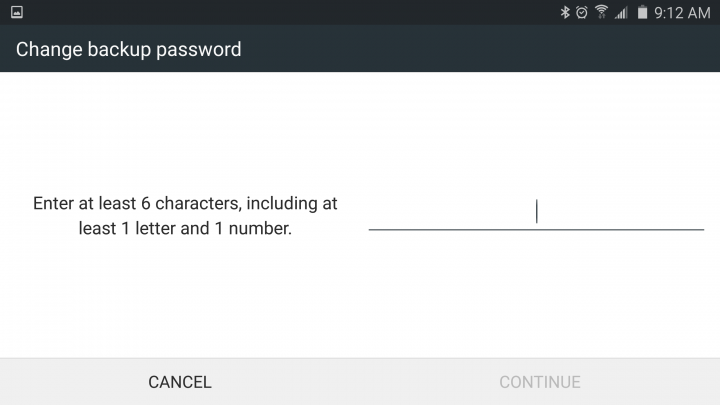 Step 4: Enter a backup password that will be used when your fingerprint isn't readable. Samsung requires this be six characters, containing at least one letter and one number.
Samsung will also offer users the choice to put in a "backup password" which we'd highly recommend. This is an additional option and will be helpful if fingers are wet or dirty, or if something happens to the fingerprint reader after years of usage.
The Galaxy Note 5 can store up to four different fingerprints, I've done my thumb and index finger on each hand, but deleted one and added my daughters thumb as well.
In the fingerprints settings menu owners can also enable a few more options of this feature. Web sign-in to sign in to websites with the tap of a finger, verify and log into a Samsung account, and even use with Samsung Pay, which is in a limited beta and set to launch later this month.
It's also worth noting that many 3rd party apps have added support for fingerprint technology for easy sign-in as well. A few popular ones are PayPal, Bank of America, LastPass and more. Follow the steps above and enjoy an easier, safer, more conveneint Galaxy Note 5 and Galaxy S6 Edge Pus experience.