How to Use the Fingerprint Scanner on the Nexus 6P
This week Google's impressive new Nexus 6P smartphone finally started shipping to eager buyers looking to get their hands on Android 6.0 Marshmallow. The new Nexus 6P has a lot to offer, including a full aluminum design, but it's also Google's first Nexus with a fingerprint scanner. Here we'll explain how to setup and add a fingerprint for security to the Nexus 6P.
Back at the end of September the Nexus 5X and Nexus 6P were announced. Two impressive new phones by Google running the latest Android 6.0 Marshmallow software. Now a month later pre-orders are shipping, and those getting the Nexus 6P will need to know how to set it up.
Read: Nexus 6P Setup Guide: 10 Steps to Get Started
The Nexus 6P fingerprint reader can unlock the smartphone, make secure wireless mobile payments with Android Pay, login to accounts or websites, and even sign into banking apps and more. BofA recently updated their app with the feature, and more are coming soon. Here we'll be explaining how to set it all up and even add multiple fingers, if users skipped this step during initial setup.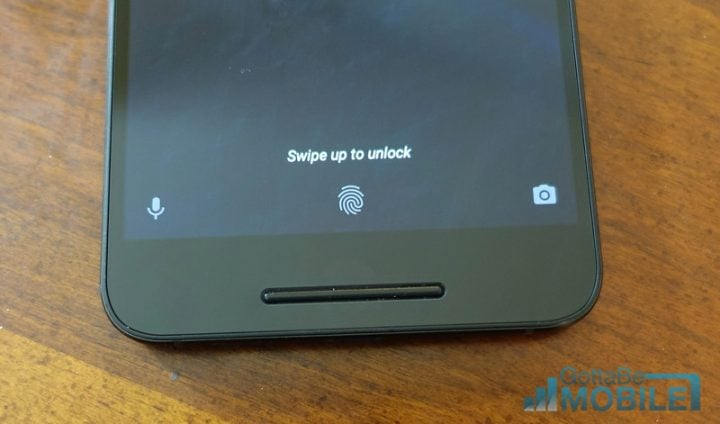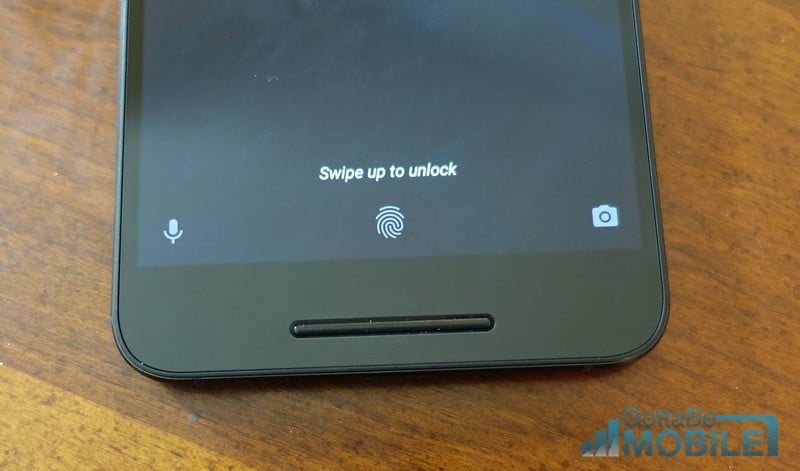 With Android 6.0 Marshmallow Google added native fingerprint support, which will come in handy for Samsung owners, and now those getting the Nexus 5X or Nexus 6P. Google is calling it Nexus Imprint, and it works slightly different than TouchID, or Samsung's own fingerprint scanners.
However, almost everything is the same. Users need to set up a backup password or pin, in case their finger doesn't work, is wet, burned, or covered, and it only takes a minute to setup and get started.
Read: Android 6.0 vs Android 5.1 Lollipop: What's new in Marshmallow
During initial setup when you first get the Nexus 6P this will be offered, but user may still be confused, not to mention those who skip this process during setup that are too excited to try their new phone. Either way, lets get started.
Instructions
The video below is from our hands-on with the Nexus 6P, but we're starting it half-way through where we setup a fingerprint as the lockscreen security measure. It's one of the fastest implementations of a fingerprint scanner we've ever used, and owners are going to love it. It's faster to setup than Apple or Samsung's method, appears to unlock the phone faster, and seems more accurate too. It's extremely impressive.
We'll start with the hands-on video and instructions first, then go into the actual setup below for those who skipped this during setup.
It's that easy. Users simply add a backup password, pattern, or pin, then setup the finger with six taps. With Samsung it takes more like 10-12 taps of the finger, longer to setup, and doesn't even seem to work as well. My Note 5 is very accurate, but the Nexus 6P is even better. Google and Huawei did an excellent job with the Nexus 6P fingerprint scanner.
So, if you skipped this all during setup, and now need or want to add this as a security measure, lets do that next.
Start by heading into settings by pulling down the notification bar twice, or swipe once with two fingers, and tap the gear-shaped settings button. Here's the screenshots and full instructions. These same steps work the same way on the Nexus 5X.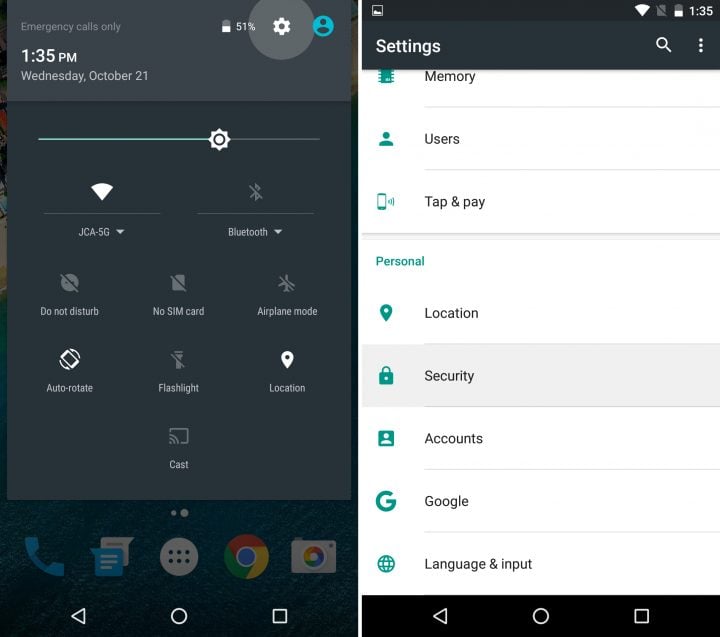 Head to Settings > Security
Tap on Nexus Imprint
Hit Continue, setup a backup password, pin, or pattern
Follow the steps, tap the scanner 6 times, to save a fingerprint
Once finished add more fingers, or one from your other hand
Nexus Imprint learns as you use it, and becomes more accurate over time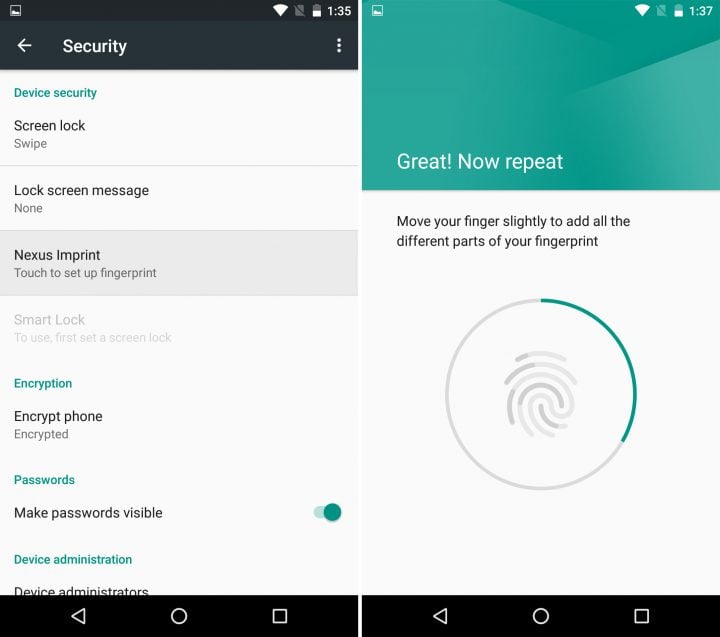 We'd recommend users setup both index fingers, as that makes the most sense, then users can add even more if they'd like. That said, we doubt users will be unlocking the Nexus 6P with a thumb, like on the iPhone or Galaxy Note 5. Once you've setup a fingerprint add a card to Android Pay, and start using wireless mobile payments with NFC. Android Pay is accepted at thousands of locations, just like Apple Pay.
That's all there is to it. Now simply pickup the Nexus 6P and your index finger will already neatly be sitting by or on the scanner, tap it for a moment (less than a second) and the phone completely turns on and unlocks instantly. Ready to be used.
It's worth noting that Google requires the password, pin, or passcode to be entered on first use after a reboot, before using the fingerprint. So make sure it's something you'll remember. You're all done. Enjoy the Nexus 6P.