How to Setup Two-Step Authentication on Twitter
After spending most of last fall and early spring defending its users from attacks by hackers who looked to exploit the ubiquity of Twitter's login functions and turn users online persona's against them, Twitter is now stepping up to the plate.. This week the social networking service, became the latest company to add support for two-factor authentication.
Simply put, Two-factor authentication is all about protecting users by asking them to provide more accurate and less impersonal ways to reach them in the event that someone attempts to use their account.
While many services ask for a spare email address or other personal information, Twitter simply requires that users provide it with their mobile phone numbers so that they can send special codes that they will need to enter whenever someone logs into their account.
https://www.youtube.com/watch?feature=player_embedded&v=IsdvJI0AK5M
Twitter, isn't the latest to introduce the system to its users, however it's the first to make it pretty straight forward.
First log into your Twitter account on your favorite web browser. You'll need to use a desktop browser like Microsoft's Internet Explorer, Mozilla's Firefox, Google's Chrome, and Apple's Safari. The new options to enable two-step authentication don't show up  in the settings area for the service's mobile site.
You'll need to click the settings cog on the right hand, top-corner and select settings from the site's drop down menu. It's located just to the left of the bright blue 'compose tweet' button is to the right of the site's search bar.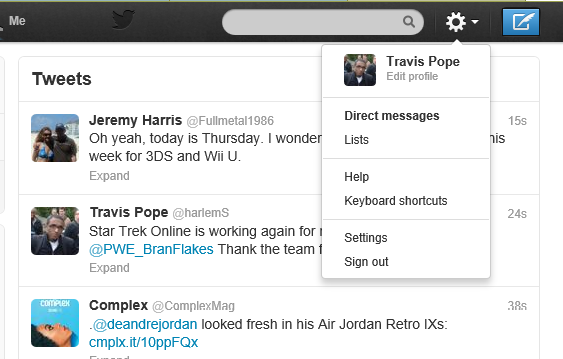 Before you can turn on two-factor authentication, you'll need to verify your phone number with the service. Check to see if you've already done so by clicking "Mobile" from the menu on the left of the screen. If you haven't, you'll need to enter your phone number and then text a phrase to the number the site provides to you. Unless you would like other users to be able to find you by entering your phone number, be sure to uncheck that option once you've been verified.
Now that you're verified, select account from the menu on the left side of your screen.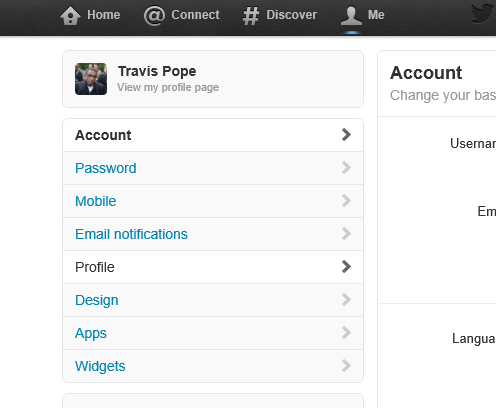 Scroll down until you see the option labeled 'Account security'. Click the checkbox. You'll be prompted to verify that the phone number you provided to Twitter is capable of receiving text messages. Click the button that says 'Okay, send me a message'.
If you receive a text message from the service saying, "Twitter can send verification codes to this device", Click 'Yes." This confirms to Twitter that you can now receive verification codes.

You'll be prompted for your password to Twitter one more time to confirm the changes that you're making to your account. 
From then on Twitter will automatically send a verification code to your phone. You'll need to enter the code to login whenever you log into Twitter on any type of device including your web browser.
Twitter two-factor authentication won't prevent you from using a third-party Twitter app, as these services connect to Twitter after a user authorizes them rather than storing your password and the service can generate one time passwords as well. Apps that are already authorized will continue to work.

As an Amazon Associate I earn from qualifying purchases.