How to Speed Up the Galaxy Note 5, Nexus 6P & More in Seconds
This quick guide and easy tip will show users how to speed up the Samsung Galaxy Note 5, Google Nexus 6P, Moto X Pure Edition and more in seconds. New smartphones like those above are among the most powerful and fastest devices on the market, but a few little tweaks can make them even better.
With huge screens, 8-core processors and 4GB of RAM these smartphones are as powerful as laptops from just a few years ago, but software changes keep them from being even quicker. While there are several ways to improve phone performance from new launchers, custom software, rooting and other technical things, ours is dead simple. In fact, all it takes is a few changes in settings. No special skills, knowledge or rooting is required.
Read: 5 Quick Car Chargers for the Galaxy Note 5
Everyone from a first-time Android smartphone owner to a veteran that has owned five different devices can all do this. It takes less than one minute and the difference will be extremely noticeable. We'll be changing three settings, and below is a video showing which ones, where, and explaining what it does. The video is from an older Samsung smartphone, but the same method applies for essentially any Android device.
Whether you're enjoying the latest 5.7-inch Samsung Galaxy Note 5 with a blazing fast 8-core processor, Google's new Nexus 6P, the Moto X, or even a cheap free phone you received from a carrier or on Black Friday, this trick will speed up all devices.
What we'll be doing here today is unlocking a hidden developers menu in settings and changing three settings that speeds up animations on all Android devices. This will make opening apps, switching between screens and more all quicker, could improve battery life, and will be noticeable immediately. This is a little trick everyone should know, and a great one to share with friends and family as well.
Instructions
The first step is gaining access to a hidden developer option in settings on your Note 5 or Android device of choice. The video above explains how, the link below is a bit more detailed, or if you're comfortable just keep reading.
Read: How to Enable the Developer Options Menu
Simply head into settings and navigate to about phone (or tablet) where it says "Build Number" tap this about seven (7) times. This will enable the hidden developer menu we need, and now owners can easily speed up their Android with the steps from our video or screenshots below.
Speed Up Your Device
Now that the developer options have been unlocked we'll need to navigate there and change three quick settings about halfway down the screen to speed up our Android phone or tablet. Follow the video or the screenshots.
Head to Settings > Developer Options > Scroll down to Windows Animation Scale, Transitions Animation Scale, and Animator Duration Scale. These are all set to 1x. Turning these values UP you'll see animations and screen transitions get extremely slow. You can try it just for fun, but we're actually turning them down, or off completely.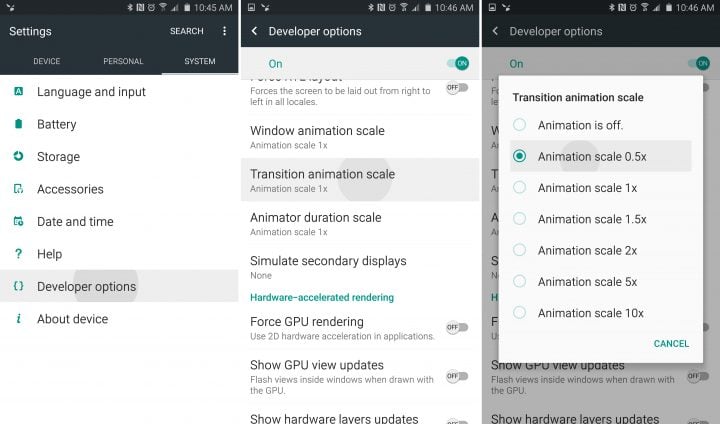 Change all three of the animation settings mentioned above from 1x down to .5x. This will cut the animations and transition effect speed in half, and make your phone look like it's nearly twice as fast. Everything opens quicker. From apps, flipping through settings, opening windows, the application tray and everything else. Transitions and animations have all been doubled in speed.
Read: 20 Best Galaxy Note 5 Accessories
These are those smooth and pretty animations that Android has always used, which are even better in Android 5.1.1 Lollipop. Windows quickly fade into view, fade away when you close them, and so on. They are neat animations, but this kills them a bit. Some users may choose to disable these completely and set them to off, but keeping it at .5x still leaves Android looking pretty, while being faster than before. I don't turn mine all the way off, but to each his own.
We'd recommend users restart the device after changing these settings to make sure it is applied throughout the system. As a reminder, this works on all Android smartphones and tablets, not just the few we mentioned here or in the title. Make the changes today and enjoy a faster smartphone. If it seems too fast, stutters, or you don't like the changes simple revert back to 1x using the same steps mentioned above. Drop a comment below if you noticed the changes.

As an Amazon Associate I earn from qualifying purchases.