How to Speed Up Windows 10
From the time that we turn on our machines until the time we put them away at the end of the work day to watch television or read a book, speed is important to us. We want to know that the device we spent our hard earned money on can get us through our hectic work day and personal life without needing to be coached or dragging down our progress. This is true of Windows 10 devices, just as it was for every device that's ever been made with productivity in mind.
There's a lot that Windows 10 does in the background to keep your device running smoothly. It monitors your internal storage drives for issues. If you've downloaded apps from the Windows Store, the operating system is really aggressive about making sure they don't impact your experience when they aren't in use – even if you didn't explicit close them. There are some things you can do to make sure that your Windows 10 PC stays speedy and fast too.
Have Fewer Programs at Start When Windows 10 Does
Our perception of how fast our notebooks, desktops and tablets are starts with how quickly they are ready to let us get to work. There's nothing worse than making it through your device's loading screen only to sit through a solid minute of more loading because you've logged in and dozens of programs all want to start at the same time.
Microsoft noticed this was a problem some time ago and acted accordingly. There's a tab inside the Task Manager that allows power users to see what programs are starting up. This screen also has its own gauge of how negatively a program is affecting your device's start up, ranging from High to None.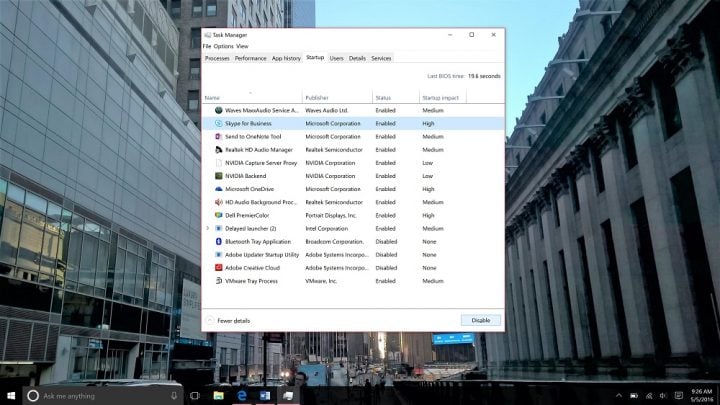 If you have a mouse and keyboard, press the CTRL + ALT + Delete buttons at the same time. Then select Task Manager. You can also right-click on the Start button to get a pop-up menu and look for Task Manager. Those without touch should use the search bar labeled Ask me Anything to search for Task Manager.
Inside Task Manager click or tap on the Start Up tab. You're looking for anything that has a high to medium impact on your start up experience that isn't necessary. You only want to disable apps that you don't use regularly. For example, Skype for Business isn't something that I've ever used, but it starts up on my machine automatically. As such, I selected it in the list, then disabled it using the button in the bottom-right corner of the Task Manager.
Uninstall Unnecessary Programs Running in the Background in Windows 10
While still in the Task Manager, the next thing you want to do is take a look at the programs that are running on your PC right now. This gives you a better idea of what kind of performance baseline you're working with.
Click or tap on the Processes tab for a list of apps and programs that are running on your system right now. If your PC should slow down for any reason, look here to see what apps and programs are causing the biggest slow downs. Below the Apps list is a list of Background Processes that are running on your device but don't have a window open for you to close. Background Processes are normal, but look through this list to see anything that's running on your PC that you don't want running in the background.
You absolutely do not want to go killing anything and everything in this list, just use it as a way to find things you might want to uninstall. I'm not a user of Adobe's products anymore, but for some reason there's an Adobe update service running in the background on my PC. Instead of ending the task here, I simply uninstalled the app from the Control Panel.
Change Your Power Settings in Windows 10
For a long time, Windows used Power Settings as a way to help you manage your machine better. The idea was simple, saving battery life means making some sacrifices on-screen brightness and performance. A Balanced Power setting would artificially limit the performance on your PC because Windows believed you were trying to get the longest battery life possible.
Check to see what Power Mode your device is on by right-click on the battery icon on the right side of the Taskbar and selecting Power Options. You can also search for Power Options from the Ask me Anything area on the Taskbar. Switch out of the Balanced Power mode if your device has it turned on.
Note that some PC makers include their own profile that allows their notebooks and other devices to switch in and out of Balanced mode on its own. If that's true for your device, you don't need to make any changes.
Add More RAM If You Can or a Solid State Drive to your Windows 10 PC
Software solutions are great, but there's nothing wrong with looking to a hardware solution to fix your performance issues.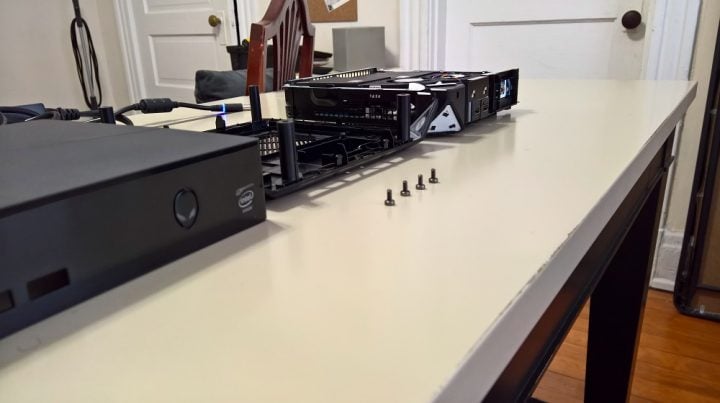 Most desktops and notebooks allow users to change out the amount of RAM and hard drive that they have. If that's the case with your machine, look into upgrading the amount of RAM it has with the company that made your hardware or a tech service like Geek Squad. Most older computers have hard drives with a physical disk inside. There are Solid State Drives that'll also boost start-up speeds and the time it tasks to move files around.
Note that a growing number of devices don't let you enhance their specs after purchasing. Microsoft's Surface Pro 4 and devices like it, can't be upgraded after the fact. Ultrabooks usually can't be upgraded either.
Good luck speeding up your Windows 10 PC.