How to Kill Notifications in Windows 10 With Quiet Hours
For years, notifications have been everywhere in Microsoft's Windows operating system. They're finally getting better with Microsoft's Windows 10 Update though. Universal controls allow users to stop notifications from specific apps in their tracks. Windows 10's Quiet Hours feature lets anyone get away from it all with a simple button press.
In Windows 7, an app would pin itself to the system tray on the right side of the Taskbar to indicate it was always running. Bubbles with information would surface every so often to remind users to do things like scan their PC for viruses or to investigate why their machine is running slow. Windows 8 added another kind of notification strictly for apps available through the Windows Store.
Windows 10 wrangles notifications, putting them into one place and making it easier than ever to see them.
Windows Store apps can send you a mountain of notifications and messages, depending on what apps you have installed. Twitter, the social networking app, notifies users every time they're mentioned by someone else.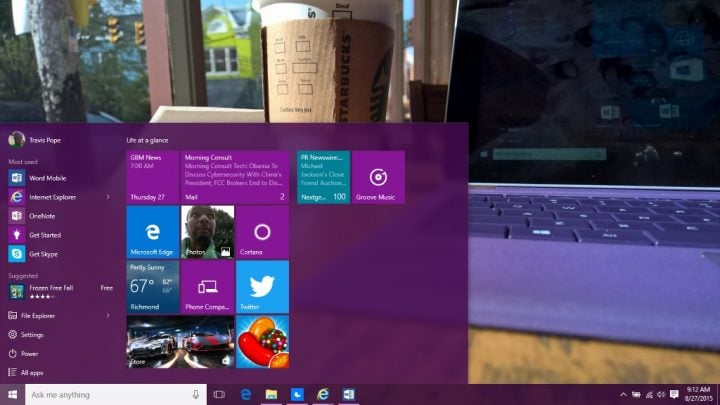 Read: 13 Common Windows 10 Problems & How to Fix Them
Here's how to stop notifications in Windows 10 using Quiet Hours and the Notifications options in the Settings app.
Before we begin, it's important to note that Windows 8 and Windows 8.1 both allow you to shut off notifications too. As such, this isn't a feature you absolutely need to update to Windows 10 to get. Users with Windows 8 and Windows 8.1 should look in the Settings app for a switch to turn off notifications.
Stop Notifications with Quiet Hours
Click on the Action Center on the right side of your Taskbar. In our example, the button is in the bottom-right corner, just before the button to bring up the on-screen keyboard and the clock. In Tablet Mode you can place your finger on the right edge of your screen and swipe to the left to get the Action Center.
Tap or click on the Expand button to get a more complete list of options available to you in the Action Center. More toggles should surface on the bottom edge of the Action Center for you to choose from.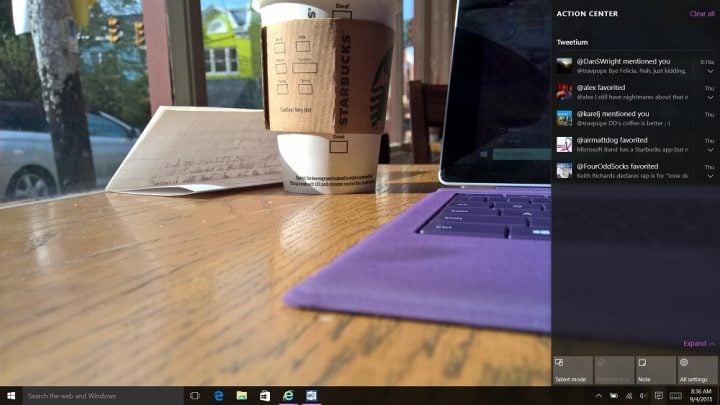 Now tap or click on the Quiet Hours button to silence all notifications. You can tap the button again to turn notifications back on at any time.
We're still hoping that Microsoft will add a way to toggle Quiet Hours to its Cortana personal assistant built into the Taskbar soon. In the meantime, users will still have to dive into the Action Center to rid themselves of notifications temporarily.
Turn Off All Windows 10 Notifications for a Specific App
Microsoft has a more permanent fix for those a don't want notifications. You can either turn off all notifications once and for all, or kill notifications for a specific app that just keeps bothering you. As an example, if you were simply tired of getting notifications from Facebook, this would be the option you'd use.
Go back to the Action Center and click or tap on the All Settings button.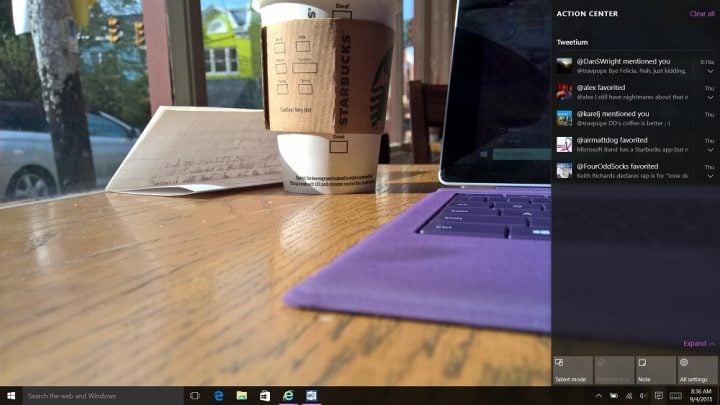 Now click or tap on System within the Settings app.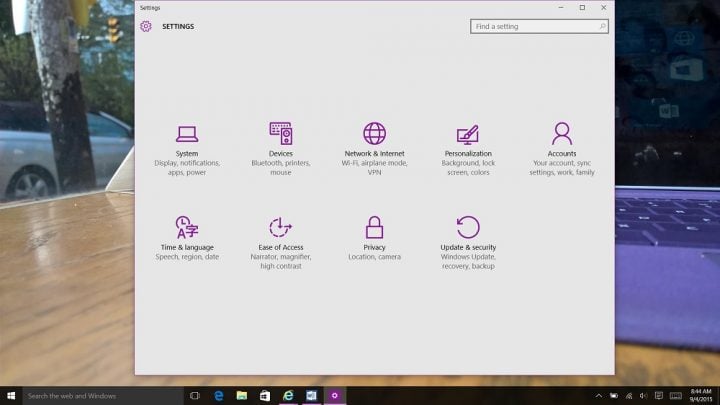 Choose Notifications & actions from the menu on the left side of the Settings app. It's the second option from the top of your screen.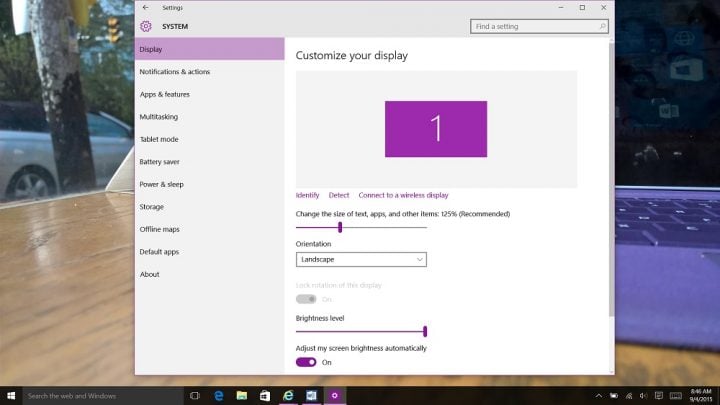 Welcome to the Notifications area. This screen has every single option for notifications in Windows 10.
The Quick Actions menu is for adding different buttons to the Action Center. It's not useful for this tutorial, but you should change the shortcuts that appear in your Action Center at some point so that your device reflects your habits more.
Flip the Show Me Tips About Windows button off to get rid of the tutorials that Windows 10 now includes. Think about your habits before you do this. If you're new to Windows 10 those tips may become very useful.
Flip Show App Notifications to Off to get rid of all alarms, regardless of what app it's coming from. Flip Show Alarms, Reminders and Incoming VOIP Calls on the Lock screens to get rid of notifications before you login to your device.
Finally, at the bottom of the screen are toggles for killing individual notifications that annoy you. Windows Store apps are added to this list automatically. Programs that you've downloaded through your web browser will show up here too. There are two types of notifications. Banners are the small on-screen notifications that surface in the bottom-right of your device. Sounds are just the chimes that you hear without a banner. You can decide to use either, both or neither.
Read: Windows 10 Review: A Love Affair
You can tap or click on the name of each app to get rid of just its notification sound or the banner the pop-ups on your screen. If Facebook notifications are bugging you, find it in this list and flip the notifications to the off setting.
Good luck shutting off notifications that you don't want in Windows 10.

As an Amazon Associate I earn from qualifying purchases.