How to Stop the Free Windows 10 Upgrade
Microsoft's Free Windows 10 Upgrade Offer is perhaps the most generous the company has ever been with a new software upgrade. Anyone who has Windows 7, Windows 8 and Windows 8.1 can take advantage of the Windows 10 Upgrade offer and get it running on their old notebook, desktop or tablet in hours. It's unprecedented. For some it's also unwanted.
No matter how much you plan for a software upgrade to be painless, things are going to happen. The hardware requirements for Windows 10 are the same as Windows 8 and Windows 7, but that doesn't mean everything flawlessly works. Some have reported their printers not working after the upgrade or software that they rely on every day simply not loading up anymore. Initially, Microsoft only upgraded those who actively sought out the software refresh. Yes, you can go back to your earlier version of Windows after the upgrade, but that's not enough. Some don't want to risk installing a new operating system on their devices at all.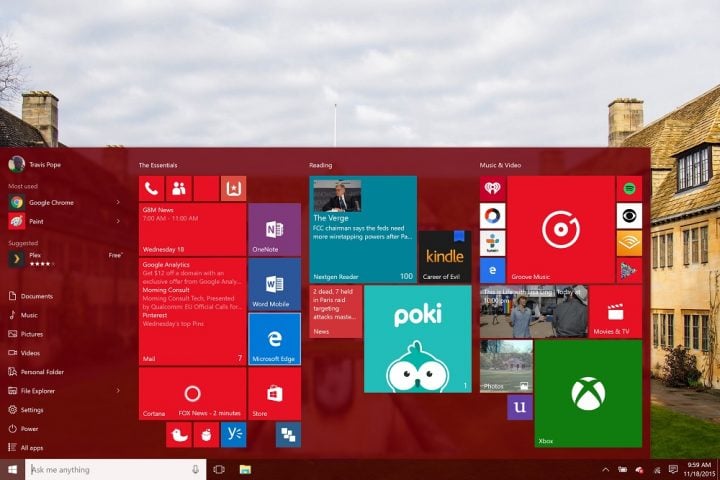 Read: Window 10 Review  – A Love Affair
Instead, they want a way to block the Windows 10 update and silence the Free Windows 10 Upgrade Offer that won't stop trying to grab their attention from the Taskbar.
Here's how to stop the free Windows 10 Update on your system.
Before We Begin
Before we begin, it's important that you understand the ramifications of stopping the Windows 10 Upgrade in its tracks. Windows 10 is absolutely free to download and will receive free upgrades over time. Unless there's a feature in Windows 7 and Windows 8 that you absolutely can't live without – like Windows Media Center – stopping the upgrade isn't the best idea.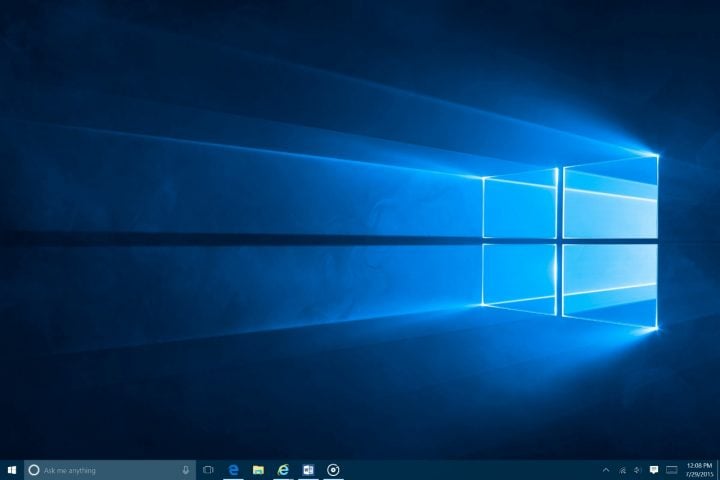 That's because Windows 7 and Windows 8 don't have long, always-updating lifespans of their own. Support for both operating systems will eventually expire. When they do, you'll be more vulnerable to the kinds of internet threats that could put your personal information at risk.
As for reasons not to upgrade. Early reports that Windows 10 monitored users when explicitly told not have been debunked by Microsoft. You can disable the Cortana personal assistant and the operating system does have controls for avoiding sharing location. Privacy is a legit, if slightly overblown worry with any software upgrade like this.
Stopping the Free Windows 10 Upgrade
Microsoft has so embedded the Free Windows 10 Upgrade Offer into Windows 7 and Windows 8 that there's no real way to get away from it without a software upgrade. There's no toggle that you can push to permanently ignore it, for example. You're going to need to download some extra pieces of software onto your device to fully suppress it.
Never10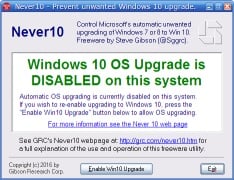 A straight forward and easy to use software utility for stopping the free Windows 10 update is called Never10. Developed by Gibson Research, there's not a lot to it really. The utility kills the upgrade with a single button press. There's nothing to configure.
Never10 can be uninstalled once you have killed the upgrade offer, but it's a good idea to keep it around in case you ever decide that you do want to upgrade. Lots of people report having a great experience with this tool.
GWX Control Panel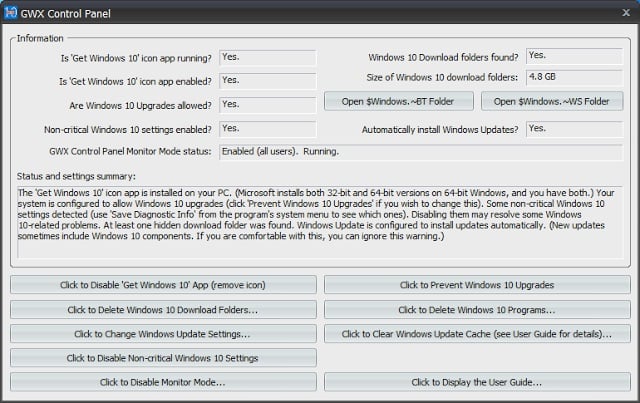 The appropriately named GWX Control Panel is pretty feature rich. (GWX stands for "Get Windows 10.") The app itself isn't all that attractive but it does its job very, well.
After it's installed, you get a breakdown of how your system was changed to accommodate the Free Windows 10 Upgrade Offer. A breakdown shows you if the icon for the offer is enabled and how much space Windows Update is using on your system to store the upgrade in case you ever decide to take advantage of it.
It then gives you the option to start reversing every change it lists. There's a button for disabling the icon that always pops-up asking you to download operating system. Another button lets you quickly delete anything that Windows Update downloaded to your system. This is option is a life-saver, the Windows 10 download can take up as much as 4.8GB on a single device. That's a lot of space.
You'll want to click the Disable 'Get Windows 10' App button to insure that you and no one else in your household ever accidentally gives the upgrade the go ahead. You'll also want to click the Prevent Windows 10 Upgrades button too.
GWX Control Panel can be configured to monitor your device and make sure that none of these settings chance, just a virus scanner, but I'd say that might be overkill at this point. Only enable this if you suddenly find yourself looking at the upgrade offer without warning again.
Again, keep GWX installed so that you're able to reverse the decision in the future.
Good luck stopping the free Windows 10 Update. We hope this helps.

As an Amazon Associate I earn from qualifying purchases.