How to Store Important Documents on Your iPhone
If you have a lot of important documents that you frequently refer to, but don't want to keep digging them out of the filing cabinet, here's how to have all that information quickly accessible on your iPhone.
It's important to keep physical paper copies of important documents, but that usually results in piles of documents that you most likely have organized in a filing cabinet of some kind. Of course, filing cabinets are made so that you can easily sift through documents to find the ones you want, but wouldn't it be nice to have all of them easily accessible on your iPhone?
oneSafe is an app that allows you to store any of your personal documents, and it also doubles as a password manager, so you can store all of those complicated passwords from various websites and even organize them from within the app. However, we'll mainly be focusing on the "data vault" feature of oneSafe, which stores your documents, photos, credit card info, insurance info and much more.
oneSafe is available for iPhone, iPad, Android, Windows Phone and OS X. It's a bit on the pricey side, with the iOS version costing $9.99, the Android version priced at $5.99, and the OS X app costing $19.99 (the Windows Phone version is free). However, the service can sync your info across multiple devices, so you can access it from any of these devices.
There is a free version of oneSafe, called oneSafe Essentials, but as expected, it comes with bare-bone features and is ad-supported.
A Digital Data Vault on Your iPhone
When you first open the app every time, it will ask you for your custom passcode that you set yourself when you set up the app for the first time. This is the main line of defense for when someone goes peeking around on your iPhone without your permission. They won't be able to access the app without knowing the passcode.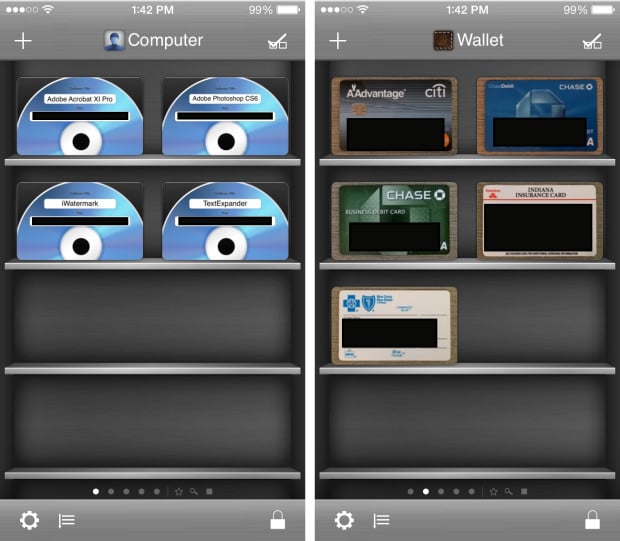 Once you're in the app, you'll be greeted with different shelves (similar to the design of the iBooks app). There are different categories that you can store stuff in, which include Computer, Wallet, Work, Document, and Double Protection. The great thing about oneSafe is that you can choose sub-categories for different types of documents, so if you're adding your insurance info, you can choose that specifically by tapping on the + icon in the upper-left and going to Wallet & admin > Insurance and choosing the type of insurance info you're adding.
The Double Protection shelf is a nicely added touch to oneSafe, and it's a shelf dedicated to documents or other information that is highly sensitive, so it's blocked by a second password that you set up yourself. So if you needed access to this section of the app, you'd not only have to enter in the passcode when you launch the app, but you also have to enter in another password in order to access this area.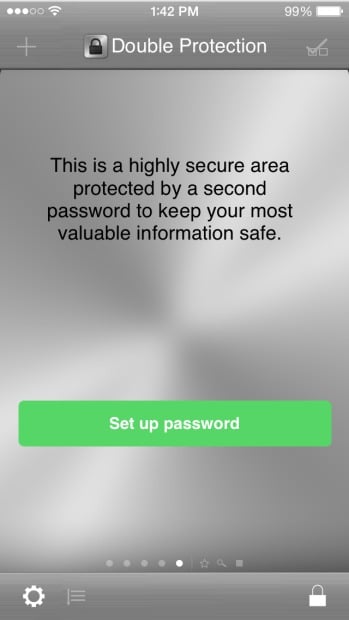 You can also snap a photo of a credit card or insurance card to bypass manual text entry and have it automatically be stored in the vault. Items will show up two in a row as a thumbnail, but tapping on one will expand it to give you a better look. From there, you have even more options to choose from. You can save an item to your Favorites by tapping on the star icon, or tap on the Share icon to securely share an item with a family member or trusted friend.
I originally chose oneSafe simply to just have a place where I could easily access all of my banking cards, but oneSafe can store much more than that. You can use it to store software license keys, loyalty card numbers, license plate numbers, a copy of your passport, bank account information, car registration information, and more. It can also store basic information as well, including contact information and account passwords.
Essentially, everything you need to add an item to your data vault in oneSafe is accessible by tapping on the + icon in the upper-left corner. From there, you can just snap a photo of a document or a card of some sort, or enter the information manually by choosing a sub-categories and filling in the text boxes.
What About Security?
This is probably the number one thing that's on your mind right now, and I don't blame you. oneSafe has a certification from the Bureau of Industry and Security of the US Department of Commerce and is working on obtaining more.
Furthermore, oneSafe says that every single piece of information you put in the app is stored locally on your device and backed by 256-bit encryption, which is the highest level of encryption available currently. If you decide to sync oneSafe information over iCloud, the app ensures that the data is encrypted first, and users will need to decrypt on the second device by entering in the passcode or password before they can view it.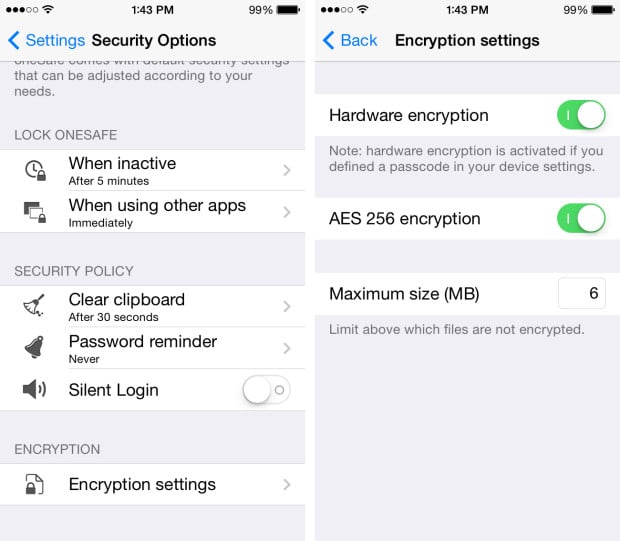 There also settings that you can enable that allow the app self-destruct after a certain number of passcode attempts, and the app can even let you know when someone tried to break into it.
Overall, we don't blame you if you don't want to keep all of your sensitive information on your iPhone, because as we've seen recently, hacking is becoming more and more common nowadays, but it seems that oneSafe is one of the most secure apps available today, and many users trust the service with their personal info, as seen by a 4.5/5 star rating on the iTunes App Store from over 2,700 users.

This article may contain affiliate links. Click here for more details.