How to Take a Photo By Pressing Your Phone's Volume Keys, And When Not to Do This
For those who are new to their smartphones, both Apple's iPhone and select Android smartphones allow users to capture a photo by pressing on the volume key in lieu of hitting the small on-screen camera button. This would turn the volume button into a hardware shutter button when inside the camera mode, and it could be useful in colder environments where users may want to take a picture but don't want to un-sheath their fingers from the warmth of their gloves, or for those who don't want to deal with the touchscreen. However, there are downsides to this too. In this tutorial, we'll first explore how to enable the feature and then we'll discuss situations where you may want to rely on the on-screen shutter button instead.
1. Apple iPhone
On the iPhone, by default this feature is turned on. All you would need to do is launch the camera and then press the volume up key to snap a photo. It really is that easy.
This is actually a great way to take pictures underwater if you pair the iPhone with a waterproof case, like the excellent and highly recommended Lifeproof nuud case for the iPhone 5. If there is water on the touchscreen, or if the smartphone is submerged under water, by nature of how capacitive touchscreens work, you can't operate the phone using the touchscreen. This means no access to the on-screen camera shutter button, but when you dive in the pool you can still take some great pictures using the volume control method.
If you're an aspiring underwater mobile photographer, just make sure that the phone is turned on and the camera app is launched before you submerge yourself, else you won't be able to initiate the camera to take any photos when you're in wet terrains.
I used the iPhone 5 with the Lifeproof nuud case and used the volume key to snap pictures and it was a pleasure to do on a recent kayaking adventure.
2. Samsung Galaxy S4
On the Galaxy S4, you have various options to map the volume key. By default, the volume key is mapped for zooming, but you can change it so that you can use the volume key to capture a photo, like on the iPhone, or record video.
Launch the camera app. Then hit the capacitive touch Menu button. Click on Settings. Then hit the Gear icon, which is the third one.
From there, you should see options for the Volume key and you can change its action from there.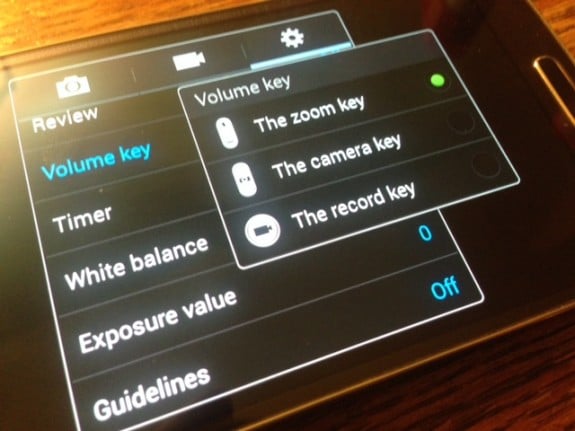 3. Windows Phone
Thankfully, with a dedicated shutter button on Windows Phone, you already have a dedicated hardware camera button. And unlike other platforms, this button can quickly launch your camera, even when your phone is off.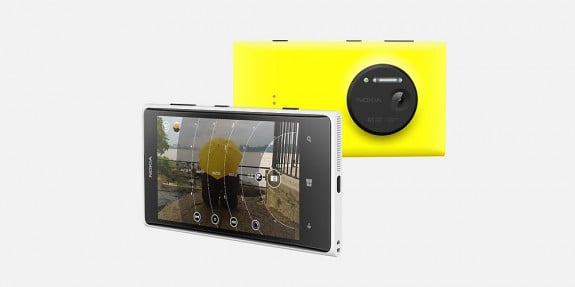 4. HTC One
You're stuck using the on-screen camera button on HTC's flagship smartphone. There is no option that I could find to reconfigure the volume key to taking a photo. That said, HTC does offer a different alternative. The way that the iPhone and most Android work today is that users will have to tap to focus first to focus the camera, and then press the shutter to capture a photo. HTC has an option that would combine the two actions to save time. With a single tap, the camera will begin focusing and once it's done it will capture the photo without any user intervention. This is similar to what is done on Windows Phone.
When Not to Use a Physical Camera Key
Using a hardware button as a shutter is convenient as it gives you the feel that you're using a real point-and-shoot camera, but there are still situations where you won't want to do this.
One situation is when you're in a dark or low light environment and aren't using a flash. The mere physical action of pushing in a hardware button to capture photos could result in camera shake, resulting in blurry photos. To combat this, phones like the Nokia Lumia 920 and Lumia 1020 have optical image stabilization to combat camera shake.
Another example would be dependent on how you hold your phone and the position you're in when trying to capture an image. It may be awkward to hold the phone, and the device could slip out and fall or drop out of your hands when you're trying to juggle the volume button while holding the device in the other hand. Butterfingers should beware.