How to Take a Screenshot on the LG V10
The brand new LG V10 smartphone is now available from most carriers in the United States, and has a lot to offer. This unique phone has two screens, three cameras, a fingerprint scanner and more. However, one common question we still get is how to take a screenshot, and below we'll explain how for LG V10 owners.
LG's handset is packed full of advanced features and technology. It's like the LG G4 on steroids, but this time LG replaced the power button on the back with a fingerprint scanner, and taking screenshots is still done the same way as always. Whether you want to screenshot funny posts on Facebook, memes from the internet, or even important emails, screenshots are an easy way to save important things from your screen.
Read: LG V10: 5 Things I Learned on the First Day
This feature or trick has worked the same way on Android for years, but one that many new buyers should learn right away and start enjoying. If you're coming from a Samsung or Apple device, you'll need to know how LG and most Android devices take a screenshot. Below are the simple instructions.
If you've ever owned an Android device in the past 2-3 years you'll already know how. Nothing has changed. However, if you're new to smartphones, an Android convert leaving the iPhone or Windows Phone, here we'll explain how to take a screenshot.
For those confused. A screenshot is essentially our smartphones capturing and saving whatever is on the screen, whenever. This can be edited or cropped to get exactly what you want, shared, and comes in extremely handy for a variety of uses.
Instructions
As mentioned above, saving a screenshot is ridiculously easy on Android devices, and the same can be said for all LG phones. Simply push and hold both the power button and the volume down key at the same time. Since the LG V10 has the buttons on the back this may feel odd, and it's even more difficult now that the power key is a flush fingerprint scanner, rather than a raised power button like on the G3 or LG G4.
On the LG V10 the round fingerprint scanner (wrapped in a thin metal ring) between the volume keys doubles as the power and wake button, and this is what you need to press.
Briefly press and hold both the middle round power button and the volume down key at the same time, hold for a moment, and let go. Since they're so close together I do it with one finger, but holding the phone sideways and using two fingers will probably be easier for new owners until you get comfortable.
The phone will make a camera "capture" shutter sound of sorts, and save what's being displayed on the screen. If you try and it doesn't work, try again. It's all about hitting them at the same time with a brief pause, then letting go. Timing is everything, and it's easy once you figure it out.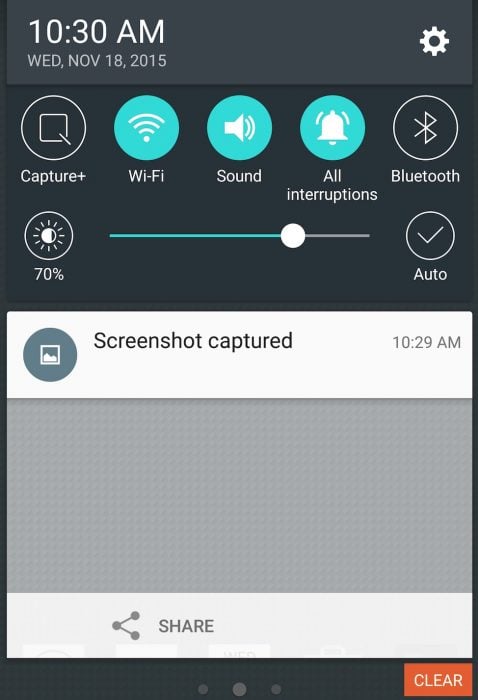 From here the screenshot is saved as an image that can be found in the photo gallery app, or quickly accessed from the notification pulldown bar. From here users can quickly open the screenshot to share it with a friend, edit or crop it, or send it in an email. The options are almost endless.
It's also one-tap away in the new 2.1-inch second screen on the LG V10, making it even easier to access and open once a screenshot is taken.