How to Take Screenshots in Windows 10
Microsoft had to improve the fundamentals of Windows without harming them in any way. It was a feat it'd tried unsuccessfully to pull of with Windows 8. Windows 10 does improve on some essential things. Those used to taking screenshots in past versions of Windows with the Snipping Tool and Print Screen commands won't notice a huge difference in how those options work in Microsoft's latest operating system. There are some really big improvements though; it's far easier to take screenshots in Windows 10 and add notes and doodles than it has ever been.
Pen input was a big focus for the recent Windows 10 Anniversary Update. Accordingly, the update introduced a utility designed to let those with pen input mark up screenshots and share them with a few clicks or taps. Called Screen Sketch, this feature works with a mouse and keyboard just fine. The second new utility isn't part of the Anniversary Update at all, but a feature Microsoft offered to everyone with the very first release of Windows 10. Microsoft Edge allows users to take notes on what's inside their web browser, then share that note. Microsoft calls this feature Web Notes.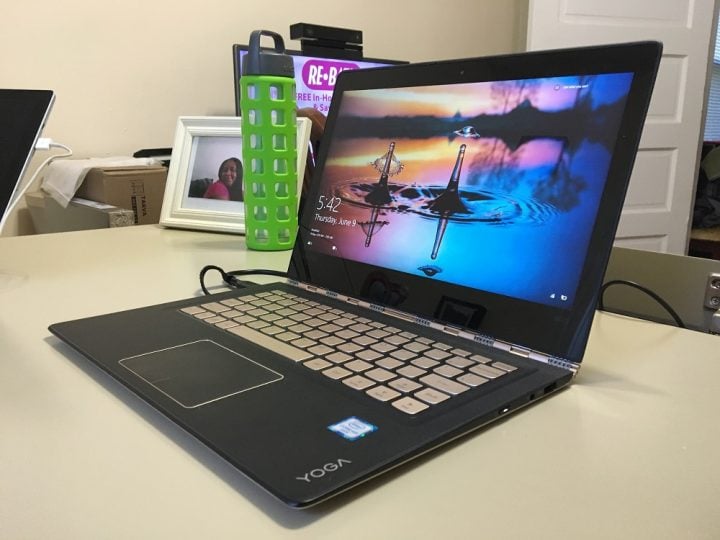 Read: 20 Windows 10 Tips & Tricks from a Fanatic  
Here's how to take screenshots in Windows 10.
How to Take Screenshots in Windows 10: Snipping Tool
Go to the Start Screen and look for the Windows Accessories folder in your list of installed apps. Within that folder is access to the oldest tool for taking screenshots in Windows 10. It's called the Snipping Tool.
The Snipping Tool lets users capture a picture of what's on their screen with just a button press. By clicking the arrow beside New, users are able to decide whether they want to take a snapshot of everything on their screen or just what's inside an app or program. After the screenshot has been captured it can be saved in a few different formats or marked up to highlight something interesting.
Read: 15 Quick Tips for a Better Windows 10 Anniversary Update Experience  
The Delay button inside the Snipping Tool allow you to capture things happening on your computer that you'd normally not be able to for whatever reason.
How to Take Screenshots in Windows 10: Print Screen
Using the Print Screen button and the Windows Key on your keyboard you can take a screenshot of almost anything in Windows.
Press PRTSCRN and the Windows key. Your screen will dim , letting you know that you successfully captured a picture of whatever you were trying to. It's by far, the easiest way to take screenshots in Windows 10.
Once you've captured a screenshot with this method, you need to head to the Screenshots folder in your Pictures folder to view the screenshot. By default this method saves PNG files. Unfortunately, that's not something that you can change. If you have OneDrive cloud storage setup on your PC, the screenshots that you capture will get uploaded to the service automatically.
How to Take Screenshots in Windows 10: Microsoft Edge
Microsoft's teams apparently discovered that users spend a lot of time capturing screenshots and wanting to share things from their web browser. When the company was building the new Microsoft Edge browser it remembered to include a surprise for these people.
Tapping or clicking on the stylized pen button in Microsoft Edge turns your Window purple and allows you to capture what Microsoft calls a Web Note. Web Notes can be saved for later or shared with other people.
Read: How to Take Screenshots on a Windows 8 PC
You add notes through either writing on the picture with your pen or mouse cursor. You can leave text inside Web Notes too. There's even a very, very convenient clipping tool that allows you to cut out the non-essential things in your Web Note.
Web Notes can only be saved as a link. Web Notes can be shared as an image and link to apps that you have installed on your PC, like Facebook, Twitter and Microsoft's own OneNote app.
How to Take Screenshots in Windows 10: Screen Sketch
Users with a notebook or tablet that has touch also get the opportunity to take screenshots in Windows 10 with Screen Sketch. The app is relatively new to Windows, debuting recently in the Windows 10 Anniversary Update as part of the new Ink Work Space area.
Read: How to Use Sticky Notes for Windows 10
Devices that have touch or input should see a button on the left of their screen that looks like a pen. That's where Ink WorkSpace apps live. Users with only a mouse and keyboard will need to unhide Ink WorkSpace by right clicking on the Taskbar and adding the button to their Taskbar.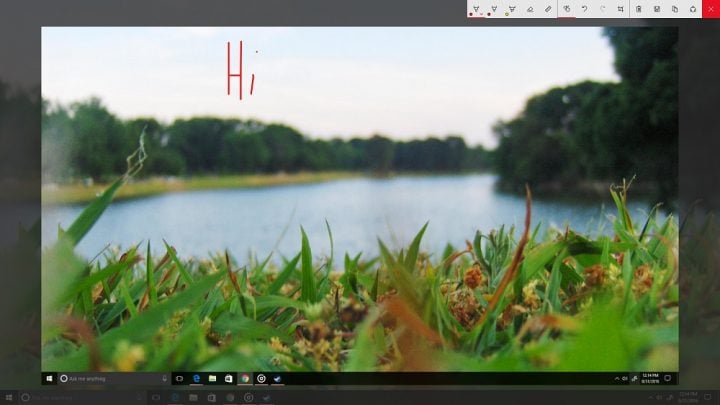 Screen Sketch can be marked up with pen or mouse. There's also a ruler in case you ever need one. Screen Sketch can only save whatever it captures in PNG.
Good look taking screenshots in Windows 10. We hope these tools help you document whatever you desire effectively.