How to Tell the Difference Between a Genuine and Fake Apple Keyboard
If you have an iMac or other desktop Mac computer, an Apple Bluetooth keyboard most likely came bundled with it. However, if you have a MacBook docked to an external monitor and want to use a separate mouse and keyboard, you may be eyeing Apple's Bluetooth keyboard, which retails at $79.99.
Some users never hesitate to spend that much money on a keyboard, but if $80 is a bit out of your budget for just a keyboard, you might be thinking about logging onto eBay and checking out some deals on Apple keyboards.
That's a great idea, but you'll want to be aware of fake Apple keyboards that sell for dirt cheap. You'll see plenty of "Apple keyboards" that go for $10-$20 and look just like the real thing from the photos, but they're actually generic-branded pieces of crap.
When looking for a good deal on an Apple Bluetooth keyboard, you'll want to be aware of the fake and cheap Apple keyboard clones that can get in the way. Here's how to tell the difference between a genuine Apple keyboard and a fake one.
Design & Build Quality
When it comes to telling the differences between a genuine and fake Apple keyboard, it's a lot easier than trying to do the same with Apple's Lightning cables. Surprisingly, Apple keyboard knock-offs don't do a very good job of cloning the real thing, and there are a lot of differences that you'll be able to spot right away.
For this article, I'll be comparing a genuine Apple keyboard that I bought used for $40 on eBay with a fake knock-off that I bought for around $10.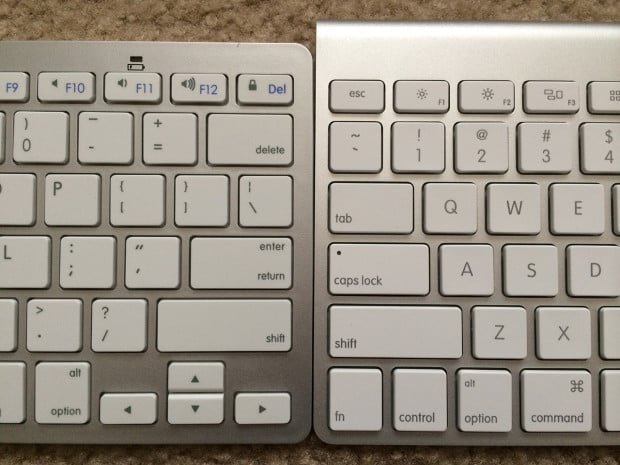 At first glance, both keyboards look relatively the same; they both have an aluminum silver shell with white keys and almost identical layouts, making it hard to decipher which one is the genuine keyboard from a distance. Get up close, however, and the differences become more clear.
The fake Apple keyboard actually doesn't sport an aluminum shell, but rather a cheap plastic casing that's painted to look like an aluminum shell. The build quality is incredibly cheap and I could probably break it in half with my bare hands (I'm not incredibly muscular either, so that's saying something).
Turning over the keyboards to look at the backside is where you can tell right away whether or not an Apple keyboard is genuine or fake. A genuine Apple keyboard will have the Apple logo plastered right on the back of the keyboard, and you'll also noticed that it will have a cylindrical keyboard foot that not only props up the keyboard for comfortable typing, but also houses the two AA batteries to keep the keyboard going and going and going.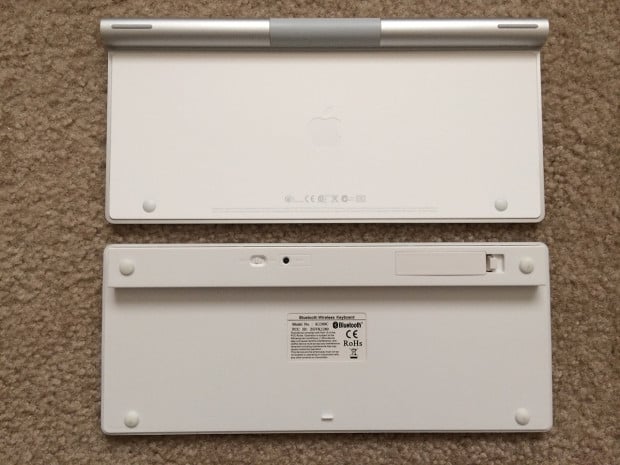 As for the fake Apple keyboard, you won't find an Apple logo anywhere, and instead of a good-looking cylindrical foot that props up the keyboard, the knock-off will simply have a cheap, plastic rectangular housing that stores the batteries
Keys & Layout
A big part of what makes Apple keyboard knock-offs look so similar to genuine models is the layout and the keys. However, if you look closely, you'll find several differences that are dead giveaways of a knock-off Apple keyboard.
First and foremost, all you really need to do is take a look at the top row of keys. On a genuine Apple keyboard, you'll have the Esc key, screen brightness keys, Dashboard and Launchpad keys, and then the playback controls and volume keys, followed by an Eject key.
On the knock-off keyboard, the top row of keys are all sorts of messed up. Instead of an Esc key there's just a square icon — not sure what that's all about. There's also a search key, and then two keys with a picture icon and a keyboard icon, which I have no idea what the functions of those are. Further down, though, you have your typical playback controls and volume keys, followed by a Delete key instead of an Eject key, which is a little baffling considering there's already a Delete key right below it.
As for the other keys and the overall layout of the two keyboards, there some subtle differences that you might not catch the first time around. A genuine Apple keyboard will have the letters and numbers centered on the keys, whereas the fake Apple keyboard that I bought has the letters and numbers aligned to the top-left; that's one big giveaway right there.
However, the differences of the layout of the keys are much subtler, but you can easily tell the layouts are different by looking at the area around the M key, the Space bar, and the right Command key. On a genuine Apple keyboard, there will be a perfect four-way intersection between the four keys in this area, while the knock-off keyboard I got is slightly off. This might not seem like a huge deal, but think about it; you mostly go by feel and muscle memory when typing, which allows you to type without looking. However, if the layout of the keyboard is off, it could mess up your muscle memory and the feel of the keyboard, requiring you to learn it all over again.
A Good Try-Out Keyboard
In the end, there's really nothing wrong with a knock-off Apple keyboard. In fact, it can be a great way to try out an Apple keyboard without spending a lot of money at first. Then, if you like the look and feel enough, you can upgrade to a real Apple keyboard.
This is essentially what I did. I've used a Logitech keyboard for years, but I felt that I needed a consistent typing experience when going from my MacBook's keyboard to my desktop keyboard when I'm working in my home office. So, I started off by trying out a knock-off Apple keyboard. That way, if I didn't like it, I could easily go back to my Logitech keyboard and I wouldn't be in the hole $80 if I just went ahead and bought a brand-new Apple keyboard (although I ended up getting a used one for only $40).
Of course, you can also just buy a brand-new Apple keyboard at the Apple Store or Best Buy and take advantage of their return policy if you don't end up liking it; just be sure to keep the box and all the manuals (and most importantly, the receipt!).
I suggest everyone do something like this if you're thinking of getting an Apple keyboard for the first time, but once it's time to go out and buy a genuine Apple keyboard, make sure you're not getting a knock-off.