How to Track Steps on iPhone
This guide will show you how to track steps on iPhones so that you know how much you walk and run each day and how many flights of stairs you climb. You can track steps on iPhones without the need for an Apple Watch, Fitbit or fitness tracker as long as you normally carry your iPhone with you.
There is no need for a Pedometer iPhone app to track steps on the iPhone, but you will need to turn on the options to see your steps. You can share this data with other apps if you prefer to track your health and fitness in a single place instead of across various apps.
Unlike the Apple Watch, a Fitbit or other fitness and weight loss accessories — you don't need to wear the iPhone, but you will need to keep it in your pocket to make this work. If you don't always carry your iPhone with you at work or when you are working out this will not give you a full look at your steps, miles walked and stairs climbed.
What You Need to Track Steps on iPhone
For this to work you need a fairly recent iPhone and you need a version of iOS 8 or iOS 9 installed on your iPhone.
Specifically you need one of these iPhone models to track your steps without any added apps or accessories;
iPhone 6s
iPhone 6s Plus
iPhone 6 Plus
iPhone 6
iPhone 5s
With newer devices like the iPhone 6 and up there is a sensor that can track the flights of stairs you climb to deliver a better picture of your activity.
How to Track Steps on iPhone
Once you know that you have the right iPhone and operating system, you are ready to learn how to track steps on iPhone using the Health app in iOS 8 and iOS 9.
This is already installed on your iPhone and it is free to use. Best of all, when you turn it on, you should already see some data from what the iPhone motion sensor has been tracking since you started using it.
Go to the Health App on your iPhone.
Tap on the Health Data tab at the bottom of the screen.
On this next screen tap on Fitness, to see things you can track.
We need to turn on Walking + Running Distance, Steps and Flights Climbed. To do this tap on each and then tap on Show on Dashboard.
When you complete this, you can look at the main dashboard in the Health app to see the current data and to see the results going forward.
We like to use this with some of the best weight loss apps to track steps on the iPhone towards daily movement goals and towards calories burned. Many apps like My Fitness Pal can connect to your Health app to see the data and include it in the app alongside your nutrition or share data into the health app so you can see your information all in one app.
11 Best Weight Loss Apps in 2020
Lose it Weight Loss App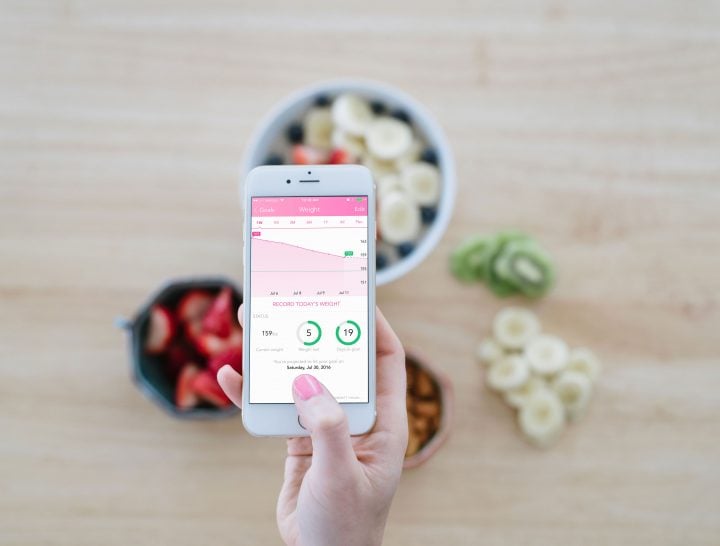 Lose It is a free weight loss app for iPhone and Android that helps you achieve sustainable healthy weight loss. This tool includes an app as well as a website so you can see your information on your computer as well.
You can connect to people, your various devices and food information that will help you lose weight with smart decisions. Lose It helps you create a personalized weight loss plan with goals that include a goal weight as well as total wellness and fitness.
The app includes access to a verified food database that helps you track your calories with easy searching, or add custom foods and you can share recipes. You can also scan a UPC to add food.
Lose It connects to other apps like RunKeeper, Nike+ and a variety of devices and scales to help you track all of your fitness data easily and intelligently. You can create goals with a group of friends, challenge friends or yourself and get support from the group to stay on track.

Lose It is free, with a $39.99 premium option that includes much more tracking, meal planning and other upgrades.

As an Amazon Associate I earn from qualifying purchases.