How to Try OS X Yosemite Risk Free
The newest version of OS X (OS X 10.10 Yosemite) is currently in its beta stages and isn't available to the public just yet, but you can still try it out for yourself without erasing your current Mac setup.
OS X Yosemite was unveiled earlier in June at Apple's WWDC developers conference. However, this new version received a big facelift in the form of a completely new user interface design and a handful of new features, like iPhone-to-Mac AirDrop support and the ability to send SMS text messages from iMessage on your Mac, as well as send and receive phone calls.
There are a couple of ways to install OS X Yosemite on your Mac without risking your current files and OS system setup. One method involves creating a second partition on your storage drive using unused storage and installing Yosemite on the new partition. The second way is to install OS X Yosemite on a flash drive and run the new operating system right off of the flash drive.
It's up to you which method you want to use, although the USB flash drive method might make Yosemite run a little slower since it's running off USB, but if you have a speedy USB 3.0 flash drive, you might be fine.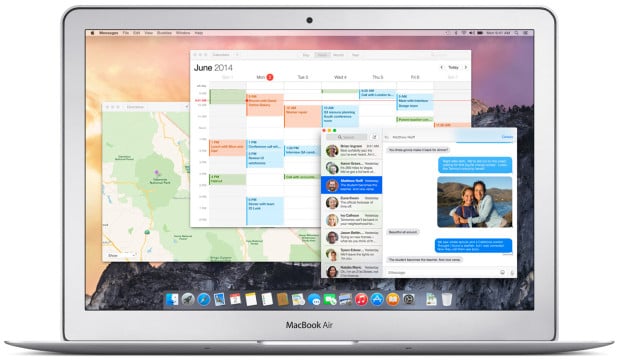 Here's an overview of how to install OS X 10.10 Yosemite using either of these methods, allowing you to keep your current OS X 10.9 Mavericks setup intact and free from disruption.
Before You Begin
Before you start to create new partitions and such, you'll want to install the OS X Yosemite beta first. If you're a registered Apple developer, all you need to do is log into the Dev Center and you can download it from there through the Mac App Store.
If you're not a developer, you can visit this website and download the developer preview of OS X Yosemite by clicking Direct off to the right of the latest version. You'll be redirected to the download site where it'll take a few hours to download the .DMG file since it's around 4.5GB, depending on your internet connection.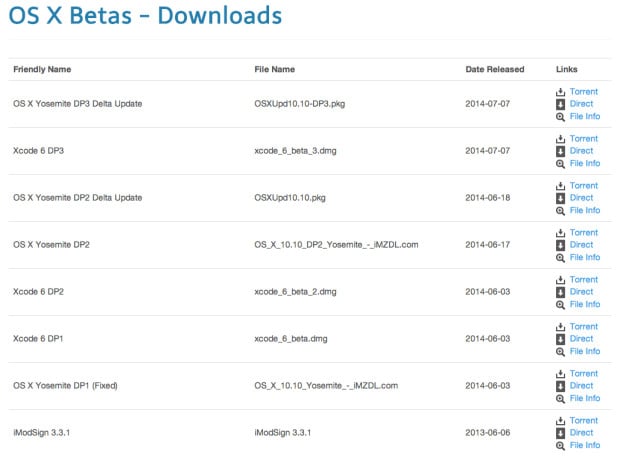 A word of warning, though. At the time of this writing, that website only has Developer Preview 2 and the latest is Developer Preview 3, which isn't available on iMZDL currently except for the delta update. We tried the Developer Preview 2, but it didn't work, maybe because Apple quit signing it, but your mileage may vary. Hopefully Developer Preview 3 will be updated soon enough.
Creating a New Partition
One method for testing out OS X 10.10 Yosemite without ruining your main OS X setup is to create a separate partition on your Mac's storage drive and install the beta operating system on that. To do this, follow these steps:
Open Disk Utility, which will be located in the Utilities folder in Applications.
Select your main hard drive from the left-hand sidebar. In my case, it's called APPLE SSD SD0128F Media, and yours will most likely be similar.
Click the small + button toward the bottom to add a new partition to your drive. Give it a name and a size (in GB). 10-15GB is enough to install OS X Yosemite in order to just play around with it, but if you plan on installing apps and such, you can raise that number to 20-30GB, depending on how much free space you have on your storage drive in the first place. Leave the Format section as is.
Click Apply in the lower-right corner. A confirmation will pop up. Click Partition when ready.
It'll take a few minutes to create the partition, but once it's done, you can exit out of Disk Utility and head back to the desktop to begin the installation process.
Scroll down for instructions on installing OS X 10.10 Yosemite to your newly-created partition.
Using a USB Flash Drive
If you don't want to mess with partitions and risk screwing up your storage drive in some way, you can install OS X Yosemite on a USB flash drive and run it off of that, which is probably a much safer option anyway if you have a spare USB drive laying around. However, we recommend that it be a USB 3.0 flash drive and that your Mac supports USB 3.0, since anything slower won't run OS X Yosemite quick enough.
Follow these steps to install a copy of OS X 10.10 Yosemite on a USB 3.0 flash drive:
Plug your flash drive into a free USB port on your Mac. We recommend it that it be at least 8GB to make room for the operating system files, but the bigger the better if you're wanting to install apps and such.
Open Disk Utility, which will be located in the Utilities folder in Applications.
Select the flash drive from the left-hand sidebar.
Next, click the Erase tab select Mac OS Extended (Journaled) from the Format drop-down menu.
Give it a name below that, such as OS X Yosemite.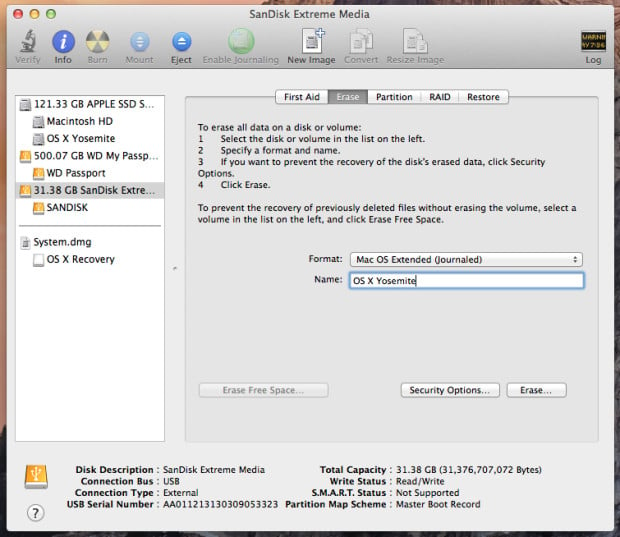 Click Erase in the lower-right corner and then click Erase again to confirm.
It should only take a few seconds to format the flash drive. Once it's done, you're ready to install OS X Yosemite.
Installing OS X Yosemite
Installing OS X 10.10 Yosemite is actually really simple. Simply just launch the installer that you downloaded (it may come in a .ZIP file if you downloaded from that one website, but you'll just unzip it to get the installer file) and it will bring up a splash screen. Click Continue, agree to the terms and conditions, and then click Show All Disks.
Click on the drive that you want to install OS X Yosemite to. This is based on what method you chose above. If you want to install Yosemite on second partition, click that partition. If you want to install it on your USB flash drive, select the flash drive and then click Install.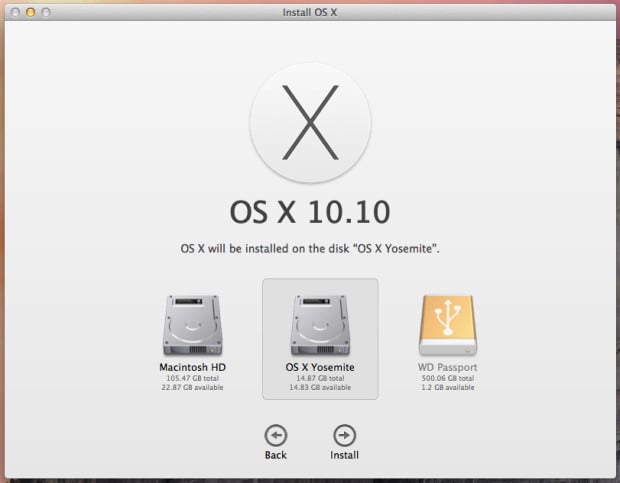 Once the installation is complete, you'll go through OS X Yosemite's Setup Assistant to set up iCloud, iMessages, etc.
Switching Between OS X Yosemite and Your Current OS
If you're wanting to go back to your current main operating system, simply just reboot and hold down the Option key, and then select your main hard drive from the list of drives shown. Your Mac will then boot into OS X Mavericks or whatever your current setup is.
Likewise, whenever you want to boot into Yosemite, just plug in your flash drive, reboot and hold down Option, and select the flash drive from the list.

As an Amazon Associate I earn from qualifying purchases.