How to Turn Off Auto Correct on the Galaxy S6 or Note 5
One feature that many love and hate when it comes to our smartphone keyboards is auto correct. It was made famous by the iPhone, and is a feature called "predictive text" on Android. And while it's very useful, auto correct can also be frustrating at the same time. Here we'll explain how to quickly turn off auto correct on the Galaxy S6, Galaxy S6 Edge, Note 5 and other Samsung smartphones or tablets.
Auto correct automatically scans and fixes mistakes, or predicts the next word while users are typing. It can even match and correct words saved in the device dictionary like unusual names and other things. However, it can also add more mistakes into a text or email for those in a hurry.
Read: 65 Samsung Galaxy S6 Tips & Tricks
Above is a detailed guide going over a slew of different helpful tips and tricks for the Galaxy S6, including getting more out of the keyboard. That said, those who are experiencing problems or getting frustrated by auto correct, thankfully we can turn it off. Read on for the quick instructions to do exactly that.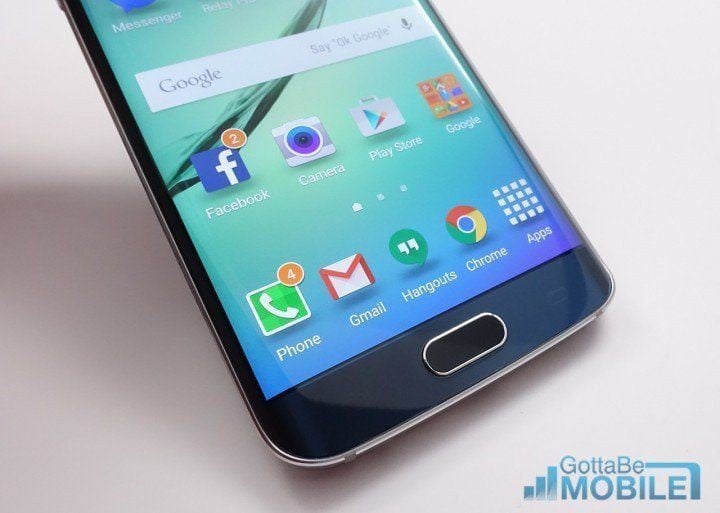 With millions of people owning and loving the Galaxy S6 we get asked this question quite often. Auto correct is wonderful, but it can also be a burden and simply get in the way. Thankfully it only takes a few taps in settings to disable it, and give us full control of our keyboard.
Whether you've been using the Galaxy S6 for a half a year, just got one, or recently upgraded to the Galaxy S6 Edge+ or Galaxy Note 5, the instructions below are nearly the same for all recent Samsung smartphones. Here's how to turn off auto correct (predictive text) on the Galaxy S6 and more.
Instructions
There are a few different ways to get to the keyboard settings menu, which is where we need to navigate to in order to disable this feature. We'll go over both right here.
First off, while typing and using the keyboard simply press and hold the microphone button, which brings a pop-up window with more options. One is a gear-shaped settings button. This takes you directly into the keyboard settings. Then, just turn off "Predictive text". For those who'd like a visual explanation of where to go, we have that below.
Here's a breakdown of each step and setting you'll need to select to turn off auto correct or predictive text on Samsung devices.
Head to the Settings menu (slide down notification bar and tap the gear-shaped settings button)
Navigate to "Language and input" (in the System column)
Tap "Samsung Keyboard" or whatever keyboard you're using
Select "Predictive Text" and turn it off, or just tap to swipe the switch to "Off"
That's it, and auto correct has been turned off. See the images below.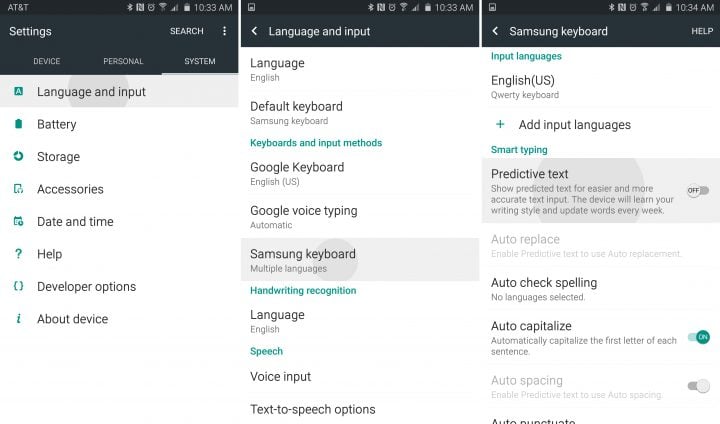 And we're all done. It was that easy. Just head into settings, language and turn off predictive text for the stock Samsung Keyboard, or whatever keyboard being used on any Samsung smartphone or tablet.
While we're here, this same menu has a lot of other advanced controls. If some like predictive text, but don't want it being so aggressive there are other settings that can be changed. Like auto capitalize, auto spacing, auto punctuate (when you hit space-bar twice) and more. For even more details on how to get the most from Samsung's keyboard, check out our quick video below.
Everything detailed in the instructions and video above are very similar or the same on all recent Samsung smartphone and tablets. Meaning those with a Galaxy S5, Galaxy S6, Edge, Galaxy Note 5, or even the Samsung Galaxy Tab S2 can all benefit from this simple trick.
Now enjoy a better Samsung Galaxy keyboard and typing experience.