How to Turn Off Metered Connections in Windows 10
Some say that Microsoft's Windows 10 operating system is better than Windows 8 because of the company's decision to bring back the Start Menu and offer better support for keyboards and mice.  That's true to some degree, but it's not the only reason. Windows 10 makes an honest effort to help users when it's in their best interest. It syncs passwords, app data and themes because it doesn't want users to have to remember them. Windows 10 also offers something called Metered Connections too.
Windows 10 sees Metered Connections as slow lanes for the internet. It used to be that Windows couldn't differentiate between different kinds of wireless internet. If Windows finds itself on an unmetered connection it downloads operating system upgrades and lets background apps run mostly unhindered. You can download large files through its Movies & TV app, for example.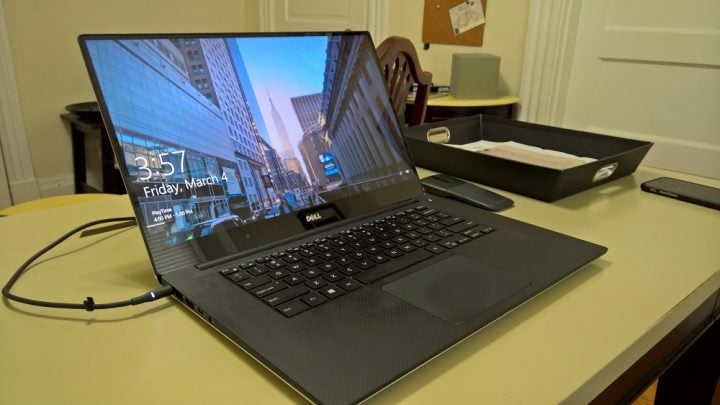 Read: Windows 10 Review – A Love Affair
If a connection is a Metered Connection, Windows 10 attempts to save your device's data. It won't attempt to download operating system upgrades. Apps are kept from doing checks with background services. Try downloading a movie or TV show from the Movies & TV app over a Metered Connection and Windows 10 won't let you.
Metered Connections are meant to save your data plan, but sometimes they can get in the way. Heres how to Turn Off Metered Connections.
Before We Begin
Before you go turning off Metered Connections, know that it's a very important feature that you don't want to mess with unless you know exactly what you're doing.
Say you mark a Metered Connection as Unmetered for the sole purpose of downloading a movie, despite knowing that it's a Metered Connection. Windows 10 automatically downloads operating system updates and app updates over Unmetered Connections. You could, and some have, blown their month's entire mobile data allotment because they were tethered to their phone at an airport or during a power outage and forgot to enable Metered Connection again.
You should stay away from marking any connection where you have to manage your data as Unmetered unless you're sure you're going to turn it back on in the near future or don't have to worry about a data allotment. For example, it's perfectly acceptable to change the status of Starbucks' Wi-Fi because it is unmetered as far as the public is concerned. Don't disable the Metered Connection status for the hotspot feature on your smartphone.
Let's Begin
To change a connection type, you'll need to have already connected to it in the past or be connected to that network right now. Tap or click on the Wi-Fi icon in the bottom-right corner of your screen in the Taskbar to connect to the network or double-check your connection.
If you're already connected to the network, move on to the next step. If you haven't go ahead and select it from the last and connect now. Note that if this is a private connection, like a tethered phone or home internet, you'll need to know the network key and password, if you're connecting for the first time.
Once connected, tap or click on Network Settings in the pop-up menu.
Welcome to the Network settings area in the Settings app. From here you can connect to new networks and change your network settings entirely.
Don't tap or click on your wireless connection in the Networking menu. Instead, scroll down as far as the window will let you.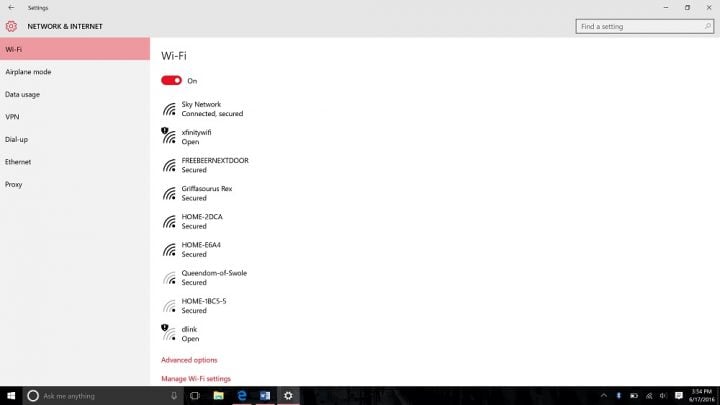 Now tap or click on Advanced Options.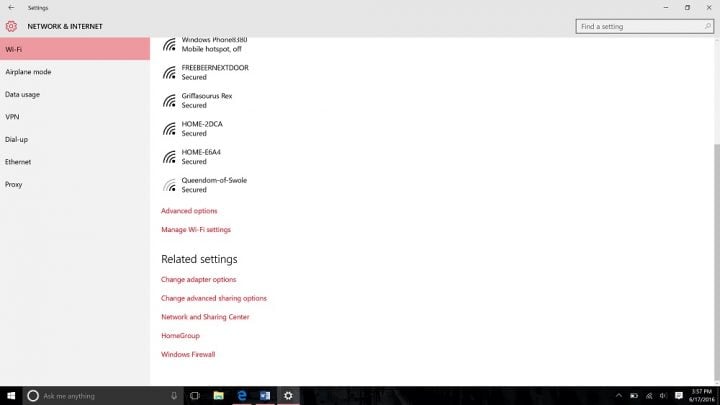 Here you can toggle the Metered Connections setting on or off.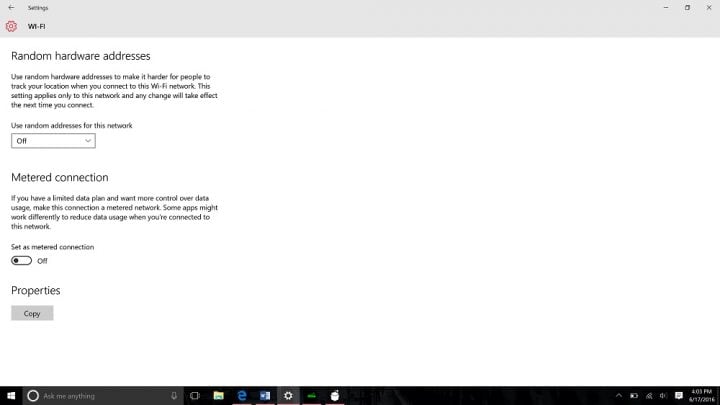 Both Windows 10 and the Windows 10 Anniversary Update support Metered Connections, with both offering slightly different ways of disabling the feature. With the Windows 10 Anniversary Update, users can actually disable the setting on wireless networks they're not currently connected to.
Microsoft doesn't include a blanket switch for disabling Metered Connections for multiple wireless networks. That's probably because the feature is so integral to the way Windows 10 behaves with data and updates.