How to Turn Your Windows 10 PC into a Hotspot
For years, we've all collectively turned to hotspots and our smartphones for sharing internet connections. We've done so because they usually work flawlessly. With either, you can share your mobile internet connection and get going effortlessly. For a long time, this wasn't something that you could do with a Windows 10 PC. Luckily, Microsoft fixed that with the Windows 10 Anniversary Update. With it, you can finally turn your Windows 10 PC into a hotspot without installing extra software.
You'd want to turn your Windows 10 PC into a hotspot for a few reasons. Maybe you're in a hotel that charges guests for internet access. Most charge based on time, but a few require that users also pay for every device that they connect. What if you're on a plane? Using this feature, you can easily share the connection that you've paid generously for with your smartphone or your child's tablet.
Here's how to turn your Windows 10 PC into a hotspot.
How to Turn Your Windows 10 PC into a Hotspot: Before We Begin
Before you attempt to turn your Windows 10 PC into a hotspot, there's some things that you have to think about. First, consider battery life.
Windows 10 only knows how to share an internet connection with other devices over its Wi-Fi connection, and Wi-Fi is one of the biggest drains on a notebook or tablet's battery. Sharing your connection with other devices could mean that your device needs a charge before it would have otherwise.
Lastly, know that when you turn your device off, it'll stop broadcasting an internet connection to other devices. This is especially true of PCs that don't have Microsoft's Connected Standby technology. When you hit the power button, everyone else will no longer be connected to the internet through your machine.
How to Turn Your Windows 10 PC into a Hotspot: Let's Get Started
Start the process of turning our Windows 10 PC into a hotspot by connecting to the Wi-Fi network you wish to share. You can do that by tapping or clicking on the Wi-Fi icon in the Taskbar. If you haven't customized where the Taskbar is, look for it in the bottom right corner of your screen.
Note that your next few steps depend on what type of internet connection you're trying to share. If it's a home internet connection or business connection, you may be asked to provide a password. If it's a public internet connection, you'll be forced to agree to some terms before you can login. You may also need to pay for access, as is the case with GoGo Inflight Wi-Fi, for example.
Beyond the battery issues associated with turning your Windows 10 PC into a hotspot, there's bandwidth and billing issues to worry about. If your PC is using a mobile internet connection of its own, you want to make sure that you're keeping an eye on how much data the devices you've connected it to are using. There's a Data Usage tracker in the Network & Internet area that'll let you do that pretty easily.
Read: What to Do If You Can't Find Your Wi-Fi Password
Now that you're connected, tap or click on the Start button in the bottom-left corner of your screen to open the Start Menu. You can also open the Start Menu with the Windows key on your keyboard.
Tap or click the Settings cog in the lower-left corner of the Start Menu/Start Screen.
Select the Network & Internet category in the Settings app.
Welcome to the Network & Internet area. These menus also let you connect to Wi-Fi, monitor your wireless connection for issues and change your network settings. Select Mobile Hotspot from the menu on the left side of your screen. It's the sixth highest option in the navigation menu.
From this screen you can turn your Windows 10 PC into a hotspot. Flip the switch at the top of the screen to get started. Windows 10 will take a moment to process the changes you're making, then you should be able to see the network on your other devices, like your iPhone.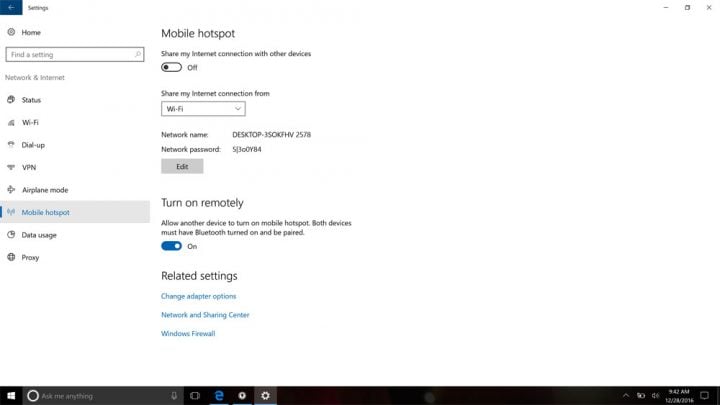 By clicking the Edit button, you're able to assign the network you made on your desktop, notebook or tablet a name and password.
At the very bottom of the screen is a setting that allows you to turn hotspot on from your phone or other device. It's good idea to ignore that button for now. The feature only works with a phone running Windows 10. Those are few in number. In the future Microsoft may make it possible for the Cortana personal assistant to manage this, but that isn't possible today. You may be able to turn the feature on from another Windows 10 PC, but that PC would need to have Bluetooth enabled and be paired to your PC already.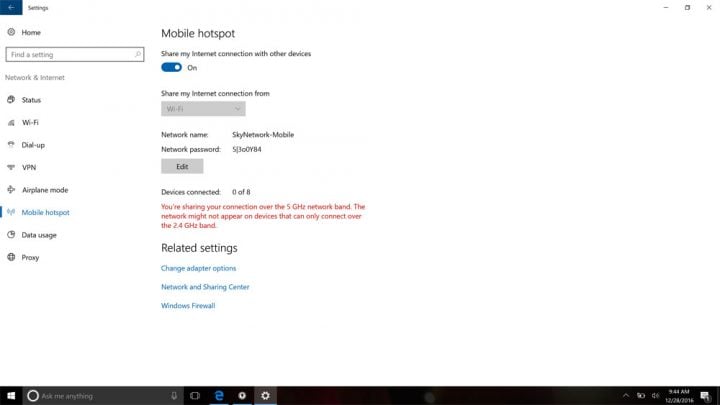 Good luck turning your Windows 10 PC into a hotspot.