How to Update Twitter and FaceBook Via Text
If you have a smartphone, there is normally an app or mobile website to let you easily update your social network status, but if you can't get connected to the Internet you may want to be able to send a status update via text.
This is handy for many situations, including after an emergency like the East Coast earthquake, at a group event where data networks will be clogged or when you have very spotty coverage.
These are easy to set up in advance and add as a contact on your phone. Just make sure if you save the number as a contact, that it isn't close to someone you frequently text, or you may end up sharing a private text instead sending it.
How to Update Facebook Via Text
The first thing you need to do is to Activate Facebook Texts on your phone. To do this you can text the letter F to 32665 (FBOOK).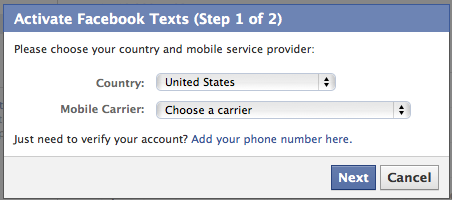 You'll receive a confirmation code which lets Facebook know who you are and keeps strangers from updating your Facebook account via text.
After you verify your phone number, you can text status updates to the FBOOK number just like you would send a standard text message.
How to Update Twitter Via Text
You'll need to link your phone number to Twitter to get this to work. You can do this from your phone by sending a text message to 40404 with the word START.
Next, you will be asked for your username. Send it.
When asked, send your password via text.
Twitter will ask your permission to proceed. Text back OK.
https://www.youtube.com/watch?v=tBgLkGrsz9s
Now, you can send text messages to 40404 to update your status. Keep in mind that the update is limited to 140 characters.

As an Amazon Associate I earn from qualifying purchases.