How to Use a PS3 Controller With Android Phones and Tablets
When it comes to gaming on your Android smartphone, nothing can beat a physical controller.
The slide out PlayStation controller that is built-in to the Sony Xperia Play was the highlight of the phone, delivering a much more enjoyable, and visible, gaming experience.
If you don't have the Xperia Play, but you want to be able to use a controller on your Android smartphone, you need to check out this app that lets you use your PlayStation 3 controller on your Android smartphone or tablet.
The app Sixaxis Controller allows you to hook your PS3 controller up to your Android smartphone wirelessly, so that you can game without covering up the screen. The App is available in the Android Market for $1.65, which is a steal for what it delivers.
IMPORTANT: You must have root access to use this app.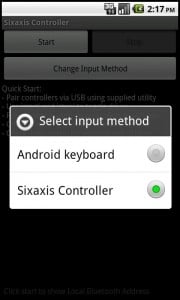 The Sixaxis Controller app needs your computer and mini USB cable to pair the controller to your phone, but after that you can use up to four controllers at once, without any wires.
Features include;
Up to four Sixaxis and DualShock 3 controllers supported at once
All 17 buttons on the controller can be mapped to any key press in Android
Analog sticks emulated as digital key presses
Before you buy the app, we suggest that you run the free Sixaxis comaptibility checker app to make sure your phone is supported. Device support seems hit or miss, but there are reports of it working with the Xoom, Galaxy Tab and the ThunderBolt.
The controller will work with many apps and games, including popular emulators that can be found for Android devices.
Hopefully we'll see built in support for some type of gamepad in the near future. I know it would make me much more likely to play games on the Android platform.