How to Use Airdrop to Quickly Share Files
Here is a guide on how to use Airdrop to quickly share files between iOS devices and Mac computers.
When we are frequently creating media such as photos or documents on our devices, we will then usually need to send them to someone else. If we need to get a project approved from a manager, send a photo piece to our editor or anything of the sort, we might email it or send it via dropbox.
One of the easiest ways to share however is right within the iOS as well as MacOS Sierra. The feature is called Airdrop and can be used to quickly send and receive information while on the go.
How to Use Airdrop to Quickly Share Files
Here are the steps in order to send and receive files using Airdrop on your Mac or iOS device.
Watch the above video for more information and tips for using Airdrop.
Sending Files from iOS Using Airdrop
If you are frequently using your iOS device, there is a strong likelihood that you are using it for work related reasons and may need to quickly send a file to coworker or boss. For example, sending a photo would be something that would warrant using Airdrop instead of emailing it.
To access Airdrop on your iOS device, swipe up to reveal Control Center and from there, tap the tab entitled Airdrop and you will be presented with options. You can toggle Airdrop to Receiving Off, Contacts Only or Everyone. These different sharing permissions will be useful depending on the situation.
In order to use Airdrop, you must have Wi-fi and Bluetooth enabled on your device as well as the one you are sending to. Once this is enabled, you are able to choose your file and then tap the Share icon to show different ways of sharing it.
You will notice in addition to your usual sharing methods such as Messages and Mail, you now should see the section for Airdrop illuminated blue. Moments later, your friend should appear there for you to tap on. Tapping their name will allow them to authenticate the transaction on their device and from there the file should transfer.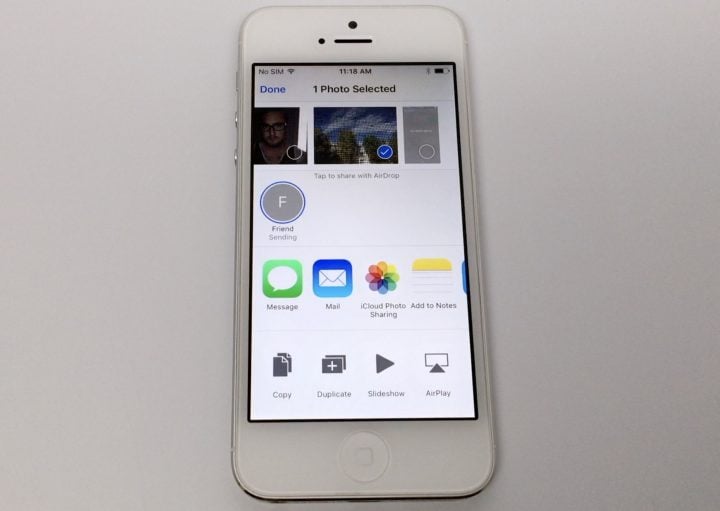 This is extremely handy while on the go and needing to share full quality files with each other without needing to resort to email or storing elsewhere and sharing a link.
Using Airdrop Between Mac and iOS
Another very useful way to use Airdrop is by transferring files to and from your iPhone/iPad and your Mac. If you work on a Mac and may need to share your recent file updates while on the go with clients, using Airdrop to batch transfer files is ideal.
Now that you know how to Airdrop from your iPhone, you should be able to send files to the Mac without any issues. Using Airdrop on the Mac side of things is quite simple and will be accessed through the Finder.
When you open a new Finder window by clicking the icon in the Dock, you will see your sidebar with your usual spots that you frequent such as Home, Desktop, Dropbox and more. Scrolling down will reveal an Airdrop selection. Clicking this will allow you to see, just like on iOS, available friends to Airdrop with.
You can also adjust how you are allowed to be discovered and can toggle it similarly to iOS based on your privacy preferences. If you do not see your peer showing up as someone to Airdrop with, you may need to change these preferences if they are not allowed to see your device.
Using Airdrop has significantly increased my productivity time and I find myself using it over email and messaging for most file types. There are of course reasons why Emailing for instance would be a good ideas as it creates a backup in your email server, yet more often than not, Airdrop will get the job done in a a few quick taps of the screen.

As an Amazon Associate I earn from qualifying purchases.