How to Use Daydream in Android 4.2 Jelly Bean
The arrival of Android 4.2 Jelly Bean has brought a number of new features to owners of Nexus devices and one of those features is something that Google is calling Daydream which is a screen saver that appears when a device is either docked or charging and can display useful and relevant information in addition to showcasing photos from the device's Gallery.
Daydream is one of the features of Android 4.2 Jelly Bean that Google has highlighted and it's one that while not extremely useful, is a nice touch to Google's latest piece of mobile software. In a nutshell, it's a way to get more out of your idling device should you have it charging or docked in a place where the display is easily accessible.
Read: How to Use Quick Settings in Android 4.2 Jelly Bean.
Unfortunately, like some of the other features in Android 4.2 including Quick Settings and Multiple Users, Daydream is hidden away in Android's settings which means that users of the new software may not have found it yet.
Here, we show you how to not only find the Daydream function in Android 4.2 Jelly Bean but we show you how to properly use it.
How to Use Daydream in Android 4.2 Jelly Bean
Daydream is a powerful screensaver found in Android 4.2 Jelly Bean. And for those that dock their devices nearby their work station or comfortable chair, it's a neat way of bringing up not only news but memories from the past. As I said though, Google hasn't done much to highlight the feature and it's tucked away deep in the Settings that it may be hard to find for less-than-savvy users.
That changes today as we're going to show you how to find it and get it set up on your smartphone or tablet.
First, head into the device's main settings. It should look like the screenshot below.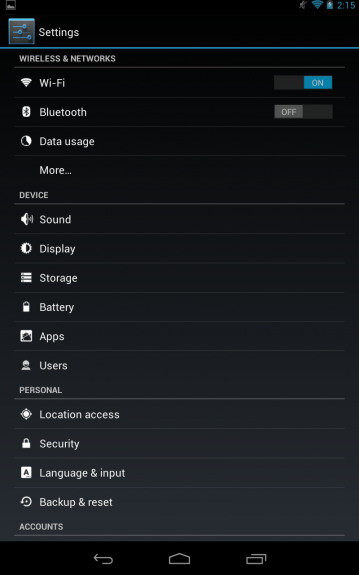 Next, under the Device group, tap Display. You should then be taken to a screen that looks like the one below, displaying an assortment of display-related options to choose from. Assuming you're running Android 4.2 Jelly Bean, you'll see an option for Daydream. Tap it.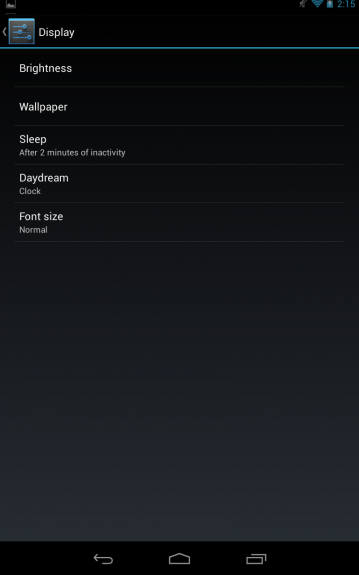 Here, you'll find a host of Daydream options. In the top left, there is a toggle to turn the function on or off. Obviously, if you're here, you'll want to flip that switch to on. Next, head on into the When to Daydream section in the top right corner.
You'll now be able to choose when the device goes into Daydream. You can select to use the feature when it's docked, when it's charging or both. Head back out of that screen.
Now, you'll get to choose what to display. From a Clock, to some Nexus-inspired colors, to articles from Google Currents to a way to look at photos, there are a host of options to choose from.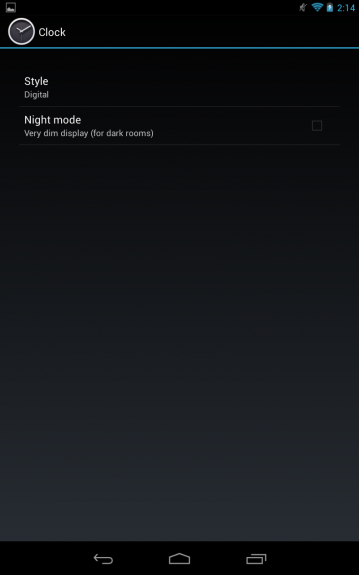 By selecting one, you'll also see some switches to the right of the circle. Those are the settings for each individual setting. For instance, if I tap it for the Clock, it brings up a way to change the style. For the photo features, it allows me to select which photos I wish to use.
So there is a lot of customization here which means you can tailor your new screen saver to your liking.
Daydream Easter Egg
Google has also included an easter egg in Android 4.2 for Daydream. If you're tired of the default options for the feature, you can unlock something called BeanFlinger which is hidden and needs to be unlocked.
To do that, go into the device Settings, go to About, and then tap continuously on the Version of Android, Android 4.2. It should take you to a screen that looks like the one above. Hold down on that giant Jelly Bean and wait for a bunch of others to appear.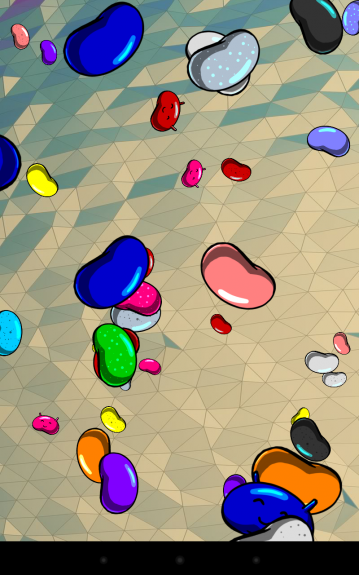 At this point, you'll be able to go back into the Daydream settings and select BeanFlinger for Daydream which looks like the above screenshot.