How to Use Dual Window Mode on the LG G3
The new LG G3 is loaded full of advanced features and camera auto focus lasers, but one feature many users may not know about is the new Dual Window mode for easy multitasking.
Just like Samsung's Multi Window Mode, LG has a feature that enables the user to have two apps on the screen simultaneously with one above the other, and these are customizable and can be resized as the user sees fit. This is extremely useful for power users and those wanting to use all that 5.5-inch screen real estate for multitasking. Below is a quick video showing you how to use the LG G3 Dual Window mode.
Read: How to Take a Screenshot on the LG G3
Whether you want to read news from your web browser while watching a YouTube video at the same time, or even have Hangouts (or Messages app) open to communicate with a friend while getting directions on Google Maps at the same time, Dual Window makes this easy and has you covered. Here's how to do it.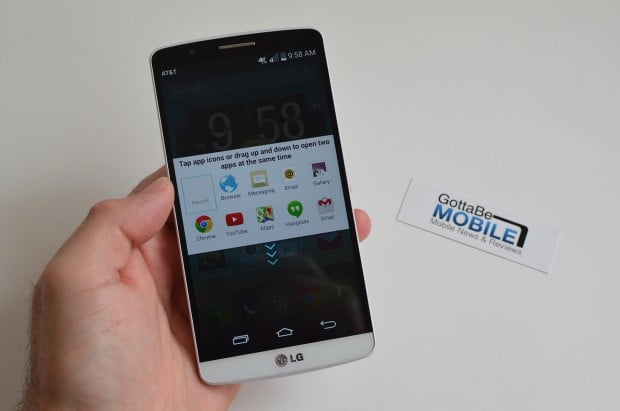 Dual Window mode makes multitasking easy and lets power users get more done in less time by having two apps open and accessible at the same time. Not only that, but you can easily and quickly resize them as you see fit, making one bigger than the other when needed.
With Dual Window Mode on the LG G3 there are plenty of options, but sadly not as many as Samsung has to offer. Samsung's Multi Window Mode works with a wide array of apps, while LG's implementation only has a few apps that are supported. That being said, they're most of the apps you'd actually use this for, but we would be lying if we said we didn't want Netflix and a few other video apps to be capable of using Dual Window mode.
Instructions
Using Dual Window mode on the LG G3 is extremely easy, and can be accessed two different ways. Just like Samsung, simply long press the on-screen back button and you'll instantly launch Dual Window. From here you'll get a popup showing what apps are available, and arrows pointing up or down signaling to the user to slide apps to each end of the screen.
From here all you'll need to do is long press the app of choice and drag the icon to the top or bottom of the display, then do the same thing for your second app, and you're done. It's a bit laggy but after a moment or two both apps will launch and you'll be in Dual Window Mode. Take a peek at the video below.
As you saw from the video above this is extremely easy, but the app options are quite limited for now. You only have access to the stock browser, Chrome, Messaging, Email, Gallery, YouTube, Maps, Hangouts, Gmail, File Manager, and AT&T's Locker. Third party apps or SMS clients aren't supported, at least not yet.
One thing worth mentioning is the "Recent" button that appears in the Dual Window popup. This will instantly launch the last dual windows setup you used. So if you're constantly doing the same Dual Window setup, tap recent and you'll be up and running in no time.
Read: 10 Best LG G3 Cases
Last but not least is the option to resize these windows as you see fit. This wasn't as easy or smooth as Samsung's Multi Window setup, but worked quite well. Press the little blue tab on the LG G3 to drag the windows to any size you'd like. This is another excellent custom option to make Dual Window mode even better, and more useful. It takes some getting used to, but once you figure it out it's extremely handy.
Should You Use This?
The LG G3 has a powerful quad-core processor, 2 or 3GB of RAM, and a huge 5.5-inch 2560 x 1440 Quad HD display. The smartphone has plenty of screen space to enjoy two apps at the same time, and more than enough power under the hood to keep performance at a max whilst doing so.
Users don't need to use or enjoy the Dual Window mode, but if you want to get more done or enjoy more content all at once, give the LG G3 Dual Window mode detailed above a try today.

As an Amazon Associate I earn from qualifying purchases.