How to Use Easy Mode on the LG G4
This guide explains how to use Easy Home or Easy Mode on LG's G4 to simplify the smartphone for first time users, make the font bigger, and streamline the entire smartphone experience for those who'd like to keep things simple.
Whether you're new to smartphones, new to the LG G4, or recently switched from an iPhone to the LG G4 and want to make the entire experience easier for daily tasks, Easy Home mode is right for you. Similar to Samsung and other manufacturers Easy Mode, LG has an "Easy Home" launcher that changes the entire look, feel, and operation of the smartphone.
Read: 30 LG G4 Tips & Tricks
Easy Home mode essentially adds some of the most popular and often-used apps right to the homescreen with big icons, large calendar and weather widgets, easy shortcuts to your favorite contacts that are dead simple to customize, and a few other things to simplify the smartphone. The entire thing is very easy to setup, so lets get started.
On Android smartphones the home screen and application tray is ran by an app that's called a Launcher. By default this doesn't need to be changed or messed with, but there are tons of 3rd party replacement launchers that can change the entire look and feel of a smartphone.
With the G4, LG added an "Easy Home Launcher" to the device that basically turns the smartphone into a regular phone, or a dumb-phone. This is great for first time users, parents, grandparents, and more. Most of the news surrounding the LG G4 has been about the leather design, big screen, or the excellent 16 megapixel camera, and the easy mode was lost in the mix. For those that would like to use it, here's how.
Instructions
Enabling and customizing easy mode only takes a few taps, and within a few weeks if you decide to switch back to the regular mode the same easy steps apply, and it's so simple anyone can do it. This essentially strips the phone down to the basics, so lets get started.
Owners need to head into settings by pulling down the notification pulldown bar and hit settings, or navigate into the application tray and find the gear-shaped setting button. From here you'll be in the settings menu and users will need to tap the 3rd column titles "Display" and select the first option which is "Home Screen" followed by "Select Home".
By default the LG G4 is using the standard Home, so just tap the "Easy Home" circle to select it, and that's all owners need to do. It takes about 1-2 seconds to apply, and you're done. Now hit the circle home button and you'll see a brand new, easy to use smartphone.
Above is a set of screenshots or visual instructions of what settings you'll need to tap. Once you do this you'll enable the Easy Home mode, and now it's time to customize things to your liking.
In Easy Home the main home screen has a large weather widget and clock up top, as well as the date. Then below are three rows of large icons showing most of the popular apps people use. Things like the camera, photo gallery, phone, contacts, messaging app, clock, music, and the Google Play Store to find and download apps. Then there's a simple + button to add more. This opens the app tray and you simply tap any icon to add it to your homescreen.
The more you add the more appear, and if too many are added they'll start showing up on the second screen to the right of the main home page. Swipe from right to left to pan over, which is where more apps are located, and quick access to the application tray.
The left side of the main screen is the shortcut area for easy one-click phone calls. This area allows new smartphone owners to easily add 12 of their favorite contacts right to the homescreen for easy access, and there's a "Call Logs" button on bottom to see recent incoming or outgoing calls. All very simple to understand for beginners.
Read: 80 Best LG G4 Apps
It's also worth noting that all font, including the settings menu has been increased making everything easier to see and read. This can then be controlled even more in settings, but most won't need to change anything, as it's plenty big already.
One nice aspect of Easy Home is it also makes it extremely hard to move anything, or delete apps and widgets from the homescreen. This means owners can quickly change it to Easy Home if they're handing the phone off to kids, or even make a secondary guest account in settings if they'd like.
Then of course if Easy Mode ends up being too simple and owners want to go back to the old system simply navigate back to settings > display > homescreen > and select the regular home to revert the LG G4 back to the way it was out of the box.
Give it a try today, and check out some of the cases below to help protect the LG G4 from drops or damage.
11 Best LG G4 Cases
LG G4 Folio Flip Case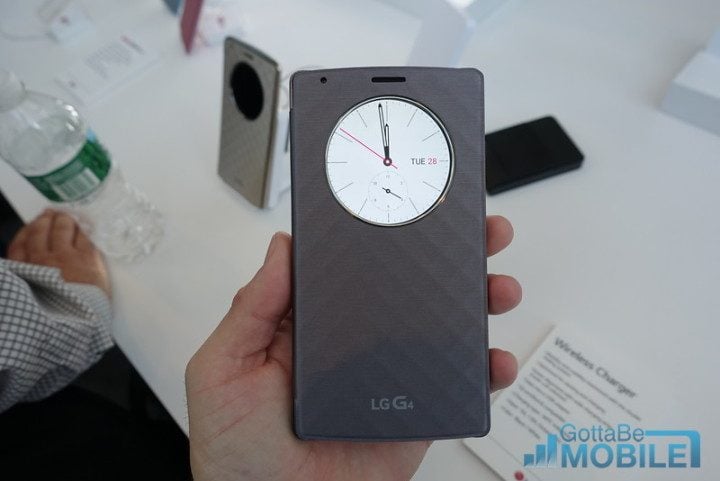 Just like last year, LG is offering an official Folio Circle Case that offers multiple levels of protection, additional neat features, and a Flip cover to protect that big 5.5-inch screen. The trademark circle window cutout in the flip cover shows a clock, the weather, incoming call or text message information, quick access to the camera and more all without ever opening the case.
Flipping open the case instantly wakes up your device, but you can do everything mentioned above without even opening it. This case makes your phone durable, offers additional features, and protects the screen all in one. Last but certainly not least, there's also a second version of the Folio Case that enables wireless charging, making it more than worth the more expensive price point.
LG hasn't announced pricing for the G4 Folio case and it's still listed as coming soon on LG.com, but last year the G3 Folio case was $49, and the wireless charging enabled case was $59.99. We'll update once it actually goes on sale.

As an Amazon Associate I earn from qualifying purchases.