How to Use Hey Cortana with Windows 10
Microsoft's Windows 10 operating system introduces a lot of new things new to Windows PCs, but not new to the Windows ecosystem. Cortana and her Hey Cortana feature are perfectly decent examples of options that owe their existence to Microsoft's efforts in other places. Hey Cortana on Windows 10 is originally from Microsoft's Windows Phone operating system.
Hey Cortana, like Hey Siri for iPhones and iPads, allow you to give the new personal assistant orders or ask questions without having to press a button. When its done successfully, Cortana will acknowledge you, letting you add appointments to your calendar, search the internet and control settings without pushing a single button. Hey Cortana is particularly useful for those downloading the free Windows 10 update since their PCs won't have the built-in Cortana key that some Windows 10 PCs come with.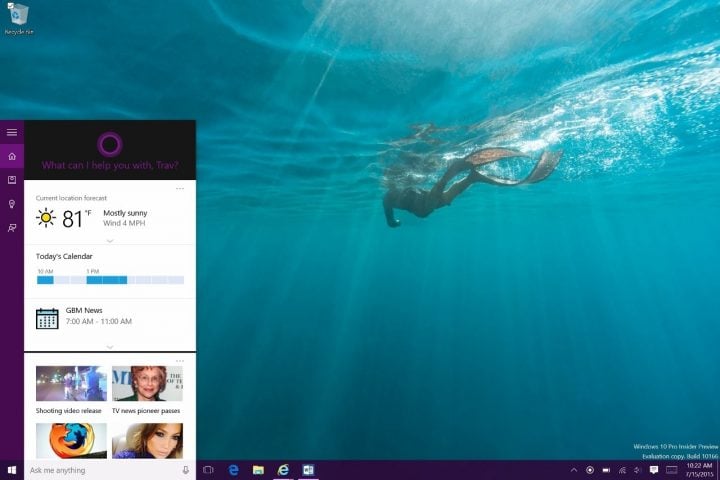 Read: How to Get the Free Windows 10 Upgrade
Here's how to use Hey Cortana in Windows 10, and how to make the most out of the personal assistant built into every PC running Microsoft's Windows 10 operating system.
Setting Up Hey Cortana
If you've been searching your Windows 10 PC for an app called Cortana you can stop. Rather than put Cortana in an app of her own, Microsoft opted to stick a Search bar directly in the Taskbar that users are already familiar with. If you haven't setup Cortana already then you get the default Search bar that opens your web browser. If you have then you see an animated circle with the words "Ask Me Anything" stamped beside it. If you have a Windows 10 tablet you get a Search icon instead of the search box.
You'll need to have setup Cortana and agreed to Microsoft's Terms of Service before you can use Hey Cortana on your Windows 10 device. If you haven't done so already, click or tap on the Search box now and do that. Microsoft is rolling out Cortana to different countries on a continuous basis. Cortana might not be available in your country now, so be aware of that. For Hey Cortana to work you'll need a PC with a decent built-in microphone.
Tap or click on the box labeled Ask Me Anything to open it.
Tap or click on the notebook icon in the top-left corner of Cortana to open what Microsoft calls Cortana's Notebook. The Notebook holds all of your settings, any information you've shared with Cortana and options to personalize your experience. You can enable or disable any setting Cortana has from here. You can also remove any information Cortana learns about you from here too.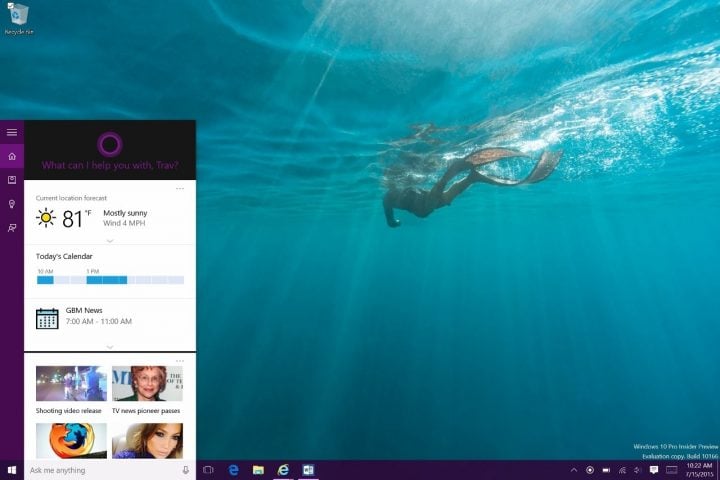 Once inside Cortana's Notebook tap or click on Settings. It sits toward the top of the Cortana area inside the Notebook.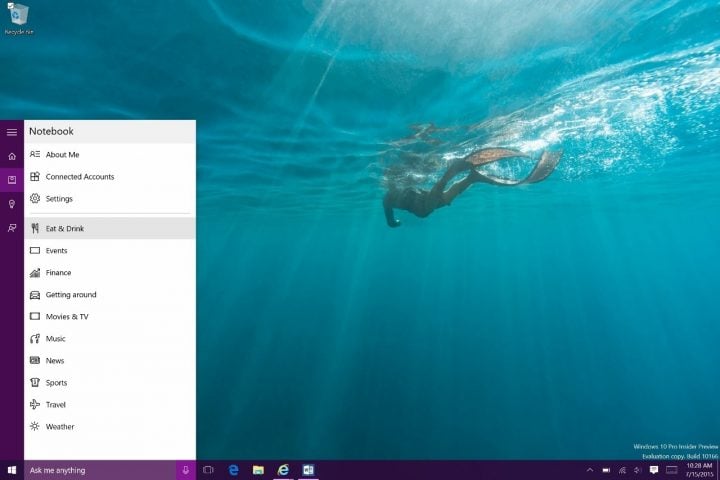 Now tap or click on the button next to Hey Cortana if it's in the off position, which it is by default.
A new set of settings will appear just below the button you clicked to turn on Hey Cortana. These settings let you customize your voice experience a bit. By default, Cortana will respond to anyone and everyone that says the "Hey Cortana" catch phrase. This is particularly useful when you're setting her up on a PC that'll be used by more than one person.
Sometimes, you don't want just anyone to be able to give Cortana commands. This is especially true if she's on a PC that only you use. In that case you can use the Learn My Voice setting to make sure that she responds only to your commands. She'll give you three different phrases to say so that she is better able to understand you.
Using Hey Cortana
Hey Cortana is only as good as the things you can do after you say the catch phrase and she's listening. Here are some tips to keep in mind.
Cortana keeps track of your calendar and will remind you when there's an event coming up. To add new events with your voice you can use something similar to "Hey Cortana, add The Married Gamers Podcast to My Calendar for 9PM tomorrow." You can also ask her what you have coming up on your calendar. Cortana lets you know if there's a conflicting appointment that requires your attention. All of this is synced back to your Outlook Calendar app. Cortana can send emails and request for Uber rides too.
Say something like "Hey Cortana, remind me to pick up fruit at Kroger." If you have the Cortana app on your iPhone, Android phone or Windows Phone enabled you'll get that reminder the moment you pull into the store's parking lot. You can assign a specific time instead of location with reminders too.
Cortana can look up movies, get your sports scores, track your flights and answer in qeneral questions that you have too. She'll even set an alarm for a specific time if you tell he too.
Good luck using Hey Cortana. Remember, you can type phrases into the Ask Me Anything box to if you aren't in a situation where voice commands are appropriate. The free Windows 10 upgrade that includes Cortana is available to anyone running Windows 7 or Windows 8. You can reserve your download now.