How to Use HTC One M9 Emoji
Emoji keyboards are getting more and more popular these days. Now that the HTC One M9 is readily available and in the hands on many proud owners, you'll want to know how to use the emoji keyboard. You don't need to download a new keyboard from the Play Store, or an add-on app, but you will need to know where to find them on the stock keyboard that comes on the phone out of the box.
While there are many awesome third party keyboards on the Google Play Store, the HTC One M9 includes a nice HTC keyboard with plenty of features. They have HTC trace to swipe with your finger to type, and with the M9 and Android 5.0 Lollipop it includes many emoji options, and you'll want to know where to find them and how to swipe around to use them all.
Read: HTC One M9 Review
All the Emoji on the HTC One M9 are similar to most other smartphones, and most Android devices, so they'll work no matter who you send them to. Emoji are a fun way to send small pictures that are like a more advanced smiley face. You can send emoji from the M9 to another Android phone, to an iPhone and to other devices. Most newer devices display a variety of emoji, though the actual design is slightly different from device to device.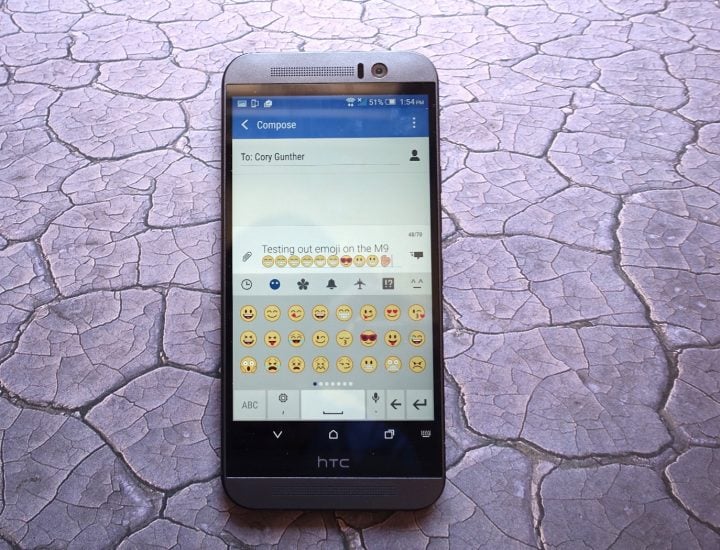 With Android 5.0 Lollipop and the HTC One M9 you can use the stock built-in keyboard installed right out of the box for emoji fun. While you're in the keyboard it will just take a tap and you're all set, and can select from a wide variety of different emoji installed on the phone from the moment you get it.
How to Use Emoji on the HTC One M9
Flipping through the Google Play Store you'll find a lot of different emoji keyboards or add-on apps that give you more options, but the stock stuff that comes with the One M9 should be more than enough. It features all the usual popular smiley faces, symbols, and much much more.
If you already use emoji on other recent Android devices you'll know the basics, but here is a specific guide to using them on the HTC One M9. All you need to do is open up the keyboard while sending an email, message, text, or using Facebook, and you'll see it almost instantly. On the bottom left of the keyboard is the "12#" button that switches the keyboard from letters to numbers and symbols. However, long-press and you'll see a smiley face, then just let go.
That's it, and you're now on the emoji keyboard and can go crazy with all kinds of fun stuff. The keyboard area is now full of smiley faces, and a swipe will go through all of them. From here just tap each one and it will be inserted into your message just like any letter would when typing on the keyboard. The little circle dots indicate how many pages of each. There are seven pages of smiley faces. Then above those are other options. There's a flower for dogs, cats, flowers, plants and food type objects, a bell with a bunch of random emoji pictures of clothes and such, and an airplane that's full of transportation-inspired emoji images.
When you're done adding all the emoji you'd like to any message, simply tap the ABC button on the bottom left again to return to the keyboard to finish typing out a message. This is nice because you can write a message, add some emoji, then return to finish a sentence all in seconds, without changing keyboards or doing anything too difficult.
You can even tap the clock looking icon, which shows you a collective list of your recently used emoji icons. This will change over time, but if you always use the same few this will be an easy way to get to your favorites with ease. Enjoy the new HTC One M9, and have fun with some emoji messages.