How to Use Lock Screen Widgets in Android 4.2 Jelly Bean
Android 4.2 Jelly Bean brings a few new features to the table from the earlier version of Android, Android 4.1 Jelly Bea. One of those features are the new lock screen widgets that now dominate the upper part of the lock screen on devices running Android 4.2.
Widgets are a big part of Android as they are essentially tiny applications that can be placed on the Android home screen, and now the lock screen, which can show updated information from time to time. They also act as shortcuts to larger applications.
Read: How to Use Multiple Users in Android 4.2 Jelly Bean.
For the first time, Google has made widgets available for the lock screen, something that is a bit of a mixed bag for Android users. While some didn't want Google to touch the minimalistic lock screen, other Android users like myself have jumped at the opportunity to add easily accessible information to one of the most accessible parts of Android's user interface.
So what are these new rectangles on the Android 4.2 Jelly Bean home screen and how do they work exactly?
Here, we take a look at how to set up these new lock screen widgets, delve into each of them, and even recommend some different widgets that are available to put onto the lock screen.
How to Use Lock Screen Widgets in Android 4.2 Jelly Bean
When you fire up Android 4.2 Jelly Bean for the first time, you'll notice a strange white line on the left side of the lock screen when the device is woken up. These, are your new lock screen widgets. Smartphone users can swipe to the right to find easy access to the camera application.
To get started setting up these applications, you will simply want to swipe over which will reveal a full rectangle with a plus sign in the middle of another opaque rectangle. Next, tap that plus sign and you'll be taken to a screen where you're given a grand total of five options to choose from. For tablet owners, it will be four.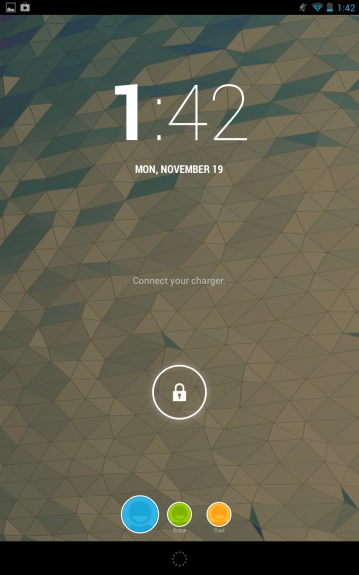 Those options include widgets for the calendar, clock, messages, song search – think of Shazaam or Soundhound and email. By tapping one of the options, it will add that widget to your home screen. The result will be that the once empty rectangle is now filled in. The widgets are easily interchangeable. A hard press will allow you to move them around and pressing down and dragging to the top of the screen will allow you to remove them from the lock screen.
Now, let's take a look at each one of the stock widget options.
Calendar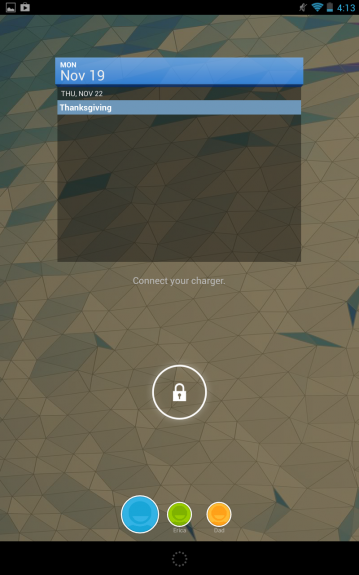 For those with busy calendars, the Calendar lock screen widget provides a simple way of checking your schedule from the lock screen. Have a meeting scheduled for 2PM? It will show up here. Thanksgiving on Thursday? The calendar lock screen widget will remind you.
Clock
The digital clock is exactly what it sounds like, a clock that updates with the date and time. The clock widget will adjust based on whether you've added any world clocks from within the clock application. For instance, I've added Cleveland, Ohio to my lock screen so I can better keep track of a fellow editor's schedule.
Inbox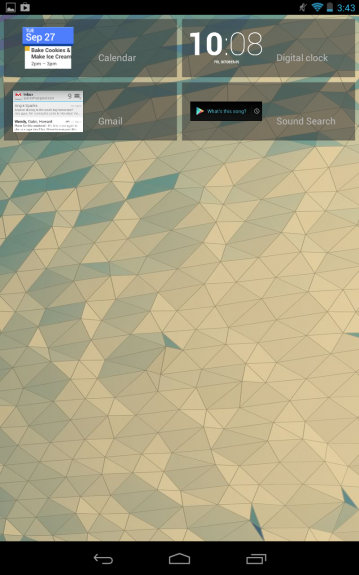 The Inbox widget is a simple and easy way to take a quicker gander at what's in your Inbox without actually having to unlock the tablet or smartphone. It will show your four most recent messages in your main inbox with a snippet of the email as well as the source of the email. This way, you'll know immediately whether you need to unlock the device and open the main email application.
It does present some privacy concerns so those that are concerned with wandering eyes seeing email will likely want to keep this widget disabled. Personally, it's the one I use the most.
Messages
Like the Inbox, this is a simple way of taking a look at your messages without having to open your phone or tablet. It will show the source of the message as well as a snapshot of the message if it's a long one. Those who use two-step authentication for Gmail should be weary of using this feature as it will show the code on the lock screen when Google sends a message.
Hopefully, Google does something to fix this.
Song Search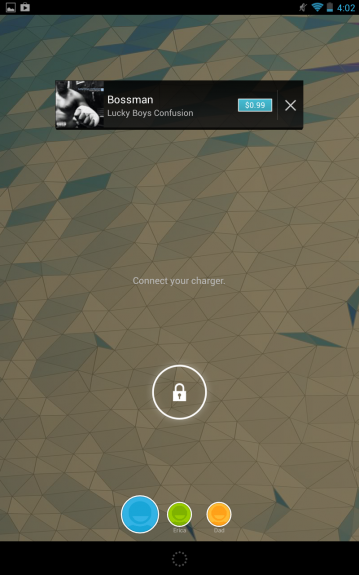 Last but not least is a useful little widget that allows users to search for a song that is playing. If the song can be found, and almost all cases it was able to, it will show up with artist and song name as well as a link to buy it through Google.
Alternatives
Android 4.2 Jelly Bean is relatively new which means that there isn't a lot of third-party support out there yet for its features, including the lock screen widgets. However, it looks like progress is being made as the popular HD Widgets app on the Google Play Store was updated with support for the lock screen which brings seven new lock screen widgets to phone owners and five to the table for Nexus 7 and Nexus 10 owners.
There is a widget for weather, some fancy clocks, and even a Wi-Fi toggle. The widgets do cost money, $1.99, a small price to pay for those who wish to go beyond the stock lock screen widgets that come with Android 4.2 Jelly Bean.

This article may contain affiliate links. Click here for more details.