How to Use Multi Window Mode on the Galaxy Note 4
The Samsung Galaxy Note 4 was officially unveiled by Samsung at multiple press events around the globe last week, and as you know from our coverage, it has tons of awesome features to compliment that beautiful 5.7-inch 2560 x 1440 Quad-HD AMOLED display. While the phone isn't here yet, we're already preparing to share how to articles so users will know how to enjoy the new Note 4 once it arrives.
The new Galaxy Note 4 is loaded with tons of features. It has a nice aluminum design, faux leather back, and even an improved 16 megapixel camera with optical image stabilization. However, it's using the large phablet-sized smartphone for multitasking that causes most users to buy one.
Read: Samsung Galaxy Note 4 Hands-On
A feature that originally debuted on the Galaxy Note 2 has continued to arrive for many Samsung Galaxy devices, and that is Multi-Window mode. A similar feature called dual window mode is available for the LG G3, but Samsung still offers the best experience, and below we'll quickly show you how to run two apps simultaneously on the new Note 4.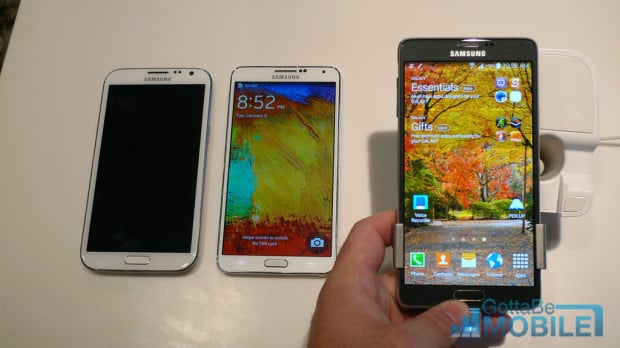 As mentioned above, multi window mode essentially lets the user run two apps at the same time. This can be side-by-side in landscape mode, or one on top of the other while holding the phone normal in portrait mode.
Being able to launch and use two apps at the same time on the Note 4 is an awesome feature, one that many owners will appreciate. This allows for true multi-tasking on a mobile device, not to mention you can view emails which watching a YouTube video, and much more.
Instructions
While there's a setting in options to have an always-on tab to the side of your screen for instant access, we find that somewhat obnoxious and would rather not use that method. Instead, simply long press the dedicated back button (bottom right) button on your new Galaxy Note 4, and this brings up multi window mode.
From here simply select the apps you'd like to use simultaneously by long-pressing the icon and dragging it over. From here you then select a second app and drag it to the top or the bottom. Not all apps support this, but most of Samsung's proprietary apps do, Google Chrome, Facebook, and most of Google's content apps are all on board. This makes doing two things at once extremely easy.
Rather than try to explain it, just check out our quick hands-on how to video below for a look at it in action on the all-new Galaxy Note 4.
The Galaxy Note 4 supports two apps at the same time, and thanks to 3GB of RAM and a powerful 2.7 GHz quad-core processor everything is extremely smooth. We were able to watch video while browsing the web or Facebook, and even re-size the screens as you see fit. There's a blue circle users can drag to change each screens size, as they see fit, which is a nice touch we've also seen others try to copy.
This makes multitasking easy and lets power users get more done in less time by having two apps open and accessible at the same time. Not only that, but you can easily go back to your normal work flow by tapping back, or long press the back button again to turn off multi window mode.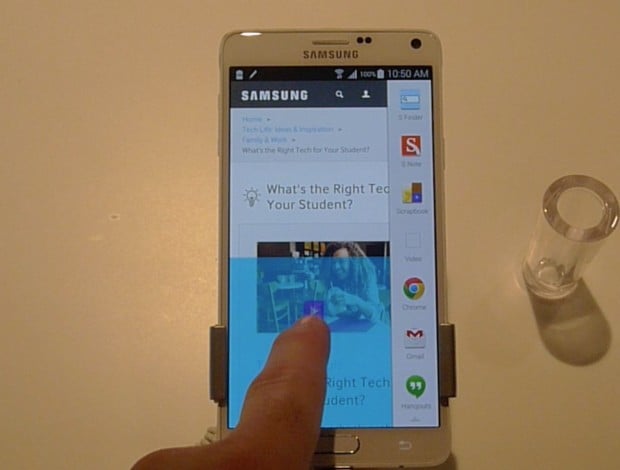 LG added a "recent" button to their same dual-window feature, something that allows users to instantly launch the same two apps with a single tap, which is a nice touch, but Samsung doesn't offer anything similar. You'll have to scroll through and find the apps you want each time.
With a large and vibrant Quad-HD display coming in at 5.7-inches, there's no reason users won't want to take advantage of this awesome feature for the upcoming Galaxy Note 4. Once it goes on sale in October you'll want to revisit this page, and try multi window mode yourself.

As an Amazon Associate I earn from qualifying purchases.