How to Use New Snapchat Chat 2.0: Video, Audio & Stickers
We'll show you how to use new Snapchat chat 2.0 features to do more with the new Snapchat update. There are several new options that we will cover from stickers and messages to video calls and audio messages.
The March Snapchat update adds in support for new chat options on iPhone and Android. Both people on the call need to have the Snapchat update installed for this to work, otherwise they will ring busy all the time.
Snapchat calls this Chat 2.0 and there are a lot of cool ways to use it to communicate with friends on Snapchat.
You need an iPhone or Android smartphone with the official Snapchat app, updated to the latest version to use this. You don't need to pay to unlock these options.
Learn how to use the new Snapchat Chat 2.0 features below.
How to Use Snapchat Video Calls & Audio Calls
Two of the biggest new features include the ability to start video calls and audio calls. You can participate in a video call like you would on FaceTime, Skype or Google Hangouts and you can also join to watch a video call if you simply want to see what someone is seeing.
Swipe over to the chat window in the Snapchat app and choose the person you want to talk to. Tap on the camera icon or tap on the phone icon to start the type of call you want.
This will ring the other user and you will then be able to chat with live video and still send messages and stickers. You can make the video full screen or minimize it while you keep using Snapchat.
How to Leave a Snapchat Video Message or Audio Message
If you don't want to talk to the person live, you can send short video and audio messages. Instead of tapping on the camera or the phone icon, hold the icon.
As long as you are holding it, or at about 30 seconds, you will record voice or video and send it in chat to the person in that chat screen. When you are done, let go and it will send automatically.
How to Use Snapchat Stickers in Chat 2.0
Another cool feature in the Snapchat update is the ability to use Snapchat Stickers inside the Chat area.
Open Snapchat and go to the Chat screen. Swipe to open a chat with one of your contacts.
Now, tap on the smile icon to the right of the menu options. This will allow you to choose from over 200 new Snapchat stickers. There is no search option, so you will need to scroll through all the new Snapchat stickers to see what you can send.
How to Send Photos in Snapchat Chat 2.0
You can choose photos on your iPhone or Android and send them to other people by tapping on the small photo icon to the left of the options in chat. This access the gallery on your Android phone or your Photos app on the iPhone s you can share photos you took outside of Snapchat.
If you want to take a photo and send it right then, you can tap on the circle in the middle of the screen and then take a photo to share with someone on Snapchat.
When using the built-in option to send Photos using Snapchat Lenses.
How to Use New Snapchat Lenses
Scream Snapchat Lens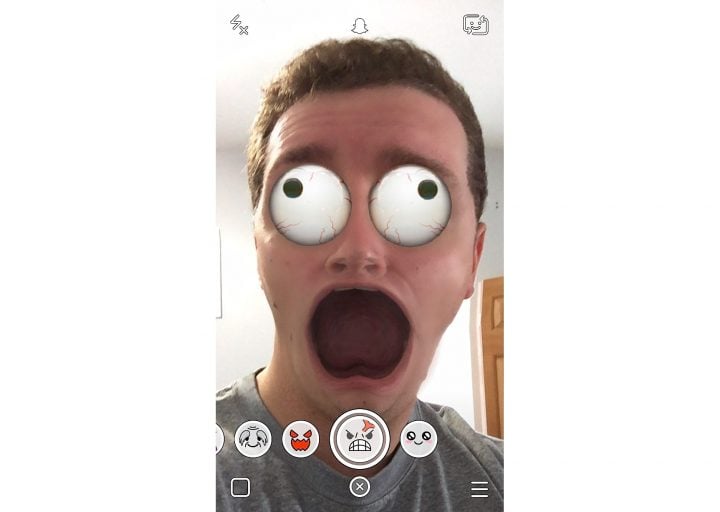 Use the Scream Snapchat Lenses option to make your eyes pop and your mouth go wide. Activate by opening your mouth. Move your head slightly to exxagerate the effect.
When you open your mouth the phone will make a scream, so keep that in mind while recording.

As an Amazon Associate I earn from qualifying purchases.