How to Use New Snapchat Lenses
We'll show you how to use the new Snapchat Lenses to supercharge your selfies with amazing overlays that transform the way you look and incredible special effects to your snaps.
The new Snapchat update adds support for Lenses, which is what Snapchat calls these new special effects that track the location of your head and respond to facial movements like an open mouth or raised eyebrows.
You'll need an iPhone or Android with the official Snapchat app to use the new Snapchat Lenses to make your snaps stand out, but you will not need to pay any extra. The only thing Snapchat is now charging for with this update is the option to replay a snap.
Here is how the new Snapchat Lenses feature works on iPhone or Android.
How to Use Snapchat Lenses
You need to make sure you update to the Snapchat update that arrived on September 15th. This will allow you to use the new Snapchat Lenses on iPhone and Android. This should also work on tablets.
The video above shows you how to use the Snapchat Lenses, and the directions below walk through how to use the new Snapchat feature as well as how to record a Snap with Snapchat Lenses.
Open Snapchat and then use  the front-facing camera on your device to put yourself in the frame.
Now hold the phone at the distance you want to keep it for the snap and it works best when you keep your head mostly straight to the camera.
Tap and hold on your face for just a second or two and then you will see a new menu option appear below your face and if you tap your face again you'll see a quick white wireframe appear that should line up to your face.
Now tap on the options at the bottom of the screen to switch to the Snapchat Lenses option you want to use. You will see directions to open your mouth or raise your eyebrows. This will trigger the action.
Once you pick the Snapchat effect you want to use you can press and hold on that effect to start recording. Move your mouth and eyebrows and even your head while you record your Snapchat Lens supercharged snaps.
When you are done you can still add captions and filters to the video. The overall effect works best if you keep your head the same distance from the camera.
If the Snapchat Lenses effects appear, but they are not lined up with your face, you should tap on your face again and the wireframe outline should flash, showing you the right outline.
Scream Snapchat Lens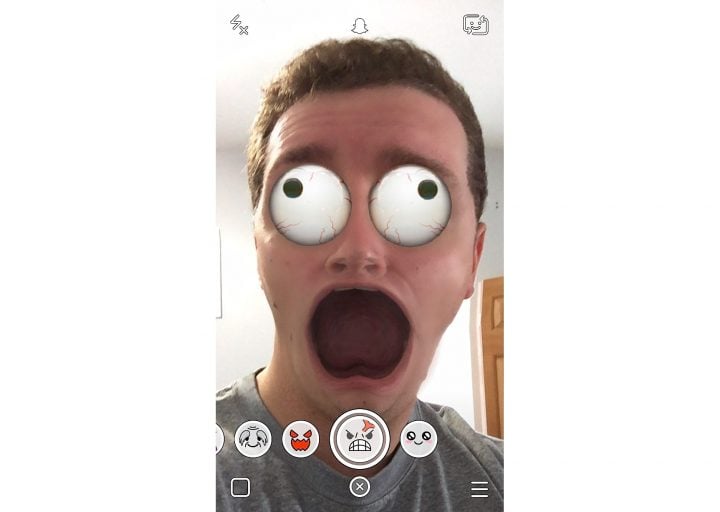 Use the Scream Snapchat Lenses option to make your eyes pop and your mouth go wide. Activate by opening your mouth. Move your head slightly to exxagerate the effect.
When you open your mouth the phone will make a scream, so keep that in mind while recording.

As an Amazon Associate I earn from qualifying purchases.